Sorry, but we wasted our money -- notable candidates for the new season that weren't elected by their networks
05/16/12 02:20 PM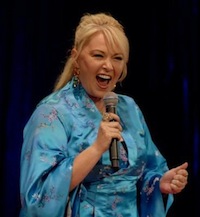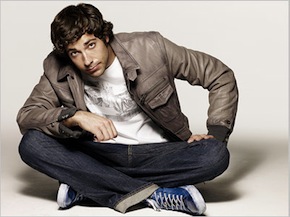 Roseanne Barr & a post-Chuck Zachary Levi are among those whose proposed series didn't make the Big 4 networks' new seasons.
By ED BARK
@unclebarkycom
The new season math is just about done, with ABC, CBS, NBC and Fox having made their additions and subtractions while only the li'l CW remains.
So let's look at a handful of pilots for potential series that
didn't
make the grade, either for the fall or midseason. Or at least they weren't included in the voluminous publicity releases emailed this week.
We'll single out some of the showier ones, all of them involving stars and producers that most TV viewers know by name. And yes, these are all actual candidates, with not one of them a fake.
ABCThe Smart One
-- Ellen DeGeneres executive-produced this one for her actress wife, Portia de Rossi. It's about a bright, successful woman who chafes at going to work for her dumber but more popular sister, a former beauty queen and TV weathercaster -- and now mayor. Jean Smart and David Arquette also were in the cast.
Devious Maids
-- Hard to believe this ever got even partially off the ground.
Desperate Housewives
creator Marc Cherry apparently was intent on proving he's a one-trick pony with this serial soap about four ambitious maids working for rich and famous Beverly Hills denizens. The cast included Susan Lucci and Grant Show.
The Manzanis
--
Cheers
alums Kirstie Alley and Rhea Pearlman wanted to reunite in this comedy about a loud, squabbling Italian-American family that moves to a quiet Jersey suburb to alarm the resident WASPs. Alley plays an opinionated wife/mom with Pearlman as her mother-in-law.
Beauty and the Beast
-- A "re-imagining" of the timeless fairy tale, with Darius Campbell (
Hotel Babylon
) as The Beast and Oscar-winner F. Murray Abraham (
Amadeus
) in the mix.
Awesometown
-- Based on executive producer Adam Sztykiel's first-hand experiences with long-distance relationships, with grouchy Dennis Miller and former
Outsourced
star Ben Rappaport signed on.
CBSSuper Fun Night
-- Executive producer Conan O'Brien somehow thought it would be fun to build a comedy around three nerdy women dedicated to having a blast every Friday night. Cast of largely unknowns.
Trooper
--
CSI
brewmeister Jerry Buckheimer hasn't had much luck in recent seasons. His latest idea was to cast Mira Sorvino as a level-headed mom turned New York state trooper.
Widow Detective
-- A much-honored P.I. played by John Corbett feels really bad about losing three partners in the line of duty. So he dedicates himself to being a surrogate father, husband and lover to their bereaved families. Jennifer Beals was in it, too.
Untitled Martin Lawrence comedy
-- He had hoped to play a widowed father of two teens who decides to become a cop at age 46 after losing his construction job.
NBCDownwardly Mobile
-- Roseanne Barr and John Goodman were ready to reunite in a sitcom set in a mobile park home. She was both the writer and executive producer.
Friday Night Dinner
-- Two multiple Emmy-winning drama stars, Allison Janney (
The West Wing
) and Tony Shaloub (
Monk
), would have fronted this adaptation of a British series about an oddball family that gathered for dinner every Friday. Ergo, the title.
Lady Friends
-- Two lifelong girlfriends have relationship problems when one of them gets married. Minnie Driver and Rachel Dratch were among the cast members.
FoxGuilty
-- Cuba Gooding Jr. starred as a brilliant but ethically challenged attorney who gets disbarred and begins solving crimes while also striving to square things with those who railroaded him.
Let It Go
-- On the rebound from NBC's
Chuck
, Zachary Levi fronted this ensemble comedy about a married couple.
Little Brother
-- John Stamos starred as a guy who discovers he has a half-brother who's also an ex-con.
Rebounding
-- Will Forte of
Saturday Night Live
fame grieved the death of his TV fiancee while trying to heal via pickup basketball games with his coarse, rowdy friends.
Like Father
-- Bill Lawrence, creator of
Scrubs
and
Cougar Town
, planned to do a comedy drawn from his own experiences with father-son dynamics. Colin Ferguson of
Eureka
headed the cast.