Hi there, my name's David Hasselhoff. What's yours? (Well I'll be damned)
04/15/11 12:18 PM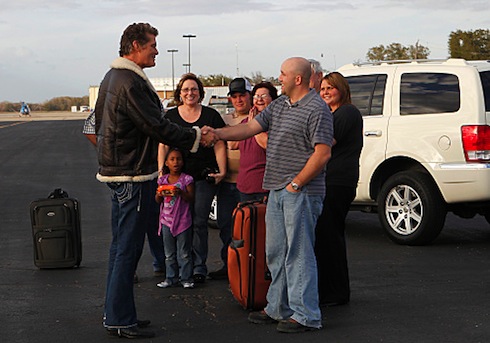 "The Hoff" meets David Hasselhoff of Lake Jackson, TX. CBS photo
By ED BARK
Depending on how you might feel about such things, David Hasselhoff of Lake Jackson, TX is going to be lucky enough to meet and "trade lives with" the same-named Hollywood celebrity famous for
Knight Rider, America's Got Talent
and crawling on the floor drunk while eating a cheeseburger in an infamous video made by his daughter.
CBS' new
Same Name
, announced Friday and scheduled to premiere sometime this summer, will feature celebs making close contact with commoners who have identical monikers. In Episode 1, Hasselhoff journeys to Lake Jackson (population 27,614) to meet 27-year-old high voltage power technician/landscaper David Hasselhoff and his family. CBS expects electrifying results.
"They may have the same names, but their lives couldn't be more different," alternative programming VP Jennifer Bresnan says in a publicity release. "Walking in each other's shoes and experiencing their home life, work and other activities reveals moments of humor, laughter and unexpected emotion."
The two Hasselhoffs will "live in each other's houses, meet and interact with family, friends and co-workers and experience how the other lives," CBS says.
No other celebrity participants have been named yet, but might there be another Lady Gaga out there? That'd be cool. But the way these things tend to work, viewers may have to settle for the likes of Scott Baio, Judith Light and Joe Piscopo.