From the BBC to AMC: The Night Manager is a highly polished gem drawn from an old John le Carre page-turner
04/18/16 10:01 AM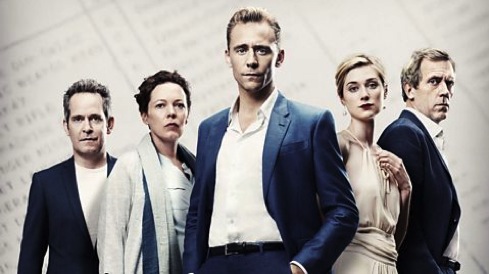 Tom Hiddleston (center) heads the sterling cast of The Night Manager, adapted from 1993 John le Carre novel. AMC photo
Premiering:
Tuesday, April 19th at 9 p.m. (central) on AMC
Starring:
Tom Hiddleston, Hugh Laurie, Olivia Colman, Elizabeth Debicki, Tom Hollander
Produced by:
David Farr, Stephen Cornwell, Simon Cornwell, Stephen Garrett, John le Carre, Susanne Burr
Directed by:
Susanne Bier
By ED BARK
@unclebarkycom on Twitter
Publicity materials are invariably grounded in hyperbole. But sometimes it actually rings true.
Such is the case with a "Letter By John le Carre" that opens a grand, coffee table-sized hardcover book sent by AMC in honor of
The Night Manager
. Extolling this modernized adaptation of his 1993 espionage novel, he praises the principal actors and director Susanne Bier for bringing back "those glory days in the seventies when I was watching the BBC's
Tinker Tailor Soldier Spy
being magicked to life by Alec Guinness and the inspired cast that surrounded him."
The Night Manager
, which had its BBC premiere on Feb. 21st, comes to these shores on Tuesday, April 19th. It will run for six absorbing hour-long episodes on consecutive Tuesdays. There are no zombies, which le Carre has yet to include in any of his twisting, turning, betrayal-rich novels. The man who pretty much wrote the book on cloak and dagger instead is impeccably served by a tale whose sweeping venues include, Egypt, Switzerland and Spain besides the not so merry olde London, where the International Enforcement Agency is infested by double-dealers.
The cast's most familiar face is former
House
star Hugh Laurie, who plays filthy rich, clandestine arms dealer Richard Roper. His cover story is the Ironlast Corp., which touts its Good Samaritan deeds on behalf of refugees while selling state-of-the-art weapons to Middle East terrorists.
Tom Hiddleston, best known to many as the villainous Loki in several Marvel superhero films, can also be seen on the big screen as Hank Williams in the current
I Saw the LIght
. In
The Night Manager
, he's Iraqi war veteran Jonathan Pine, who lately has been in charge of the late shift at Cairo's posh Nefertiti hotel during the revolution-infused "Arab Spring."
The third wheel is intelligence operative Angela Burr (terrific opposite David Tennant in the
Broadchurch
series). She starts the plot wheels spinning by recruiting Pine to infiltrate Roper's operation. He has some motivation after the murder of "Sophie" (Aure Atika), who had been the mistress of a terrorist in consort with Roper. She snuck incriminating documents to Pine before they became lovers. Four years after Sophie's demise, he's living a life of isolation in Switzerland while again working nights at a luxury hotel. Who should check in but Roper, his beautiful, guilt-ridden girlfriend Jed (Elizabeth Debicki), and slimy chief of staff Lance "Corky" Corkoran (Tom Hollander). Pine is physically revolted by their haughty presence. This makes him all the more ripe for recruitment by Burr, who's also pregnant and fighting off interference by her duplicitous superiors.
All of this happens in Tuesday's Episode One. And we'll say no more story-wise, other than to say that all six episodes were made available for review. And by the end of them, you'll have taken a wild ride amid picturesque vistas and a rich soundtrack that add additional flavor to the first-rate performances.
The Night Manager
has the production values of a James Bond movie, but without the quips, chases or lapses in basic believability. As villains go, though, Laurie's Roper conveys a very palpable menace. "If you step out of line, I will make you howl for your mother," he tells Pine in Episode Three. Believe it.
Roper also sells this line in Episode Five: "We are emperors of Rome, Andrew. Blood and steel. The only elements that ever meant anything."
The Night Manager
has occasional brief nudity that might be airbrushed form the AMC version. The violence, of course, will remain intact. Advertiser-supported American television networks are OK with that, particularly on the home of the head-exploding
The Walking Dead
and
Fear the Walking Dead
.
If there's a downside to
The Night Manager
, it's the weekly doses. This is an eminently binge-worthy series that begs to be devoured in just a sitting or two. But unlike some le Carre treatments, it's never too murky to be followed in full after seven-day intermissions.
The ending is fully satisfying, but just open-ended enough to fuel talk of a sequel in some circles. But Laurie, Hiddleston and writer/executive producer David Farr have all firmly ruled that out -- for now at least.
That's probably just as well.
The Night Manager
stands tall as a stand-alone gem that elevates the cat-and-mouse game without ever entrapping itself. Bravo. Pip pip. All that stuff.
GRADE:
A
Email comments or questions to:
unclebarky@verizon.net