HBO's new version of Mildred Pierce remains as American as its apple pie maker -- and with plenty of crust
03/23/11 03:08 PM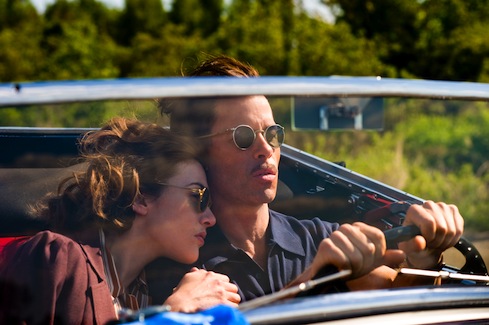 Kate Winslet and Guy Pearce in Mildred Pierce. HBO photos
Premiering:
Sunday, March 27th at 8 p.m. (central) on HBO and continuing at the same start times on April 3rd and 10th
Starring:
Kate Winslet, Guy Pearce, Evan Rachel Wood, Melissa Leo, Brian F. Byrne, James Legros, Mare Winningham
Directed by:
Todd Haynes
Produced by:
Christine Vachon, Pamela Koffler, John Wells, Todd Haynes
By ED BARK
HBO's slowly unfolding re-do of
Mildred Pierce
fastidiously goes by the book, which its predecessor decidedly did not.
The 1945 black-and-white feature film, for which Joan Crawford won her only Oscar, began with a murder before winding back to events leading up to it. A hard-boiled investigator popped in and out while moviegoers were left to speculate on who pulled the trigger.
Crawford, who turned 40 in the year of the film's release, was glowingly and impeccably lit throughout her many close-ups. Supporting characters contrastingly worked in the shadows. It all worked very much to her advantage on Oscar night, even though Crawford was too nervous to attend the ceremony in person. She happily
posed with her trophy in bed
after beating out Ingrid Bergman, Greer Garson, Jennifer Jones and Gene Tierney in the Best Actress competition.
Perhaps it was a small point in those days, but James M. Cain's same-named 1941 novel had no murder or private eye or climactic arrest of the culprit. And HBO keeps it that way throughout three Sundays and a total running time of roughly five-and-a-half-hours. So this far more faithful version is being billed as a miniseries rather than a movie, with Kate Winslet in the title role and her name in suitably bolder caps than the rest of the cast.
Set in Southern California and covering the years 1931-'40,
Mildred Pierce
risks being billed as a "chick flick," which it pretty much is. Not that manly men can't be slowly seduced by its absorbing tale of deceptions, delusions, losses and gains. Plus several displays of female nudity if that's what it takes.
Crawford's Oscar -- and Winslet is almost certain to win an Emmy -- was eclipsed in later years by her daughter Christina's searing
Mommie Dearest
memoir and the sensationally campy film starring Faye Dunaway.
Mildred Pierce
is at its core a "daughter dearest" tale, with an enabling mother taking her guff and U-turning back for more of it.
"Every good thing that happens is on account of you," Mildred tells her willful oldest daughter, Veda, whose taste for the finer things in life is insatiable. "If mother only had sense enough to know it."
Veda is played by Morgan Turner on the first two Sundays before Evan Rachel Wood steps in on the final Sunday. No getting around it, this is quite a jolt. Turner's Veda is bratty but rather plain-faced as a pre- and early teen. Wood, who steps into the role as a 17-year-old, is almost impossibly beauteous in comparison. But perhaps a week's passage of time will soften the transitional blow. The problem certainly isn't Wood's performance, which is very suitably full of ice and fire.
"Mother, in another minute, I'm going to be getting annoyed," she tells Mildred after first feeding her another cock 'n' bull story. Mom occasionally gives her a good slap -- before remorsefully turning the other cheek.
The miniseries begins just as the book does. Mildred's out-of-work husband Bert (Brian F. O'Byrne) is taking care of the front yard of their modest Glendale, Calif. home while she bakes pies and cakes for a small customer base. Herb used to own a prosperous home building company that went bust during the Depression. He's lately been visiting the unseen Maggie Biederhoff on the side, and Mildred knows it. A spur-of-the-moment argument prompts her to impulsively throw him out, leaving the so-called "grass widow" barely scraping by along with Veda and her younger sister, Ray (Quinn McColgan).
But Mildred soon has a gravely-voiced suitor named Wally Burgan (very well-played by James LeGros). He's the pot-bellied former business partner of Bert, who hasn't trusted him since. An impromptu date leads to first base and beyond. Mildred is both virtuous in her work ethic and somewhat scandalous in her quickly consummated relationships with men. Further proof comes along in Sunday night's Hour 2, when idle rich playboy Monty Beragon (Guy Pearce) quickly impresses Mildred with both his insouciance and prowess in the sack.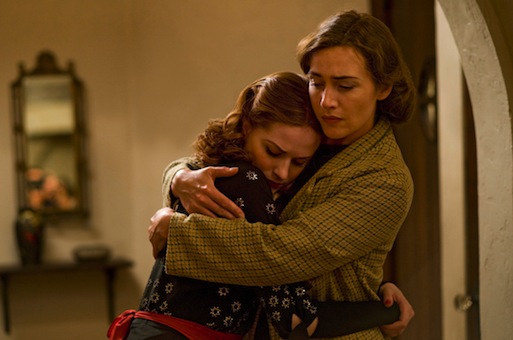 An ever-manipulative daughter dearest has mommy in her clutches.
The plot steadily thickens, but director Todd Haynes (
Far From Heaven
) is perfectly willing to let things marinate. The novel's passages on proper waitressing technique and chicken dissection are included here, too. Tone and atmosphere are served in abundance. Perhaps the pace dawdles a bit at times, but never to the point of congealing. This is an adult drama for adults, an anti-
Jersey Shore
with every fiber of its being.
Reigning best supporting actress Oscar winner Melissa Leo also excels as Mildred's earthy confidant and next door neighbor, Lucy Gessler. And many years removed from her formative teen roles, the invariably first-rate Mare Winningham makes another vivid impression as a saucy head restaurant waitress named Ida.
Not to give away too much, but Mildred scrapes and scraps her way to prominence as a waitress with a dream -- to open her own chicken and waffles place. Succeeding far beyond expectations, she finds herself with the wherewithal to keep Veda placated with creature comforts and piano lessons while the lay-about Monty increasingly has his hand out, too. Tragedies and betrayals are ever in the offing, though.
Winslet is increasingly impressive as the indomitable but malleable heroine who wants what she wants and gets what some think she deserves. Her restaurants are snickered at as "Pie Wagons" by their two principal beneficiaries. Should she be outraged at being prized as a great "piece of tail" and not all that much else? Or is the tail wagging the dog? Monty might not be a bold, fresh piece of humanity, but is he more transparent with his wants and needs than Mildred is?
It all ends snappily -- and with the same final exchange as the book's. Novelist Cain also wrote two other enduring classics --
Double Indemnity
and
The Postman Always Rings Twice
-- that cemented his reputation as "a master of the hard-boiled school of American novels."
Mildred Pierce
might not be driven by any central crime storyline, even though the 1945 movie was determined to have it that way. But it's a corker nonetheless, leaving shared blame and responsibilities for all while also providing a satisfying close. In other words, HBO has done it again, investing in a project of substance and a lead actress who powers it home. It doesn't always take a dead body. Sometimes you just have to put a few pies in the oven -- and take it from there.
GRADE:
A