Yanks-Phils highest-rated Series in five years
11/06/09 05:09 PM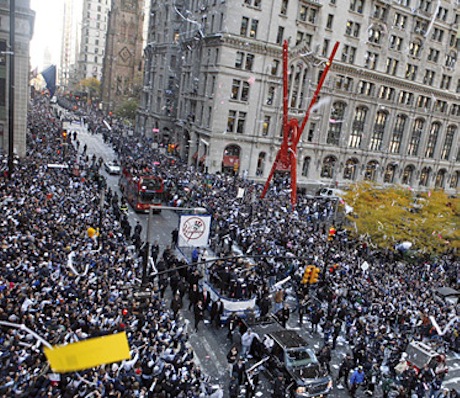 Parade rest: Yankees and fans celebrate 2009 World Series win.
By ED BARK
The final national Nielsen ratings are in for the 2009 World Series, which drew the biggest audiences since the Boston Red Sox swept the St. Louis Cardinals in 2004.
The New York Yankees' 6-game triumph over the Philadelphia Phillies averaged 19.4 million viewers nationally after last fall's rain-soaked Phils-Rays 5-gamer hit an all-time low with 13.6 million viewers.
The Red Sox-Cardinals Series, following Boston's dramatic ALCS comeback against the Yanks, averaged a much heftier 25.4 million viewers. But Fox isn't complaining after getting the first 6-game Series since the Florida Marlins beat the Yankees in 2003.
This was Fox's 10th consecutive year of World Series telecasts, and the fourth highest-rated during that period. Since 1973, when Nielsen Media Research began measuring total viewer ratings, the highest-rated Series is 1978's 6-game faceoff on NBC between the victorious Yankees and the Los Angeles Dodgers. That one averaged 44.3 million viewers.