Zucker will be leaving NBC shortly; Klein already in past tense as CNN head
09/24/10 11:37 AM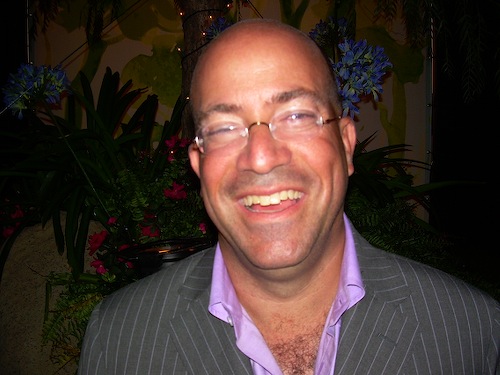 Jeff Zucker was all smiles at mid-summer NBC party. Photo: Ed Bark
By ED BARK
Jeff Zucker, the one-time boy wonder of the
Today Show
-- and still only 45 -- announced to company employees via email Friday that he will leave his position as head of NBC Universal after completion of the takeover by Comcast.
In an interview with
The New York Times'
Bill Carter, Zucker said it had become clear to him in recent weeks that Comcast wants someone else for the job when it begins running NBC. Regulatory approval is anticipated by the end of this year.
"I've spent over half my life at NBC," Zucker told
The Times
. "This is the only place I have ever worked. I've been here 24-and-a-half years. I met my wife here. My four kids were born while I was here. I've endured colon cancer twice. It's going to be incredibly strange for me personally."
Zucker was just 26 when he became executive producer of
Today
and led it to early morning dominance. But in recent years, the NBC broadcast network's prime-time woes -- underscored by last season's Jay Leno debacle -- have put him on thin ice at 30 Rock. The once dominant network remains in fourth place in the prime-time Nielsen ratings, but has made a notable re-investment in scripted programming this season.
The broadcast division's woes were in part offset by the successes of NBC Universal cable networks such as USA, Syfy, Bravo and MSNBC. But the network of
Seinfeld, Friends, ER
and other previous mega-hits is still perceived as the straw that stirs the drink.
"If we didn't have a broadcast network, we'd probably be the strongest media company out there," Zucker told unclebarky.com during an interview at a mid-summer NBC Universal "All-Star Party" in Beverly Hills. "The cable networks are doing great, but until NBC is stronger we're not going to get enough credit for that."
Comcast extolled the strength of NBC Universal's cable networks while making little mention of the broadcast arm in last year's official announcement of the planned 51 percent takeover. Meanwhile, Zucker was describing broadcast TV's economic model as "broken" and in need of reinvention. The weeknight implanting of
The Jay Leno Show
, which cost NBC Universal far less than five episodes of scripted television, was touted as a new and profitable way to do business. But representatives of NBC's affiliate stations screamed in protest and threatened not to carry Leno's show when its poor ratings knocked their late night newscasts for loops.
"What a difference a year makes," Zucker said at the NBC party interview. "We had a very tough year last year. But we put in a new management team (after firing the disastrous Ben Silverman) and we re-invested in the entertainment division. And I think you see the fruits of that a year later. NBC Entertainment is probably more stable than it's been in many years."
New NBC series such as
The Event, Chase
and
Outsourced
have fared reasonably well on their opening nights this week, although none of them won their time periods. Still, "you see the commitment," Zucker said. "Stronger management, more stability, more investment."
Zucker remained cautiously upbeat about his future with NBC Universal during the interview. But he also seemed to know what the future held for him.
"Nobody should ever feel entitled to anything," he said of his long tenure. "But on the other hand, I feel better about where NBC Universal is today than I probably have at any point since the Comcast announcement."
Leno's reinstatement as
Tonight Show
host, with Conan O'Brien now preparing a competing show on TBS cable, has not gone particularly well. His previous lopsided victory margins over David Letterman have been reduced to marginal at best. And his audience is starting to skew well beyond the 18-to-49 motherlode worshipped by most advertisers.
"Do we wish his (audience) demographics were higher? Look, I wish that the demos on the
Today Show
were higher," Zucker said. "But we're in 2010 and it's a much more fragmented world. So you have to be realistic about what's possible."
ALSO OUT -- CNN PRESIDENT JON KLEIN
-- Friday wasn't the best day to be a high-profile network TV executive. News also came that CNN head Jon Klein abruptly has been sacked just a few months before his makeover of the network's prime-time lineup is scheduled to take flight.
His replacement will be Ken Jautz, who had been running CNN's junior news arm, HLN (formerly Headline News).
Klein, who had headed CNN for the past six years, said in a memo to staffers, "It is with a tinge of regret tempered by great expectations for the future . . . that I bid all of you goodbye. The CNN I'm leaving today is demonstrably stronger than the one I inherited almost six years ago -- both editorially and financially."
In prime-time, though, CNN has fallen behind both Fox News Channel and MSNBC, prompting a wholesale reshuffling masterminded by Klein.
He recently announced that
America's Got Talent
judge Piers Morgan will be replacing Larry King after he steps down in December. Klein also hired former New York governor Eliot Spitzer, who resigned over a prostitution scandal, and conservative commentator/columnist Kathleen Parker to co-host a new 7 p.m. (central) show.
In his memo to staffers, Klein touted Morgan, Spitzer and Parker as ""intelligent, magnetic personalities" and praised holdover Anderson Cooper as "the best-known and most-respected news reporter on the planet."
Klein might be more missed by Fox News Channel than by some of his CNN colleagues. FNC had delighted in pillorying him in press releases touting its own ratings successes. Klein lately had been firing back on occasion. But on Friday he was kayoed before any of his new hires could even enter the ring.