R.I.P. Robin Williams: July 21, 1951 to Aug. 11, 2014
08/12/14 11:54 AM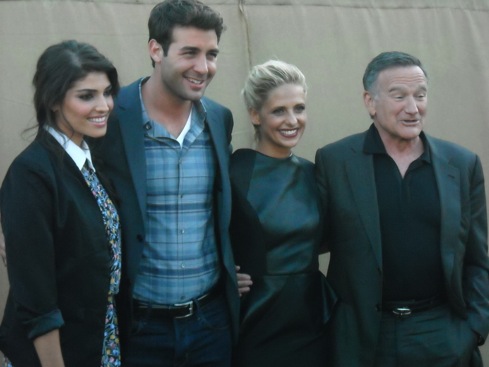 Robin Williams and co-stars of CBS' The Crazy Ones last summer.
Photo: Ed Bark
By ED BARK
@unclebarkycom on Twitter
It's been a struggle, both coming to grips with Robin Williams' death and striving to say something that hasn't been said already during this ongoing outpouring of grief and appreciation.
I've settled on excerpts from four previous articles that touch on both the pain and the glory of being a world-renowned actor-comedian who tended to drill deeper than many of us remember. Williams, who succumbed to depression by apparently committing suicide at the age of 63, added up to a lot more than "Mork from Ork."
I'd forgotten reviewing him in a May 4, 1987 PBS
Great Performances
adaptation of novelist Saul Bellow's
Seize the Day
. There was nothing funny about it.
"Robin Williams' mugging is near-legendary, but his mug has a permanent droop," I wrote. "Oh how he suffers."
Williams, just five years removed from the end of
Mork & Mindy's
run on ABC, played Tommy Wilhelm, a fallen salesman/failed actor whose imperious father, Dr. Adler, specialized in belittling him.
According to dad, "You know what you are in this world without money? Nothing. Absolutely nothing."
Tommy also was estranged from a wife who viewed him as a pitiful whiner. "Neither is Tommy's self-esteem heightened by a Hollywood agent's big plans for him," I wrote. "In a flashback scene, the stogie-puffer proclaims, 'I got you pegged as the kinda guy who loses the girl to George Raft.' "
Williams' performance was praised as "smashingly good" in a "drama so dark that the only hint of a grin comes when an old lady's matched weiner dogs urinate in a hotel lobby and then in the elevator carrying Tommy up for another downer with his father. Tommy is little more than a near-40-year-old mutt with the terminal look of a hurt puppy."
***
In his later years, Williams starred as Lance Clayton, a sad sack high school poetry teacher whose only son viewed him as a pathetic loser.
"It's like
Dead Penis Society
," Williams joked to TV critics in 2009 while otherwise promoting his latest HBO standup special at a time when he was still on the mend from open-heart surgery.
Directed and written by Williams' longtime friend, Bobcat Goldthwaite,
World's Greatest Dad
was financed by Mark Cuban's Magnolia Pictures and premiered on his HDNet Movies network before opening and quickly closing in theaters.
"The film is well-paced, never dull and headed toward a not entirely unpredictable but satisfying denouement," I wrote at the time. "Williams, whose occasional serious side has come out in films such as
Good Will Hunting, Insomnia
and
One Hour Photo
, is particularly effective when not knowing whether to laugh or cry. Witness his character's appearance on the
Dr. Phil
-like
Dr. Dana
TV show, where Williams turns in a few minutes of at least borderline brilliance."
As with
Seize the Day
, the pain was palpable and for the most part, unrelenting. Or as the review's first paragraph put it, "Morbidly fascinating and achingly watchable,
World's Greatest Dad
pairs a hellish son with a rejected, dejected father whose would-be novels have yet to see print."
***
A few years earlier, Williams found himself on the receiving end of NBC's
Behind the Camera: The Unauthorized Story of Mork & Mindy
. The 2005 scripted film came after the Peacock network had pecked away at the undersides of three previous ABC hits --
The Partridge Family, Three's Company
and
Charlie's Angels
.
A then unknown Chris Diamantopoulos, who went on to play Moe Howard in 2012's
The Three Stooges
feature film, co-starred as a manic Williams whose "once-heavy cocaine habit and friendship with self-destructive John Belushi (Tyler Labine) are voyeuristically telescoped."
The film took extreme liberties with anything resembling the facts. One scene depicted Williams finding Belushi flat on his back outside a bar. "Oh look," he said. "A star on Hollywood Boulevard. Don't you have to be dead to get one of those?"
Belushi was found dead of a drug overdose in 1982 at the Chateau Marmont hotel. The film showed Williams telling his near-comatose friend, "If you ever wake up, call me."
To my knowledge, Williams never publicly complained about the film, which NBC should be ashamed of to this day. But it must have pained him to know it was out there.
***
I also reviewed Williams' return to the standup comedy stage after a 14-year absence. He had an April, 2002 engagement in Dallas, performing for an hour and 45 minutes before a sold-out crowd at Fair Park Music Hall, capacity 3,420.
By the end of it all, "he has successfully sweated another Rorschach pattern through the front of his untucked black shirt," I wrote.
Williams opened with a Jerry Jones joke after lampooning the Dallas Cowboy owner's obvious facial adjustments. "Now if only they could sew his (expletive) mouth shut," he said.
Here are a couple of other paragraphs from that review:
"Draining bottled water like a man who had just been fed a dozen peanut butter sandwiches intravenously, Williams has downshifted slightly from the wildly improvisational comic he used to be. His routines are more practiced now, and some have been around a while. But the humor remains far more guttural and profane than that of a suit-and-tied Jerry Seinfeld, who played Arlington in late January and will take the Music Hall stage later this month.
"Williams' big finish, before a 10-minute encore, had him nearly blowing a gasket while demonstrating the considerable powers of Viagra. He used a bottle of water as a veritable Niagra for this one before digging his face into the crook of his arm in another sexual simulation that had the crowd nearly crazed with laughter."
During the encore -- and this still probably happened wherever he went -- an audience member loudly yelled "Mork!" while Williams was trying to talk about his increasingly strong-willed 12-year-old daughter.
"Not Mork, you (expletive)," he rejoined. "Mork died 20 (expletive) years ago! This is Robin!"
Pause, one-two.
"I shouldn't be bitter," Williams added. "It bought me a ranch."
Email comments or questions to:
unclebarky@verizon.net