Chip on his shoulder -- and in his brain: Intelligence comes to CBS
01/06/14 11:15 AM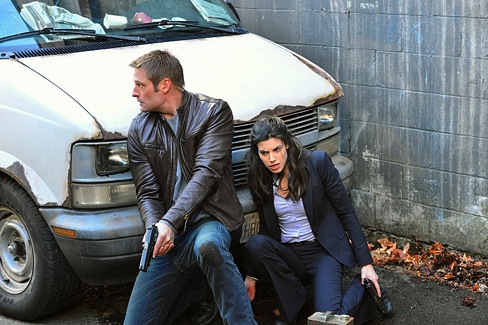 Yet another tight spot in Intelligence for Josh Holloway, Meghan Ory.
CBS photo
Premiering:
Tuesday, Jan. 7th at 8 p.m. (central) on CBS before moving to regular Monday, 9 p.m. slot on Jan. 13th
Starring:
Josh Holloway, Marg Helgenberger, Meghan Ory, John Billingsley, PJ Byrne
Produced by:
Michael Seitzman, Tripp Vinson, Barry Schindel
By ED BARK
@unclebarkycom on Twitter
Rugged good looks, a chiseled physique and an inclination toward insubordination are pretty much standard operating equipment for CBS' latter day stream of crime-fighters.
Not that it's enough to be a rudimentary Mike Hammer. You need an extra angle. So in this latest action hour, Gabriel Vaughn (former
Lost
star Josh Holloway) just happens to have an "extremely rare genetic mutation" that makes his brain the perfect breeding ground for a "super-computer microchip." This means he's the world's first human to be hooked into the "global information grid." Which also means he's free of any tiresome monthly Internet, telephone and satellite provider bills.
There's no such thing as a free HBO, though. In
Intelligence
, Gabriel is constantly at the mercy of directives from prickly Lillian Strand (Marg Helgenberger in her first TV series outing since
CSI: Crime Scene Investigation
). She's the unbending director of U.S. Cyber Command, which is dedicated to stamping out "new and even more insidious threats" from here, there and everywhere.
Lillian uses Gabriel as her point man but doesn't want him to run amuck or anything. His designated keeper is pretty Riley Neal (Meghan Ory), a Secret Service agent who's really good at protecting people. Why, to hear Lillian tell it, Riley was stabbed multiple times in a restroom while the President's children were in her care. Even so, "she incapacitated all four men and still managed to get those girls home for dinner," Gabriel is informed. Both Holloway and Helgenberger amazingly keep from bursting into laughter, but one wonders how many takes that took.
Tuesday's special preview of
Intelligence
, snuggled behind a new episode of
NCIS
, can be groaningly over-played at times. Besides being a techno-centric remodeling of
The Six Million Dollar Man
, it also filches from the James Bond movies (Gabriel gets thrown around by an over-sized Asian henchman) and
Raiders of the Lost Ark
(Gabriel finally stops messing around and kills him with a pistol shot).
Another scene most have seen before: our hero running out of real estate and poised at the edge of a cliff while bad guys close in. What to do? Well, there's a narrow body of water a long way below.
On the plus sides, Holloway looks to be a sturdy, glib-tongued leading man who seems at home whenever the script calls for gun battles and fist fights. There's a lot of that going on in Tuesday's first outing. But Monday's Jan. 13th second hour, also made available for review, calms down some while also unraveling a good part of the mystery over Gabriel's wife, Amelia. She's a fellow agent who may or may not have "turned" after going abroad and then disappearing in 2007.
Intelligence
will be replacing CBS' little-watched
Hostages
on Monday nights after its two-hour Jan. 6th "season finale" (and almost certainly series finale). The newcomer should fare better, but probably not enough to outdraw formidable competition from NBC's
The Blacklist
and ABC's
Castle
.
For his first Monday night face-off against those two dramas, Holloway strips down to a glistening muscular torso while taking out his frustrations on a heavy boxing bag. But any visual stimulus is countered by Helgenberger's continued struggles with the clunky lines given her. During Episode 2, she's stuck with, "As my father is fond of saying, character is only defined by the decisions you make when all could be lost."
No wonder she always seems to be in a bad mood.
GRADE:
C+
Email comments or questions to:
unclebarky@verizon.net