Play @%$!*#% Ball -- HBO's Eastbound & Down throws hard but misses the plate
02/13/09 03:41 PM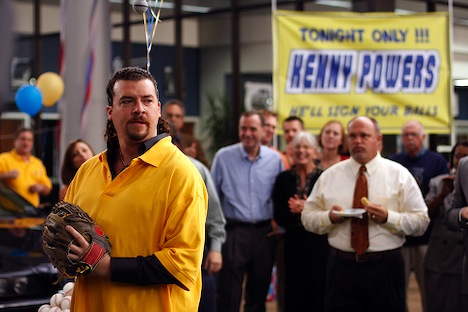 Danny McBride strikes out as washed-up pitcher Kenny Powers.
Premiering:
Sunday, Feb. 15th at 9:30 p.m. (central) on HBO
Starring:
Danny McBride, Katy Mixon, John Hawkes, Jennifer Irwin, Andrew Daly, Steve Little, Ben Best
Produced by:
Will Ferrell, Adam McKay, Chris Henchy, Jody Hill, Danny McBride, Ben Best
By ED BARK
Just in time for spring training, here comes HBO's comedy series about a profane, loutish, sexist, homophobic, coke-sniffing ex-Big League relief pitcher who "looks like a big bag of mashed-up asshole" in the view of one cogent observer.
In these renewed troubled times for baseball, that might just make him a redneck role model. Eat your heart out, John Rocker. You were way before your time.
Eastbound & Out
, which has just a six-episode order, is breaking into HBO's usually prestigious Sunday night lineup (beginning on Feb. 15th at
9:30 p.m. central
). Perhaps it's striving to be even more unkempt and off-putting than
Lucky Louie
, which laid a big egg on HBO a few seasons back.
HBO bit, though, perhaps because Will Ferrell is a co-executive producer of
Eastbound & Out
. But Ferrell probably wouldn't be caught dead -- or alive -- playing balls-out Kenny Powers (Danny McBride). There's nothing sympathetic -- or very funny -- about him, whether he's browbeating middle school-aged kids or repeatedly proclaiming his prowess as both a pitcher and a cocksman.
After baseball bounces him, self-destructive Kenny returns home to North Carolina to mooch off his brother, Dustin (John Hawkes), who looks like a somewhat skinnier Jim Varney in his prime. Justin's God-fearing wife, Cassie (Jennifer Irwin), and their three young children likewise are subjected to Kenny's super-coarse proclivities and hard-core profanity at the dinner table.
Our hero is also intent on winning back his voluptuous high school sweetheart, April Buchanon (Katy Mixon), who's engaged to a standard issue, buffoonish middle school principal.
For some reason, the school eagerly hires Kenny as a substitute Phys Ed teacher.
"My dad says you ruined baseball," a kid tells him. Kenny then encourages the other kids to torment his pint-size accuser.
McBride plays the series' lead character in a manner that might wear down even Bluto Blutarsky. He's a full-bore a-hole all the way, whether berating one of Dustin's kids for sitting on his jet ski or stumbling in drunk and drugged to scare the kid all over again.
Amazingly, though, Kenny never loudly passes gas in the series' premiere. Maybe they're saving that for later, or even planning to build an entire episode around a bout with a bad burrito.
In one of TV's odder couplings to date,
Eastbound & Down
's Sunday night running mate will be HBO's incumbent
Flight of the Conchords
. That's akin to wearing an "I'm with Stupid" T-shirt to the opera. Which come to think of it makes a little more sense.
GRADE:
D