Netflix returns to camp with a winning Wet Hot American Summer prequel series
07/23/15 01:06 PM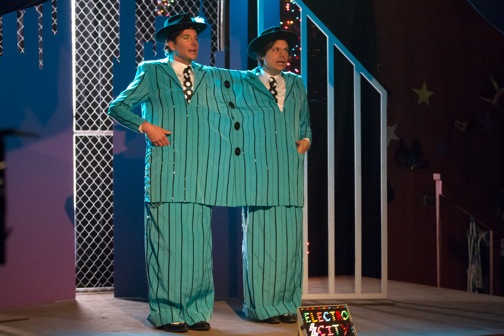 Bradley Cooper, Michael Ian Black in "Zoot Suit" production number from Wet Hot American Summer: First Day of Camp. Netflix photo
Premiering:
All eight episodes available for streaming on July 31st on Netflix
Starring:
Paul Rudd, Bradley Cooper, Amy Poehler, Elizabeth Banks, Janeane Garofalo, Christopher Meloni, Michael Ian Black, Lake Bell, Josh Charles, John Slattery, Ken Marino, Michael Showalter, Molly Shannon, David Hyde Pierce, H. Jon Benjamin, Margueritte Moreau, Zak Orth, Marisa Ryan, Judah Friedlander, Nina Hellman, Ken Marino, A.D. Miles and Joe Lo Truglio with a host of star cameos
Produced by:
Michael Showalter, David Wain, Howard Bernstein, Jonathan Stern, Peter Principato
By ED BARK
@unclebarkycom on Twitter
At last comes the origin story of the talking mixed vegetables can.
Which is just one reason why it's best to watch or re-watch 2001's
Wet Hot American Summer
before diving into its Netflix prequel,
Wet Hot American Summer: First Day of Camp
. That way it will all make at least a little bit of absurd sense.
There's ample time to do both. The original indy movie, which served as a little launchpad for both big and estimable stars, is currently available to Netflix subscribers. And the eight half-hour episodes of
First Day of Camp
won't be streaming until Friday, July 31st.
Netflix made six of them available for review. They have more than enough laugh out loud moments to justify this completely unexpected return trip to Camp Firewood, circa the summer of 1981. Every single young counselor of import is back for another go, with the likes of Paul Rudd, Bradley Cooper, Amy Poehler, Elizabeth Banks and Christopher Meloni contributing far more than brief walk-throughs.
There's also a cavalcade of star cameos -- Chris Pine, Jon Hamm, Kristen Wiig, Michael Cera, Jordan Peele, "Weird Al" Yankovic, etc. -- and five longer-term new characters played by John Slattery, Lake Bell, Jason Schwartzman, Josh Charles and David Wain, who directed both the movie and the prequel and also co-wrote them.
The other overall maestro is creator, co-executive producer and co-writer Michael Showalter, who continues in the central role of hapless, lovelorn camp counselor Gerald "Coop" Cooperberg. Of all the returnees, Showalter's physical appearance is the most notably changed. Let's kindly say he's considerably chunkier while the 46-year-old Rudd (currently starring in
Ant-Man
) is The Fountain of Youth personified. He's still in his wheelhouse as twentysomething camp counselor Andy, a cool, flippant, gross womanizer who heists every scene he's in.
Andy's arrival, skidding in on a motorcycle while making a classic dismount, is a 10 on a 1-to-10 scale of grand entrances. But Slattery's not too far behind in Episode 1 as grandiose Broadway producer Claude Dumet, who's first seen in a white mask layered over another white mask.
Dumet's very Simon Cowell-ish treatment of auditioning teens is a highlight of Episode 4. This half-hour also includes Showalter's imitation of a hard-punching President Reagan, Hamm's explosive
homage
to
No Country For Old Men
and Andy's view that "trees look weird if you squint at 'em." By the way, Hamm plays a high-level government assassin known as Falcon. In the Tilt-A-Whirl story structure of
Wet Hot American Summer
, this is well within the dotted lines.
As with the original, the prequel is without any nudity but with an abundance of decidedly adult language. A good deal of it comes from the mouth of a new camp kid named Drew (Thomas Barbusca), who's constantly picking on the nerdish Kevin (David Bloom). The other new camp-goer is Amy (Hailey Sole), who's uncommonly sweet and quiet. She likes Kevin and he likes her.
OK, enough with the G-rated fluff.
Wet Hot American Summer
is much more about the reliably vulgar counselors and directors. In this vein, Showalter disguises himself as serial defecator Patty Pancakes in Episode 2. But he's also being a Good Samaritan during a sequence that leads to a riotously stinky exchange with counselor Donna (Lake Bell), his would-be girlfriend.
Jefferson Starship's "Jane" remains the hard-rocking, perfectly apt theme song and "back stories" abound beyond how the talking mixed vegetables can came into being.
Also revealed is the initial relationship between the camp's head chef (Christopher Meloni) and arts/crafts counselor Gail von Kleinenstein (Molly Shannon). The blossoming romance of counselors Ben and McKinley (Bradley Cooper, Michael Ian Black) comes to full flower while new counselor Lindsay (Elizabeth Banks) is not what she seems and camp scientist Henry Newman (David Hyde Pierce) is still out of pocket but laying the groundwork for his arrival. Plus, there's that problematic gurgling green toxic waste dump discovered by camp directors Beth (Janeane Garafolo) and Greg (Jason Schwartzman).
A majority of the storytelling gags rise above the purely juvenile, although sometimes just barely. Yes, it's quite a conceit to have older actors playing half their ages or less -- and then mostly get away with it. Game, set, match goes to Amy Poehler's counselor Susie, who tells Slattery's Claude Dumet in Episode 6 that it would be imprudent to carry their budding relationship beyond the confines of Camp Firewood. "And besides," she adds, "I'm 16 years old!"
Poehler in fact is 43. But who cares when everyone's having this much fun?
GRADE:
B+
Email comments or questions to:
unclebarky@verizon.net