Shedding new light on Springsteen's Darkness in superb HBO reprise
10/06/10 01:04 PM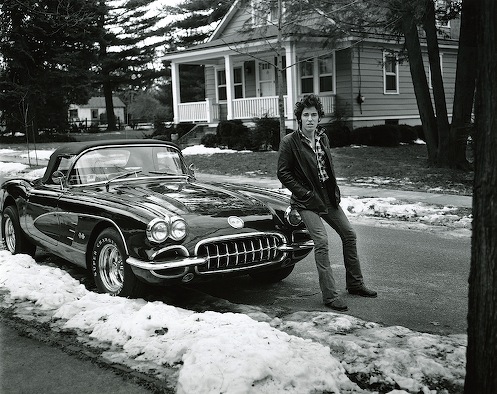 Car & Driver: Springsteen in the late '70s HBO photo
By ED BARK
On the heels of PBS'
Michael Feinstein's American Songbook
comes HBO's kindred
The Promise: The Making of 'Darkness on the Edge of Town'.
They couldn't be much more dissimilar musically. But both of these thoroughly interesting enterprises share a passion for how compositions come together -- and how different they might have been.
HBO's 90-minute film premieres on Thursday, Oct. 7th at 8 p.m. (central) and will be repeated throughout the month. It melds current-day recollections with newly discovered footage, circa 1976-'78, of Bruce Springsteen and the E Street Band rehearsing, recording and struggling to make a totally different album from 1975's breakout smash,
Born to Run
. But
Darkness
wouldn't be released until 1978.
Litigation between Springsteen and his manager at the time, Mike Appel, had preempted an immediate return to the studio to capitalize on the extraordinary momentum built by
Run
. Springsteen wanted to do the followup album his way, but Appel still had final say on the finished product. So who was going to be in control? "Early on I decided it was going to be me," Springsteen recalls while emitting a slight chuckle.
Springsteen and Appel, who also recalls those times in a new interview, eventually reached an accommodation after having dinner together. They remain on speaking terms today. But back then, "You're fighting a friend," Springsteen says. "I wish it on nobody. The loss of Mike's friendship was a tremendous loss."
Jon Landau, who co-produced the "wall of sound" masterpiece that
Run
became, initially anticipated doing more of the same with the band's fourth album. But Springsteen had become determined to shift into reverse and record a leaner, far less ornate album that would harken back to his hardscrabble upbringing while virtually renouncing his newfound fame.
"I had to disregard my own mutation," Springsteen remembers. "That was the cloud of success."
"We didn't want any sweetening. We wanted the coffee black," Landau says after the two reached the same conclusion.
None of this sounds pretentious in the context of a film that is partly about what might have been had Springsteen yielded a bit more to his commercial instincts. Two Springsteen-written songs that quickly became big singles for others -- "Because the Night" (Patti Smith) and "Fire" (The Pointer Sisters) -- could have been a part of the
Darkness
playlist. In fact he wrote about 70 potential tracks for the album, with only 10 making the final cut.
"I had like a big junkyard of stuff as the year went by," Springsteen says.
But a new and much-expanded
Darkness
boxed set
, due to be released on Nov. 16th, will include Springsteen's original takes of both "Because the Night" and "Fire."
Lead guitarist Stevie Van Zandt, (also Silvio from
The Sopranos
) can be seen in two vintage duets with Springsteen during the from-the-vault footage. They're infectious and speak to Springsteen's potential as a juke box hero. But that wasn't the way he wanted to rock -- or roll.
"It's a bit tragic in a way," a latter day Van Zandt laments. "Because he would have been one of the great pop songwriters of all time . . . A lot of our 'poppier' stuff" didn't make it to vinyl.
The more than 30-year-old footage, of rehearsals in both the studio and Springsteen's home, harkens to times when the music was all that mattered no matter how long it took.
"We were messianic in our approach . . . It was both self-indulgent and the only way we knew how to do it," Springsteen recalls.
Still, they just couldn't get the sound down, until a novice mixer named Chuck Plotkin arrived with an ear for distilling the music to its bare essentials.
"He understood how to build a sound picture," says Springsteen, who praises Plotkin as "the white knight on that record."
It's an altogether terrific film -- and filmed record. A band and its visionary leader finally carried the day. In retrospect, maybe they didn't make the absolute best album they could have made. But it no doubt is the one that Springsteen had to make at the time.
GRADE:
A