Let's have a nice hand for Ovation's Song By Song: Dolly Parton
03/07/13 01:58 PM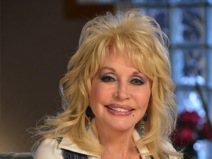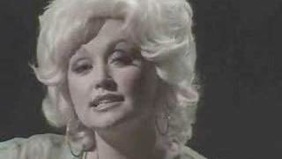 Now and then: the inimitable Dolly Parton. Ovation photos
Premiering:
Sunday, March 10th at 7 p.m. (central)
Starring:
Dolly Parton for starters
Produced by:
TH Entertainment LLC
By ED BARK
@unclebarkycom
Ovation is trying to be what Bravo and A&E used to be -- a network devoted to higher quality music, film, art, performance, etc.
It's proved to be a long uphill climb made tougher on New Year's Eve of last year. That's when kingpin Time Warner Cable dropped Ovation from its menu because not enough subscribers were watching it. The network now is down to the 48 million homes that have Verizon Fios, AT&T U-Verse, DIRECTV or Dish available to them. The network also has a youtube channel.
Sunday's launch of
Song By Song
as a weekly half-hour series isn't likely to lure battalions of viewers away from watching duck-callers, pampered skanks, Honey Boo Boo-ish hillbillies and people who hoard, pawn or pick through storage shelters. But maybe the ever-appealing Dolly Parton will be something of a drawing card.
Ovation previously tried the
Song By Song
concept as a limited series spotlighting some of the late Johnny Cash's hits. It supposedly was a big success by this network's standards, prompting a six-episode dissection of Parton's smash singles. Episode 1 zooms in on "I Will Always Love You," which many know only as the deceased Whitney Houston's anthem.
But she didn't write it or originally sing it. Dolly did. And the back story of where the song came from is interesting enough to hold this opener together. Or as narrator Ray Van Ness says a little too gravely, "Discover the dark truth behind a beloved ballad about the man Dolly will always love."
Parton is interviewed for the program, as are a wealth of admirers. Carrie Underwood, Vince Gill, Kenny Rogers, Mac Davis, Miranda Lambert, Brad Paisley, Kristen Chenoweth and an already sadly trashed-out looking Miley Cyrus figuratively sing her praises without really advancing the story of how "I Will Always Love You" came to be. Still, it's a nice roster of familiar faces, adding stature to this briskly moving tale.
Way back before country steered its way toward rock, Parton became the resident female singing star of
The Porter Wagoner Show
, following stints by Norma Jean and Jeannie Seely.
Remember him? Wagoner had a high-rise, cotton candy pompadour and wore suits that might have made Liberace cry for his mama. He also charted 81 singles from 1954-'83, according to his wikipedia bio. And Wagoner's namesake syndicated show was a monster hit in country music country, running all the way from 1960 to 1981.
Parton joined him in 1967 and stayed until 1974. Both of them had hot tempers, she recalls, bringing out their bests and worsts. It was "kind of a love-hate relationship" in her view. Parton became a big star in her own right and Wagoner wanted to keep her -- with an implicit understanding.
"Porter was not going to let her be more than him, because it's his show," Rogers says.
He didn't take her decision to leave very well, says Parton. So she impulsively wrote the words and music to "I Will Always Love You" in just one night's time. It was her parting gift to the man who made her career. And one of the most affecting portions of
Song By Song
is Parton's original performance of the song on Wagoner's show.
Her version became a No. 1 hit twice, the second time when Parton re-recorded the song for the 1982 feature film version of
The Best Little Whorehouse In Texas
. Parton also used "I Will Always Love You" as the weekly sign-off on her short-lived 1987 ABC variety show
Dolly
, although the Ovation special makes no mention of this.
"That song is just like an old milk cow," Parton says. "I just keep milkin' it for all it's worth."
Houston's recording, for 1992's
The Bodyguard
, topped the pop charts for 14 weeks. Younger generations no doubt remember it as
her
song, not Parton's. But if she minds that, she's not telling.
"I'll always be grateful to Porter (who died in 2007) for inspiring the song and to Whitney for having a huge record on it," Parton says.
The five other weekly Parton portions of
Song By Song
will highlight, in order, "9 to 5"; "Coat of Many Colors"; "Jolene"; "Travelin' Thru" and "It's All Wrong, But It's All Right."
Sunday's premiere, the only episode made available for review, could have gone a little deeper into how Parton came up with the song's melody, whether the lyrics came easily, etc. But fans of Parton -- and really, who doesn't like her? -- likely won't be disappointed in this breezy little outing.
Maybe Ovation will get a little buzz off of it, too. Although launched in April 1996 and re-launched in June 2007, the network remains well-hidden in most viewers' cable universes. So you might want to stop on by before it's too late. And
Song By Song
is as good a reason as any to have a first date.
GRADE:
B-minus
unclebarky@verizon.net