Yet another JFK assassination special is nonetheless a grabber -- this time on the History Channel
10/09/09 12:03 PM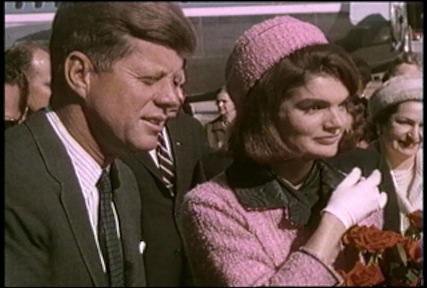 The President and First Lady on the last day of his life.
By ED BARK
True story. Britney Spears had never heard of Bob Hope.
At least that's what Paul Shaffer told David Letterman this week while plugging his new book of celebrity anecdotes.
It just goes to show that you can't assume anything -- not even an awareness of who John F. Kennedy was and where he died on that terrible day of Nov. 22, 1963.
Which means that History Channel's two-part, four-hour
JFK: 3 Shots That Changed America
might well be a revelation to the Spears generation. And even for the many who think they know it all, it's still seldom less than transfixing.
Premiering
Sunday, Oct. 11th at 8 p.m. (central)
and continuing at the same hour Monday,
3 Shots
is the featured attraction of History Channel's so-called "Kennedy Declassified Week." Presented without narration, it's an extended chronological trip through 30 years of the assassination and its aftermath.
"This is what happened, as it happened," viewers are informed. "Much of this material has not been seen before."
Well, some of it perhaps hasn't -- at least not by a national audience. But many D-FW viewers likely have seen the live, in-studio anchoring of then WFAA8 program director
Jay Watson
. His spur-of-the-moment interview of
Abraham Zapruder
, whose famous film captured the fatal shots in Dallas, has been revisited many times on various assassination anniversaries.
The producers of
3 Shots
, Nicole Rittenmeyer and Seth Skundrick, have compiled their oft-riveting film from home movies, jumpy raw news footage and previously televised coverage. Sunday's two-hour opener initially captures JFK and his wife, Jacqueline, in all their glory, both at a packed Fort Worth breakfast and after Air Force One's touch-down at Love Field. It ends with the shooting of jailed accused assassin Lee Harvey Oswald by strip club owner Jack Ruby.
One of the prominent Dallas TV reporters of the day, KRLD's Bob Huffaker, keeps calling him "Lee Harold Oswald." Blunt-spoken Dallas police chief Jesse Curry nearly spits out his description of Oswald as "very arrogant. Has been all along."
Monday's Part 2 deftly condenses the recriminations, investigations and conspiracy theories that persist to this day. Famous faces abound, including Johnny Carson's. On his old New York-based
Tonight Show
, he interviewed New Orleans district attorney Jim Garrison, whose dogged, but largely discredited assassination investigation was lionized in director Oliver Stone's controversial
JFK
film.
3 Shots
ends in the summer of 1993, when previously classified assassination files were opened. One of the last images is of former WFAA8 assignments editor Bert Shipp (father of investigative reporter Brett Shipp) telling the camera, "People don't wanna let it go."
Indeed not. This is still powerful, emotional material, even for those who think they know it by rote.
For later generations,
3 Shots
will be an archaeological dig into times when Bob Hope -- Bob Who? -- was still the nation's king of comedy. But nearly 46 years after that traumatic day in Dallas, viewers of all ages can unite in the same reaction. It's still almost impossible to believe.
GRADE:
A-minus