Back on its heals: TNT's HawthoRNe adds more meds to summertime cabinet
06/15/09 04:12 PM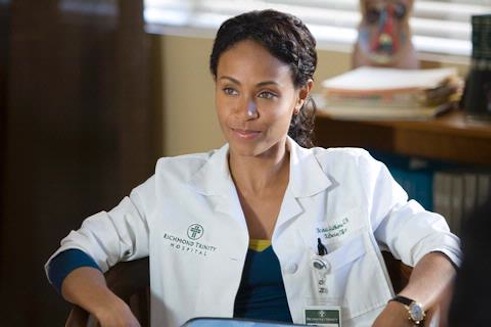 Jada Pinkett Smith takes charge as head nurse Christina Hawthorne.
Premiering:
Tuesday, June 16th at 8 p.m. (central) on TNT
Starring:
Jada Pinkett Smith, Michael Vartan, Suleka Mathew, David Julian Hirsch, Vanessa Lengies, Christina Moore, Hannah Hodson
Produced by:
John Masius, Jamie Tarses, Mikael Salomon, Jada Pinkett Smith
By ED BARK
There are doctors in your house this summer. And no shortage of nurses either.
TNT's
HawthoRNe
is the fifth new medical-themed series in the last three weeks. So far they've ranged from first-rate (Showtime's
Nurse Jackie
) to breezily entertaining (USA's
Royal Pains
) to pretty decent (Fox's
Mental
) to coma-inducing (NBC's
The Listener
).
HawthoRNe
, which precedes Tuesday's third season premiere of TNT's
Saving Grace
, has a very game Jada Pinkett Smith going for it. She's all over the role of chief nursing officer Christina Hawthorne, a firm, fair, caustically compassionate caregiver who might want to hook up someday with Edie Falco's pill-popping, hell-on-wheels Jackie Peyton. No imperious or incompetent doctor would stand a chance.
Hawthorne is considerably softer, though, even when telling a pair of cops, "Get off of me. I'm a nurse, dammit!"
Her Bones McCoy is Dr. Tom Wakefield (Michael Vartan), chief of surgery at Richmond Trinity Hospital. He feels the pain of Christina's big loss after treating her late husband, who's been dead for a year as
HawthoRNe
begins unfolding. She's had insomnia ever since, we learn. And her prototypically rebellious daughter, Camille (Hannah Hodson), is prone to blaming mom for dad's death.
Christina compensates by working long, selfless hours and upbraiding doctors when it's called for (which is often). She also befriends a homeless lady with child and tries to keep her nursing staff out of harm's way while always demanding their full devotion to duty.
Principal among them is nurse Bobbie Jackson (Suleka Mathew), a beauty who views herself as "damaged goods" because of a prosthetic leg. There's also hard luck male nurse Ray Stein (David Julian Hirsch), blubbering rookie Kelly Epson (Vanessa Lengies) and yummy Candy Sullivan (Christina Moore), who otherwise makes a fairly minimal impression in the first two episodes sent for review.
Smith, wife of A-list movie star Will Smith, is given every opportunity to shine here. Her acting range can't yet be called far and wide. But she makes for an appealing lead character amid briskly paced proceedings.
HawthoRNe
can't be accused of dawdling, even if it occasionally spoons on the sap. Then again, what hospital drama doesn't?
Most viewers also will recognize a few veteran guest stars. In Tuesday's premiere, Joanna Cassidy (
Six Feet Under
) drops in as Christina's demanding mother-in-law, Amanda, who's also on the Trinity hospital's board of directors. Next week's episode brings former Cosby kid Malcolm-Jamal Warner as a brain aneurism patient and Emmy-laden Cloris Leachman as -- what else -- a crusty, impossibly demanding, bed-ridden banshee.
HawthoRNe
, co-produced by former ABC entertainment president Jamie Tarses, may not be quite the cure for your summertime blues. Still, it's a better than average effort with some star quality presence in the title role. Believe Christina Hawthorne when she says, "We are here to take care of the sick -- no matter what."
A little more care with scripts and characterizations would be a nice touch, too.
GRADE:
B