NBC's new Deception not a notable exception
01/04/13 02:11 PM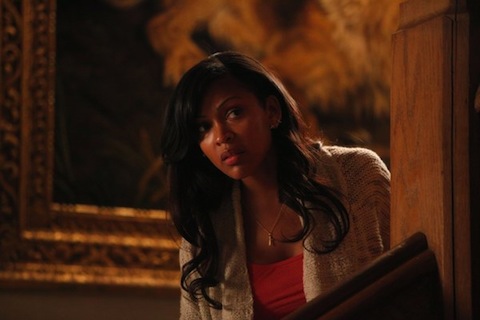 Meagan Good stars as Deception's head snoop. NBC photo
Premiering;
Monday, Jan. 7th at 9 p.m. (central) on NBC
Starring:
Meagan Good, Laz Alonso, Victor Garber, Tate Donovan, Katherine LaNasa, Wes Brown, Ella Rae Peck, Martin Hinkle
Produced by:
Liz Heldens, Lloyd Braun, Gail Berman
By ED BARK
@unclebarkycom
NBC's Mondays rolled along throughout the fall with a ratings rich combo of
The Voice
and
Revolution
.
Now come the sobering realities of
The Biggest Loser
and the new drama series
Deception
(first announced as
Infamous
).
You also can call it a blend of AMC's
The Killing
and ABC's
Revenge
, both of which premiered to considerable praise before the knives started to come out. Both
The Voice
and
Revolution
are scheduled to return on March 25th, which in
Deception
's case might be a godsend.
NBC hasn't said whether the series will wrap up its mystery of "Who Killed Vivian Bowers?" before being supplanted by
Revolution
. But judging from the first three episodes sent for review, this can't happen soon enough.
Deception
is fairly far from being a terrible series. But it's not nearly compelling enough to merit a prolonged string-along.
The Peacock also is risking a potentially tiny audience for Monday's all-important scene-setter by scheduling
Deception
opposite college football's national championship game between Alabama and Notre Dame. A serial mystery series -- as opposed to CBS' battalion of crime-of-the-week whodunits -- needs a decent-sized tune-in to prosper. Those who haven't made the down payment aren't likely to get with the program later.
Meagan Good (
Californication
) stars as former San Francisco cop Joanna Locasto, a childhood/teen best friend of the deceased. In the opening minutes Vivian is found dead of a supposed drug overdose. But Locasto's ex-partner, FBI agent Will Moreno (Laz Alonso), suspects foul play. And there are ample unsavory characters in the Bowers family, which owes its immense wealth to a pharmaceutical drug empire.
In New York City for the funeral, Locasto is persuaded by Moreno to wear a wire and infiltrate the family. Reluctant at first, she of course relents. And via a constant series of flashbacks -- all triggered by an increasingly aggravating "whoosh" sound -- we see glimpses of the way the Bowers were when Locasto lived with them. Then family patriarch Robert Bowers (ubiquitous Victor Garber) invites her to live with them again while also providing a nice job. Beautiful.
In the here and now, there's also ample room for clunky dialogue on the order of, "Vivian was a drug-addicted, narcissistic black hole of need." This comes from she-devilish Sophia Bowers (Katherine LaNasa), who's married to the philandering Robert. A minor inconvenience for him is that 27 people in Thailand died from the after-effects of an experimental cancer drug he's still preparing to market. Hmm, did Vivian know too much?
Tate Donovan, who plowed similar terrain in
Damages
, plays disaffected oldest son Edward Bowers while his playboy kid brother Julian (Wes Brown) strives to rekindle the somethin' somethin' he once had with the young Locasto. There's also bratty Mia Bowers (Ella Rae Peck), a teen who at some point may be quite shocked to learn the identity of her real mother. Until then, she infuriates the family by sporting a "Who Killed Vivian Bowers?" t shirt at a family breakfast. That's in Episode 2.
Some of this is diverting or at least laughable enough to play along. And while
Deception
doesn't rise anywhere close to the level of distinguished TV, it is notable for being the second broadcast network drama series this season with an African-American woman in the lead. ABC's
Scandal
is the other one, and I don't remember this ever happening before.
Deception
also could possibly profit from Rush Limbaugh taking offense on his popular radio show. Episode 2 has a dismissive reference to him as "a huge, giant fat man" in connection with his admitted previous heavy reliance on the drug Oxycontin.
Should Limbaugh choose to harangue NBC for this, there's no time like the present. And the network would be very grateful.
GRADE:
C+
unclebarky@verizon.net