Made-for-TV movie review: Jesse Stone: Sea Change (CBS)
05/21/07 06:17 PM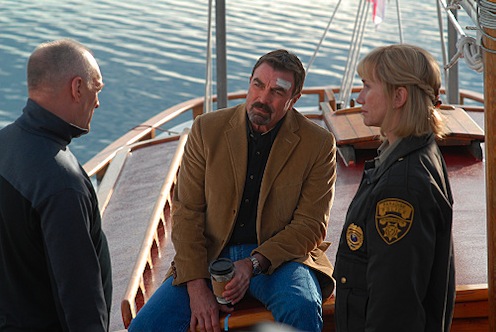 Tom Selleck and Kathy Baker star in CBS' Jesse Stone: Sea Change.
By ED BARK
Made by adults and for adults, it stars a TV icon who's never been better as an actor or a character.
CBS'
Jesse Stone: Sea Change
premieres on the penultimate night of the May "sweeps" in times when broadcast networks have all but dry-docked their once thriving made-for-TV movie franchises.
ABC made none this year, NBC contributed only a Christmas movie and
Sea Change
(8 p.m. central on Tuesday, May 22) will be just CBS's fourth. It's also the fourth go-around for Tom Selleck as quietly hard-drinking Jesse Stone, bored police chief of sleepy Paradise, Mass.
Selleck, 62, will join the cast of NBC's
Las Vegas
this fall. But this part fits him like a coat of many colors. Adapted from the Robert B. Parker novels, it provides Selleck with a great part to underplay but never sleep through. Stone is compassionate, gruff, searching for answers, sharp as a tack, romantic, self-destructive, inquisitive, witty and irascible.
He's also old-school without getting all ancient about it. Still plays his music on a turntable. Doesn't have a cell phone. Researches cases by fingering through old newspaper clips.
Sea Change
re-introduces him at a leisurely pace. The movie is perfectly scored, beautifully atmospheric and compelling without being in a big rush about it. We never even see a dead body. But Stone is looking into a bank robbery-related homicide, circa 1992. His other choices were cold cases from 1923 and 1905.
The supporting cast also fits right in. William Devane returns as Stone's shrink, Dr. Dix. Kathy Baker plays a plucky Paradise cop and Sean Young shows she can still wear a bikini to good effect as a tarty tourist named Sybil Martin.
The murder mystery at hand is a bit complex but falls into place. The real reason to watch, though, is Selleck. He's simply letter-perfect, whether drinking too much or learning too little. This is an Emmy caliber performance, even if it's almost certain to be overlooked.
Grade:
A