NEW SEASON: Re-married to the mob, HBO walks the walk in Boardwalk Empire
09/17/10 08:40 AM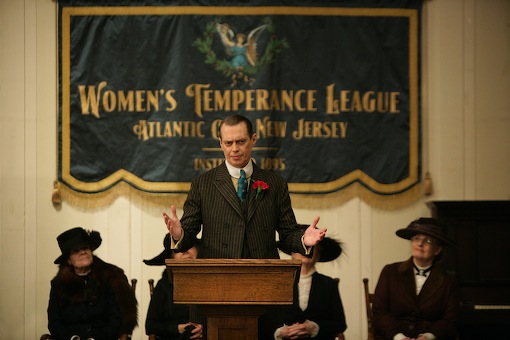 "Nucky" Thompson slings the B.S. as Prohibition nears. HBO photos
Premiering:
Sunday, Sept. 19th at 8 p.m. (central) on HBO
Starring:
Steve Buscemi, Michael Pitt, Kelly Macdonald, Michael Shannon, Shea Whigham, Anthony Laciura, Dabney Coleman, Stephen Graham, Aleksa Palladino, Michael Stuhlbarg, Vincent Piazza, Paz de la Huerta, Paul Sparks, Michael Kennneth Williams, Gretchen Mol
Produced by:
Martin Scorsese, Terence Winter, Tim Van Patten, Stephen Levinson, Mark Wahlberg
By ED BARK
Longtime HBO corporate communicator Quentin Schaffer couldn't resist taking a little slingshot at a certain high-flying MTV show during his introduction of a session for
Boardwalk Empire
.
"HBO is proud to take you to the Jersey Shore," he told TV critics last month. "The difference being you're going to see some great writing, some great directing and some great storytelling."
Well-played and certainly to the point. When the TV cream rises to the top, it's often as not on HBO. Add the fact that New Jersey's underside has been very good business for a premium cable network that birthed Tony "The Situation" Soprano and now is investing heavily in the state's formative gangland years with a socko series set in the Prohibition era.
Sumptuous in appearance and graphic in words and deeds,
Boardwalk Empire
builds on the already imposing mobster resume of Martin Scorsese (
Goodfellas, The Departed, Gangs of New York
). He co-executive produces this series with the likewise estimable Terence Winter, who wrote 25 episodes of
The Sopranos
.
Twelve episodes are scheduled for the first season, and HBO sent half of them for review. They're quite a feast, with Steve Buscemi moving from his usual supporting roles to top of the marquee as corrupt Atlantic City treasurer Enoch "Nucky" Thompson (modeled after the real-life Enoch "Nucky" Johnson).
Buscemi may not be physically imposing. But he's got the swagger and presence required to sell himself to viewers as a no-holds-barred wheeler dealer who gets what he wants -- and wants a lot.
Among those under his thumb is his somewhat dense brother, Elias (Shea Whigham), who provides muscle in his role as Atlantic City's sheriff. On the other side of the fence, rigid federal agent Nelson Van Alden (Michael Shannon) is determined to clip Nucky's wings. Pious, single-minded and also desperately lonely and unforgiving of himself, Van Alden resorts to self-flagellation as a means of contrition. But that particularly jarring scene will be a while in coming.
Boardwalk Empire
also is populated by three big-name, real-life gangsters in their "toddler" years, as Scorsese has put it in interviews.
Michael Stuhlbarg is particularly chilling as teetotaling fixer/gambler Arnold Rothstein, instrumental in the 1919 World Series "Black Sox" scandal. Charles "Lucky" Luciano (Vincent Piazza) is on the rise while also struggling with impotency. And Al Capone (Stephen Graham) is a crass lug of a thug with a deaf son and a boss who can still order him to "go clean the Buick."
The series also weaves in a fictional, up-and-coming gangster named Jimmy Darmody (Michael Pitt). Newly returned from the combat horrors of World War I, Jimmy is banished by Nucky after his role in a liquor heist that ends in one too few fatalities. He ends up in Chicago, linked uneasily with the unpredictable, mercurial and always vicious Capone. The Jersey Shore and the Windy City are soulmates when it comes to rum-running for huge profit. And
Boardwalk Empire
meshes them perfectly without any loss of continuity or focus.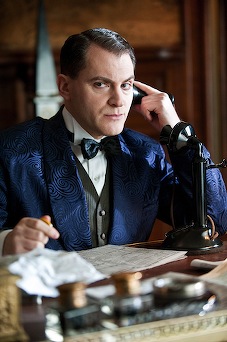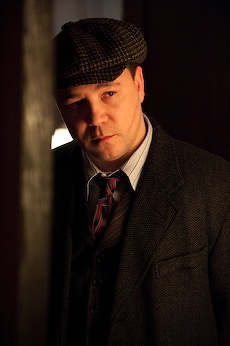 Rothstein and Capone: Young at heart with looks that can kill.
On the Jersey home front, Nucky also consorts with bimbo mistress Lucy Danziger (Paz de la Huerta), who pretty much fits a vintage nightclub comic's joke about how "my girl is so dumb she thought that daylight savings was a bank."
Recent immigrant Margaret Schroeder (Kelly Macdonald) also attracts Nucky's interest. She's got a brain and a value system, but is married to an abusive drunk. It's an intriguing triangle, with Lucy a haughty and spoiled material girl while Margaret slowly succumbs to the creature comforts Nucky can provide in return for keeping her mouth shut.
Nucky's overriding goal is to keep Atlantic City "wet as a mermaid's twat" while further lining his fat wallet. He's initially seen making a bogus speech at a Women's Temperance League rally, where he tells a concocted story about his own childhood experiences with the evils of alcohol.
Snow job completed, he counsels Jimmy on the "first rule of politics. Never let the truth get in the way of a good story."
Boardwalk Empire
is splendorous in its depictions of a vintage Atlantic City boardwalk and the party scenes at Nucky's hangout of choice, Babette's Supper Club. But recurring violence likewise is part of the scenery. And there's no shortage of bared flesh either in Nucky's bedroom, at night clubs or on a slab in a morgue.
The writing is air tight and the acting a match for it. Dabney Coleman, for one, is seen only briefly as Commodore Louis Kaestner in the first six episodes. But he takes these scenes to the bank, with Buscemi capably along for the ride.
Much is always expected of HBO, which annually dominates the Emmy Awards and whose current pair of programming chiefs aren't shy about exuding a palpable and sometimes off-putting sense of entitlement. But the proof is in the pudding, as they said with more regularity back in Prohibition times. In that respect,
Boardwalk Empire
is the best new drama series of the fall season -- and probably a cinch Emmy pacesetter as well.
GRADE:
A