New season: ABC's FlashForward bets heavily on its future
09/24/09 07:53 AM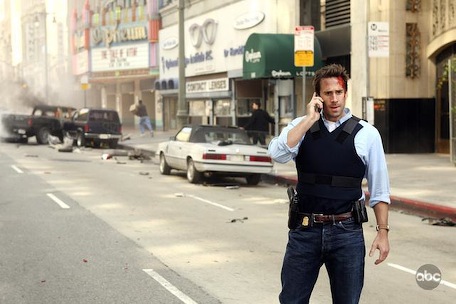 Joseph Fiennes surveys the damage after worldwide blackout.
Premiering;
Thursday, Sept. 24th at 7 p.m. (central) on ABC
Starring:
Joseph Fiennes, Sonya Walger, John Cho, Br'an F. O'Byrne, Zachary Knighton, Courtney B. Vance, Peyton List, Christine Woods, Dominic Monaghan
Produced by:
David S. Goyer, Brannon Braga, Marc Guggenheim, Jessika Borsiczky
By ED BARK
ABC continues to embrace complex or soapy serial dramas, be they
Lost
or
Desperate Housewives
.
There are perils and plusses in this. Unlike close-ended "procedurals" (the
CSI
or
Law & Order
franchises), they repeat very poorly during the cash 'n' carry summer months. Also, many viewers are unwilling to be strung along at such lengths or be left hanging by an early cancellation, as happened three seasons ago with ABC's unresolved
The Nine
.
Upsides are critical buzz, Internet wowsa and the satisfaction of doing something daringly different rather than numbingly safe. So here's
FlashForward
, an ambitious and hyper-promoted puzzler that's spent several months positioning itself as
THE
television event of the season.
It begins unfolding Thursday at the uncommonly early hour of 7 p.m. (central), when FBI agent Mark Benford (Joseph Fiennes) emerges dazed and confused from his upturned auto. Hook inserted,
FlashForward
briefly rewinds to four hours earlier, initially to the strains of all-is-well Muzak.
Mark awakens to a playful "You're a crappy husband. I hate you" post-it from his doctor wife, Olivia (Sonya Walger). He smiles and is soon at the breakfast table with "my princess," -- kid daughter Charlie (Lennon Wynn).
Things aren't so great later in the day. Young Dr. Bryce Varley (Zachary Knighton) stands on a bridge, a gun cocked under his chin. And Mark's friend Aaron Stark (Br'an F. O'Byrne) joins him at an AA meeting. He's still grappling with the death of his daughter in Afghanistan -- and her return home in pieces.
A bit down the road, Mark and his FBI partner, Demetri Noh (John Cho), are in hot pursuit of suspected terrorists when -- blammo -- it happens. The world suddenly is in the throes of a two minute, 17 second "blackout" in which just about everyone has their own "flash forward" to April 29, 2010 (or a day later depending on where one is in the world).
Mark's taste of the near future is frightening, ominous. So is his wife's -- and his daughter's. But Bryce sees better times ahead. And Aaron has a vision in which daughter is still alive. This later prompts his in-a-nutshell description of why viewers should stay tuned. "You're worried your future's gonna come true," he tells Mark. "I'm worried mine won't."
That's quite a lure -- and for now I'm hooked. That said,
FlashForward
has its share of clunky, hell-in-a-handbasket pronouncements, most of them from Mark's tightly coiled boss, Stanford Wedeck (Courtney B. Vance).
"We need to wrap our heads around the scope of this thing, people," he barks. And later, "The whole world's on pins and needles, people."
People had best get ready for a rollercoaster ride as the world posts its collective "flashforwards" on a Website dubbed The Mosaic Collective in reference to some of what Sam saw. At least that's what ABC says in publicity materials.
Dominic Monaghan (who played the presumably dead Charlie Pace on
Lost
) also will be appearing in future episodes as a mysterious character named Simon. And yes, in Thursday's premiere, that in fact is
Family Guy
creator Seth MacFarlane in a brief, unbilled role as an FBI agent.
FlashForward
has the potential to be a riveting yarn that its producers insist will be unraveled at the end of Season 1 before a new storyline takes over. Unfortunately, that sounds a little bit too much like NBC's
Heroes
, whose season-to-season reboots have all but buried it in Boot Hill.
For now, though, it's all quite enthralling -- and good news for newspapers, too. FBI boss Wedeck's glimpse into the future finds him on the john reading a print product whose headlines include a knee ligament tear for Kobe Bryant. Sorry about that, Lakers, your playoff hopes are shot. But newspapers have survived at least all the way until April 29th of next year. And that, my friends, is a bulletin.
GRADE:
A-minus