Sarah and Oprah -- not really worth bookmarking
11/16/09 06:07 PM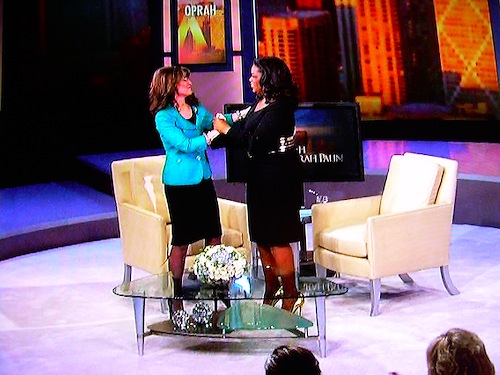 Sarah and Oprah meet in the talk queen's center ring. Photo: Ed Bark
By ED BARK
Was that it?
Sarah Palin's maiden TV appearance in support of
Going Rogue
-- "Already a bestseller," her host parroted thrice -- came and went without much pop and crackle. But Oprah Winfrey did let loose with a little "woo hoo" as her "Big Get" guest bounded onstage to applause Monday afternoon (at 4 p.m. on WFAA8 in D-FW).
Winfrey's initial questions were about her favorite subject -- herself. Did Palin feel "snubbed" by
The Oprah Winfrey Show
after the Queen of Talk very publicly endorsed Barack Obama before deciding against inviting any of the candidates to chat with her?
"No offense to you, but it wasn't the center of my universe" at the time, Palin said, prompting Winfrey to look just a bit taken aback before quickly recovering.
The host had a copiously bookmarked copy of
Going Rogue
in her lap, at times reading from it verbatim. Palin, almost constantly smiling, often answered questions in a semi-shout, saving her sharpest darts not for her campaign handlers or David Letterman, but for Katie Couric.
Couric's late September, 2008 interviews with Palin found the Republican vice presidential candidate seemingly ill-prepared to answer the most basic of questions. Palin acknowledged not being at her best, but said she had expected more of a "lighthearted interview" focusing on her family dynamics.
That's insulting in itself, as if a woman couldn't be expected to ask issue-oriented manly questions. She eventually became annoyed with Couric's "badgering."
"Her agenda was to not necessarily show me in the best light," Palin said, contending that opponent Joe Biden's mistakes were "ignored" during his earlier interview with Couric.
Palin also unleashed the one word Couric still despises the most -- perky. As in, "We had just come off this amazing rally, and there's the perky one again, with the microphone."
Couric also allegedly "asked me 12 different times my position on abortion and the 'morning after' pill . . . I gave my answer and she asked it again."
Asked Monday evening if Couric would have any response, a CBS News spokesperson said via email, "Nope."
"The interviews speak for themselves," the spokesperson said.
Winfrey also inevitably asked Palin about Levi Johnston, former fiancee of her daughter, Bristol, and father of their child, Tripp. He's lately been on a seemingly endless media tour, trashing the Palin family while also promoting his upcoming appearance in
Playgirl
magazine.
"I call it porn," said Sarah Palin. But "I continue to hope for the best and pray for Levi."
The host kept asking whether Johnston would be invited to Thanksgiving dinner. Palin finally extended an open invitation, but said she doubted he'd find the time. A question about her 2012 presidential ambitions was easily deflected. "It's not on my radar screen right now," Palin said.
Down the homestretch, viewers also were shown homey authorized pictures and video of the Palin family celebrating Halloween. The studio audience "awwwed" on occasion and giggled at the kids' costumes. Palin ended the program by praising Winfrey as an inspiration to her when she had more time to watch
Oprah
as a younger woman.
"Thank you for saying that," Winfrey replied before they clasped hands once more to the tune of the host's final "Already a bestseller."
Palin likely will face a tougher adversary in Barbara Walters, who begins a series of interviews with the former Alaska governor on Tuesday's
Good Morning America
.
The Winfrey interview had its moments, but too few of them. Among the questions never asked:
What is your current relationship with John McCain? When did you last speak with him?
Are you enjoying David Letterman's current travails at least just a little?
Is Barack Obama doing anything right as president?
In other words, Oprah Winfrey is no Katie Couric. Otherwise Sarah Palin wouldn't have been there in the first place.