HBO's Veep is hardly a Washington monument
04/19/12 01:55 PM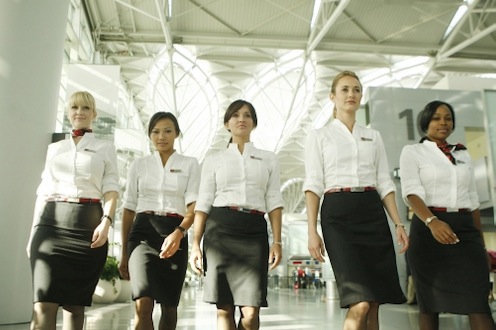 The five stars of Fly Girls prepare for battle. CW photo
By ED BARKPremiering:
Wednesday, March 24th at 8 p.m. (central) on The CW
Starring:
Real-life Virgin America flight attendants Nikole, Louise, Farrah, Tasha, Mandalay
Produced by:
Jeff Collins, Colin Nash
By ED BARK
The cheapo CW network pairs one dreadful reality series with another Wednesday when
Fly Girls
joins the pre-existing, critically reviled
High Society
.
This one's not quite as bad, although that's like saying Lindsay Lohan is less odious lately than philandering Jesse James.
Billionaire Richard Branson's Virgin America airlines is the takeoff point for
Fly Girls
, which stars five cute 'n' buxom flight attendants named Nikole, Louise, Farrah, Tasha and Mandalay. Branson, who appears on-camera in the first two episodes, had one of the 2004-05 TV season's biggest flops in Fox's
The Rebel Billionaire: Branson's Quest for the Best
. Now he's free-fallen all the way to The CW. Good for him.
The featured "fly girls" all conform to basic reality series typecasting. Nikole is the freewheeling resident bee-yotch and Mandalay the goodly striver who keeps getting her heart crushed. Aging Farrah hears her clock ticking, separated Tasha has a young son whom she dotes on and heat-seeking Louise is on the rebound from a four-year relationship that went whiskey sour.
They all live together in a Marina del rey "crash pad," where the newly arrived Nikole immediately creates problems. In Wednesday's premiere episode (they mercifully only last a half-hour), Mandalay gets all weepy after Nikole conspires to stand next to Branson atop a fire truck at a big Virgin America "launch party" in Fort Lauderdale.
That was supposed to be Mandalay's perk, but she couldn't be found at the appointed hour. So she later upbraids former best pal Nikole "because you can't just be a friend who's happy for another friend to have 'a moment.' "
Meanwhile, Louise accepts an in-flight proposition to attend a Beverly Hills cocktail party being thrown by a laughing, brainless but handsome bonehead named Geoff. It doesn't go particularly well.
Next week's thrilling episode finds Mandalay absorbing another emotional blow from a friend/rock band singer named Avir.
"Can you tell that I might have feelings for you possibly?" she asks. Yeah, he can tell. No, he's not interested.
Meanwhile, back on the West Coast, Nikole and Tasha have the great honor and privilege of being gofers and eye candy at a "Rock the Kasbah" charity event being thrown by their employer. Event planner Jessica notes that "there's going to be a tremendous amount of celebrities here."
Yeah, like who? Well, like Lohan, Sharon Stone, Paula Abdul and Daisy Fuentes, she says. Wowee. But none of 'em are shown on camera.
It's all portrayed as very glamorous and dreamy, with every day a new adventure in being servile ornaments regularly hit on by IFBs (In Flight Boyfriends).
"It's a cute guy that you scope out to make the time fly," explains Louise.
CW has ordered eight time-wasting episodes of
Fly Girls
. I guess they beat sitting on a tarmac while waiting for take-off. But not by all that much.
GRADE:
D