So how much did ABC News pay this time?
07/07/11 09:33 AM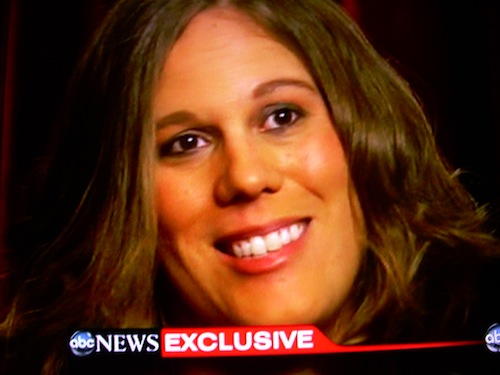 Juror Jennifer Ford on Wednesday's Primetime Nightline. Photo: Ed Bark
By ED BARK
Wonder how much they paid for this one?
It's become a back-of-the-mind question whenever ABC News in particular touts an "Exclusive" interview. The network did it again Wednesday night with a
Primetime Nightline
edition built around co-anchor Terry Moran's one-on-one sitdown with Casey Anthony trial juror Jennifer Ford.
ABC News isn't alone in this practice. But thanks to
20/20
co-anchor Chris Cuomo, it is on the record as saying that such arrangements have become a very common practice in the business of "Big Get" journalism.
Cuomo is the son of former New York governor Mario Cuomo and brother of the state's current governor, Andrew Cuomo. Last month on CNN's
Reliable Sources
Chris said he had no problem with ABC paying $15,000 for exclusive "lewd" photos provided by Meagan Broussard. She first had received them from Democratic congressman Anthony Weiner, the serial tweeter who specialized in showing off his body to various women of interest.
"The commercial exigencies of the business reach into every aspect of reporting now," Cuomo told
Reliable Sources
host Howard Kurtz. "It is my decision. I'm the anchor of
20/20
. I could have said, 'Don't do it.' I don't because it is the state of play right now. I wish it were not. I wish money was not in the game. But you know, it's going to go somewhere else. You know someone else is going to pay for the same things."
In return for a $15,000 payment, Broussard subsequently did an exclusive interview with ABC. Networks had lied for years about "not paying for interviews." The dirty little secret -- although it didn't take a Sherlock Holmes to puzzle this out -- is that they technically paid for other considerations, with the recipient fully understanding that an interview also was expected as part of the package.
Jurors in the Casey Anthony trial, which ended in her acquittal on three counts of murdering her two-year-old daughter, Caylee, initially declined to talk to the media. So why did Ford come forward only on ABC News rather than answering questions at a news conference? Was there something in it for her, other than getting numerous close-up shots on national television? Did any or all of her fellow 11 jurors get a cut as part of this arrangement? Maybe not, maybe so. But such questions now have become part of the conversation.
ABC News also is touting
World News
anchor Diane Sawyer's "exclusive" interview with Jaycee Dugard on a two-hour special edition of
Primetime
scheduled to air on Sunday, July 10th. Now 31, she was held captive for 18 years by Phillip and Nancy Garrido. This will be her first interview.
According to a
story in The New York Times
, ABC News denies paying Dugard for the interview. But that same story, published on June 12th, cites an unnamed "former longtime ABC News executive" who says the network earlier paid a six-figure amount for home movies of Dugard.
During Wednesday's
Primetime Nightline
, anchor Moran noted in passing that a licensing fee had been paid for home movies of Caylee provided by Casey Anthony's parents. Specifically, $200,000 was paid for footage that previously had aired across ABC News "platforms" and was recycled on
Primetime Nightline
. The
Times
says that the fee paid by ABC eventually "found its way" into Casey Anthony's defense fund. For shame.
NBC news also has been an able and willing participant in these escalating "checkbook journalism" wars. It just hasn't been as forthright about it as Cuomo, who likely was called in by his bosses and verbally slapped around after his candid comments on
Reliable Sources
.
The Peacock lately is touting its "exclusive" live interview with "Octomom" Nadya Suleman on Friday's
Today
. She'll be bringing her octuplets, plus her two oldest children, for the "first-ever live in-studio" sitdown featuring the kids, NBC says.
Today
co-host Ann Curry again will be the conduit.
Suleman lately has been claiming she's broke. So is NBC helping her out a bit? Curry had a previous round of Octomom "exclusives" in February 2009, with the network insisting that "NBC News does not and will not pay for interviews." As earlier noted, that's a frequently used subterfuge, with "other considerations" instead coming into play when it comes to landing big fish.
In return for paydays, do the subjects of such exclusives ramp up their stories? Can they be trusted to tell the whole truth and nothing but the truth when a network demands the "juice" in return for payment in full? Several years from now, will anyone involved in a big national -- or local -- story be willing to go on-camera without some sort of payday in return?
Ironically, money is being funneled to news sources at the same time that layoffs are an ever-present threat to TV news staffs. And if indeed it's the "state of play," then there's no end in sight. After all, we're a society built on truth, justice -- and greed. So the standard answer to "Will you do an interview with us?" is more than ever going to be "What's in it for me?" And we're all going to be poorer for it.