Brace yourself for HBO's superlative Going Clear: Scientology and the Prison of Belief
03/25/15 08:44 AM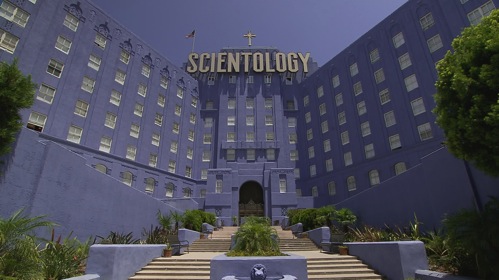 Upon this crock: The primary fortress of solitude is in Los Angeles.
HBO photo
By ED BARK
@unclebarkycom on Twitter
Quotation marks should be used as disqualifiers whenever the "Church" of Scientology is put into print.
This is no more a "Church" than an apple is an orange. But it's been recognized as such by the IRS. How and why make for one of the more startling and dismaying segments in
Going Clear: Scientology and the Prison of Belief
. It's an extraordinary investigative documentary with the power to provoke anger, astonishment and any number of other strong emotions.
HBO, despite an organized campaign of threats and intimidation from the "religion's" legions of automatons, will premiere the two-hour film on
Sunday, March 29th at 7 p.m. (central).
Must-see television? That's an understatement.
Based on the same-named non-fiction book by Lawrence Wright,
Going Clear
is under the direction of Alex Gibney. As accomplished docu-filmmakers go, he's the street-fighting version of Ken Burns. Gibney's credits include
Mea Maxima Culpa: Silence in the House of God
, the Oscar-winning
Taxi to the Dark Side, Enron: The Smartest Guys in the Room
and HBO's upcoming
Sinatra: All Or Nothing At All
, which premieres on Easter Sunday.
Going Clear
excels at digging up the roots of Scientology and its founder, L. Ron Hubbard, inventor of the thought-collecting Hubbard Electrometer and fabricator of a clearly phony war hero past. The detective work splits time with new interviewers of former prominent believers who since have left the "Church." They include acclaimed writer/director/producer Paul Haggis (
Crash, Quantum of Solace
) and actor Jason Beghe, currently starring in NBC's
Chicago P.D.
.
"All Scientologists are full of shit," says Beghe, who joined up in 1994 and left in 2007.
The most startling revelations, however, come from two former top Scientology lieutenants. Mark Rathbun was second in command to current chairman of the board David Miscavige. He succeeded Hubbard in 1986 after the founding father, in Miscavige's words, willingly "discarded the body" because it had become an impediment to his visionary and ongoing soul-searching.
In truth, Hubbard died of a stroke at age 74. Near the end, a British film crew got unusual access to him aboard one of the lengthy Scientology Sea project cruises. Clad in a commander's naval garb, Hubbard was asked, "Do you ever think you might be quite mad?"
"Oh yes," he replied, grinning broadly. "The one man in the world who never believes he's mad is the madman."
The other top-level ex-Scientologist featured in
Going Clear
is Mike Rinder, who worked in tandem with Rathbun and served as Miscavige's chief public spokesman. Both men since have been figuratively tarred and feathered in Scientology pronouncements. In Rathbun's case, his home also has been under constant surveillance by so-called Scientology "Squirrel Busters," who are shown taunting him on camera. Rathbun's wife, Monique, never a member of the "Church," has a harassment case pending in hopes of making Miscavige publicly testify in court.
Going Clear
also prominently depicts Scientology's star players, Tom Cruise and John Travolta. Along with Miscavige and Cruise's ex-wife, Nicole Kidman, they declined to be interviewed according to a closing disclaimer.
Cruise and Travolta are shown in earlier footage, however. At a showy Scientology rally, Cruise solemnly salutes Miscavige and is given the "religion's" inaugural Freedom Medal of Valor in honor of his loyal service.
"He drank the Kool-Aid," Rinder says of Cruise. Rinder stopped drinking it in 2007 and has since spoken publicly about being severely physically and emotionally abused by Miscavidge.
Travolta, in military camouflage, says on the set of a previous film, "I'm part of a frontier, in a way, that very few people get to be part of."
Despite the ongoing and mandatory financial commitment from its members, Scientology was nearly broke by the early 1990s. It faced a back tax bill of $1 billion, says Rathbun, who was there at the time. Tax exempt status had become crucial to survival. So members repeatedly sued the IRS for various crimes against the people. As the lawsuits piled up, the IRS began backing down, according to
Going Clear
. Ultimate victory came on Oct. 1, 1993, when Scientology gained full tax exempt status as a bonafide religion.
"The war is over!" Miscavige declared at a massive flag-waving event reminiscent of 1930s Germany. The crowd roared all the more when he saluted a giant picture of Hubbard after saying, "Sir. Done."
Ex-members say that Scientology basically is a shakedown operation in which no amount of giving is ever enough. Achieving the elusive "State of Clear" is possible only by paying a very stiff financial and emotional price, they say.
Those who question this greater good are oftentimes made to do menial labor for weeks and months at a time while being fed table scraps. Sylvia "Spanky" Taylor, who joined the "Church" as a teenager and helped to recruit Travolta, tells the filmmakers of her incarceration as a pregnant mother whose young child also was being abused. She finally escaped in 1987 and remains puzzled that Travolta also hasn't freed himself. But others say that the personal secrets obtained during extensive "monitoring" of new members later are used as blackmail if necessary. In Travolta's case, "Once that happened, I think he was really the church's captive," says author Wright.
Both Haggis and Rathbun say they're "ashamed" of the many years they were under Scientology's spell.
Recruited as a young man, Haggis spent 35 years with the "Church" before defecting in 2008.
"You just don't see it happening to you. You justify so much," he says of his Scientology daze.
There's no end in sight. Even though scrutiny has increased and membership decreased in recent years, 2013 "was the year we went stratospheric," Miscavige boasted at another of those chilling mass rallies.
Tax exempt status will do that for you. But maybe
Going Clear
at last will prompt the IRS to develop the same backbone it shows when after going after the relative little guys. This is an incredible film that never releases its hold on viewers. Unlike Scientology, though, it's only a two-hour commitment. And one you won't at all regret.
GRADE:
A
Email comments or questions to:
unclebarky@verizon.net