ABC's Designated Survivor gives Kiefer another world crisis but a meeker demeanor
09/20/16 07:34 AM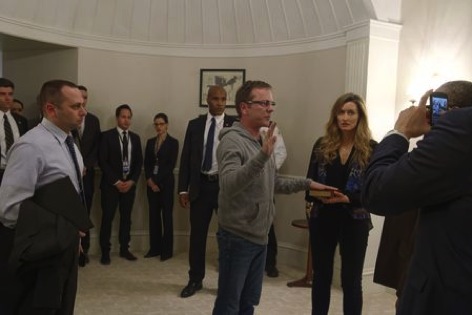 Kiefer Sutherland solemnly swears in Designated Survivor. ABC photo
Premiering:
Wednesday, Sept. 21st at 9 p.m. (central) on ABC
Starring:
Kiefer Sutherland, Natascha McElhone, Adam Canto, Maggie Q, Kal Penn, Italia Ricci, Malik Yoba, Tanner Buchanan, McKenna Grace
Produced by:
David Guggenheim, Simon Kinberg, Kiefer Sutherland, Suzan Bymel, Mark Gordon, Aditya Sood, Nick Pepper, Jon Feldman
By ED BARK
@unclebarkycom on Twitter
The broadcast networks' most anticipated new fall drama series finds the nation's capitol split in two after a devastating attack of unknown origin.
Donald Trump can't wait to tweet about how "soft" we've become while Kiefer Sutherland doesn't at all mind gearing up to save the world again.
The series is
Designated Survivor
, which looks like a badly needed hit for ABC unless viewers unaccountably have grown weary of their national institutions being blown up for dramatic purposes. Wednesday's opening episode, the only one made available for review, solidly sets the hook while only partly weaning Sutherland from all those years as Jack Bauer on
24
(which Fox plans to reboot without the Jack Bauer character following the Feb. 5th Super Bowl).
Sutherland plays the initially bespectacled Tom Kirkman, a policy wonk who's about to be jettisoned as secretary of housing and urban development by the President who appointed him. Crestfallen Tom is wearily reconciled to taking a throwaway ambassador position while his attorney wife Alex (Natascha McElhone) balks at uprooting their family again and taking her away from a job she loves.
Before any of this can be resolved, Tom is ordered to hunker down as "the designated survivor" while everyone else of any consequence is on site for the State of the Union address. At least it allows him to dress down in jeans and a gray, hooded Cornell sweatshirt while having a beer in a protected underground hideaway. But then, boom. Followed quickly by, "Sir, you are now the President of the United States."
Sutherland at times succumbs to his breathless Jack whisper/rasp. But he's otherwise fairly convincing in the role of a married dad with two demanding kids whose previous idea of action was a subsidized, affordable apartment complex in a low-income neighborhood. Now he's beset by a prototypically bellicose, war-thirsty, scheming general and doubters all around. The guy can't even vomit in a toilet without hearing someone in the next stall diss him as an ineffectual underling who will never cut it. This turns out to be the newly deceased President's speechwriter, Seth Wright (Kal Penn).
"Well, maybe I'll surprise you," Tom tells the surprised Seth, who's then ordered to write him a national address of import and resolve.
The two kids are little Penny "Peanut" Kirkman (McKenna Grace), who's already adept at manipulating daddy, and problematic teen son Leo (Tanner Buchanan). He appears to be doing some something illicit at a club before the FBI tracks him down.
Maggie Q joins in as FBI agent Hannah Welles, who quickly asserts herself and plunges into an investigation of the attack. And Italia Ricci plays Emily Rhodes, formerly secretary Tom's dedicated chief of staff.
The accidental president girds himself by the minute while being introduced to the "nuclear football" in a full-blown "DefCon Two" crisis. Iran is quickly fingered as an unprincipled enemy seeking to capitalize on this cataclysmic situation. But Tom's cooler, calmer head begins to take hold, even as he tells his wife, "I'm not the guy for this." Hang in there, though, because Jack Bauer has encountered far worse and duplicitous Presidents season-to-season on
24
.
Designated Survivor's
challenge will be to keep all of these balls rolling without bogging down or succumbing to thick coats of melodrama in terms of Tom's domestic roles as husband and father. The premiere ends with the new President about to make his first TV presentation after speechwriter Seth has told him, "You can't be relaxed and disarming. That's not gonna work anymore."
Now it's up to the scriptwriters to convincingly "grow" Tom into the job while testing both his principles and his ability to navigate the wicked Washington, D.C. thicket. Fighting global terrorism is only part of the job. And given our ongoing toxic political climate, it sometimes almost seems like the easier part.
GRADE:
B
Email comments or questions to:
unclebarky@verizon.net