Netflix finds a way to relaunch Lost in Space
04/12/18 10:02 AM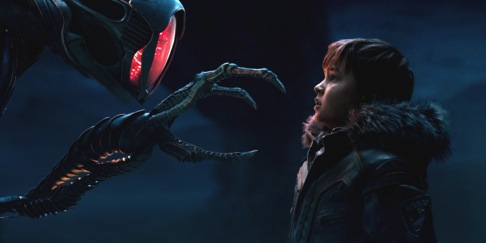 "Danger, Will Robinson." But this is not your grandfather's Robot.
Netflix photo
Premiering:
All 10 Season One episodes begin streaming Friday, April 13th on Netflix
Starring:
Molly Parker, Toby Stephens, Maxwell Jenkins, Taylor Russell, Mina Sundwall, Parker Posey, Ignacio Serricchio
Produced by:
Zack Estrin, Kevin Burns, Matt Sazama, Burk Sharpless, Jon Jashni, Neil Marshall, Marc Helwig
By ED BARK
@unclebarkycom on Twitter
The Season of the Reboot now has a reboot that itself was rebuilt from the very start. (Try saying that fast 10 times.)
Many moons ago, in 1965,
Lost in Space
went into orbit on CBS and lasted for 83 episodes.
Then came a big, splashy 1998 feature film. And on Friday, April 13th, Netflix fires up the saucer-shaped Jupiter 2 for new adventures involving the five-member Robinson family. It's a considerable improvement on both the TV series and the big-screen movie, although in some ways that's like saying high-definition TV provides a much sharper picture than the now prehistoric analog era did. Since I endured both the critically panned movie and a laughable pair of pilots for the original
Lost in Space
, please indulge me in a little setting-the-stage research.
Creator Irwin ("The Master of Disaster") Allen ended up making two
Lost in Space
launches, both of them in black-and-white before the series went to color in Season 2. Each can be seen on hulu.com, and it's remarkable how drastically the series changed.
In the unaired pilot that initially sold the show to CBS, there's no Robot or Dr. Zachary Smith (Jonathan Harris), the duplicitous double agent who programmed the Jupiter 2 into self-destruction before being trapped onboard himself. Instead, the Robinsons and pilot Don West were all frozen in tubes for what was supposed to be a 98-year trip to Alpha Centauri, the nearest star that could accommodate human life and provide a safe haven from a grossly overpopulated and dying Earth.
An intense meteor shower altered those plans and severely damaged Jupiter 2 while also altering its course. Jolted awake, the crew managed to make a crash-landing. And by the end of the unaired pilot, they'd already survived three life-threatening altercations -- with a killer giant, a nasty sea storm that threatened to send them down a sinkhole and a mysterious cave in which they were almost trapped during an earthquake.
Scratch all of that.
By the time
Lost in Space
premiered on CBS, the duration of Jupiter 2's mission had been reduced to five-and-a-half years. The evil Zachary Smith entered the picture and immediately skulked around. During the course of his sabotage, he re-programmed the resident Robot to destroy the ship and also knocked out a security guard before pushing him down a chute into a radioactive waste bin.
But when Smith could not exit as planned, he awoke the crew and helped them to battle the Robot after it went on a rampage. By the end of the episode, everyone was still on board except for expedition commander John Robinson. In a cliffhanger ending, he remained floating in outer space after his lifeline snapped. Wife Maureen was desperately trying to save him with a substitute line when viewers were informed that
Lost in Space
would return next week -- "Same Time, Same Channel." The Jupiter didn't crash-land onto a strange planet until Episode 3.
Except for the addition of Harris as Smith -- and Dick Tufeld as the voice of the Robot -- the principal
Lost in Space
cast remained unchanged in both versions. Namely, Guy "Zorro" Williams played John, with June "Lassie" Lockhart as Maureen, Marta Kristen as older daughter Judy, Angela Cartwright as Penny, Billy Mumy as their little brother Will and Mark Goddard as Don West.
Two decades after
Lost In Space
left CBS, it re-emerged as a feature film with a pretty imposing cast that included Oscar winner William Hurt as John Robinson and current lead actor Oscar champ Gary Oldham as the sinister Zachary Smith. The film also marked Matt "Joey" LeBlanc's debut as a "serious actor" in the role of cocky Don West. The special effects were far superior -- how could they not be? -- to the original's, but the plot devolved into a muddy, murky mess. LeBlanc looked good, though.
OK, let's get back to the here and now of
Lost in Space
, whose Netflix reboot will consist of 10 episodes in Season One. Five were made available for review, and some obvious changes have been made to reflect changing times.
For one, oldest daughter Judy Robinson (Taylor Russell) is black, which is referenced fleetingly in Episode 5 when she notes that John Robinson (Toby Stephens) "came into the picture after I was born."
As for Zachary Smith, he was left for dead and his identity stolen by a ruthless stowaway (Parker Posey) who boarded another ship, The Resolute, under false pretenses. It then crashed.
Fellow survivor Don West is played by Argentinian actor Ignacio Serricchio. No longer a pilot, he's good with his hands as a Mr. Fix It. But he's also a quick-quipping smuggler of luxury items such as premium whiskey. Oh, and West has an unusual companion, a chicken named Debbie.
And although John Robinson ostensibly is the Jupiter 2 commander, it's his strong-willed wife, Maureen (a vivid Molly Parker), who gives most of the orders. They had been estranged, as recurrent flashbacks show, with John more devoted to combat posts abroad than life at home. The two other Robinson children, Penny and Will, respectively are played by Mina Sundwall and Maxwell Jenkins.
The young Jenkins is completely appealing in this precocious role, particularly when he's discoursing with the super-strength Robot who's become his protector after both were in peril. "Danger, Will Robinson," a trademark line in the original series (even though it was uttered just once by the Robot), is very much in play during the first five episodes of the Netflix reboot.
In Episode 1, the Robinsons quickly first land on frozen tundra after Jupiter 2 is pelted by a meteor storm while they're playing the card game, Fish. Judy ends up in a particularly icy predicament that carries over into future episodes. But Will's first encounter with the Robot is the real game-changer.
The family dynamics and special effects mesh well together in these first five hours.
Lost in Space
has to be more than a space monster a week to survive as a long-distance runner. But when the action does kick in, it's both pulsating and convincingly staged.
Things can drag a little at times. And the series clearly borrows from
Lost
with its back stories of the key characters. These are much shorter flashbacks, though, with the phony "Dr. Smith's" previous machinations so far the most intriguing.
Lost in Space
didn't have to be very good at all to improve on either the original or the movie. Still, it's much better than might have been expected, as is Netflix's ongoing
One Day At a Time
reboot. The Robinsons and their antagonists look good to go again. The only thing stopping them would be a return to a somehow revitalized planet Earth. But at this point in their highly adventurous and challenging lives, that could only be a crashing bore.
GRADE:
B+
Email comments or questions to:
unclebarky@verizon.net