NBC offers a Christmas episode four-pack via its Thursday night comedies
12/07/11 11:04 AM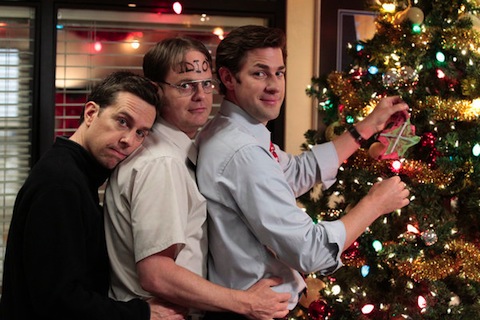 The Office throws an office Christmas party. NBC photo
By ED BARK
ABC is being naughty not nice by not providing TV critics with an opportunity to review its Wednesday night Christmas-themed foursome of
The Middle, Suburgatory, Modern Family
and
Happy Endings
.
But NBC sent a nice little packet of its ho ho ho Thursday, in which
Community, Parks and Recreation, The Office
and
Whitney
all have new Christmas-y episodes. They air in that order from 7 to 9 p.m. (central) on Dec. 8th. And here are our mini-reviews.
COMMUNITY
-- The cast really gets into it during an episode in which the Greendale College Glee Club is ruled unfit to perform at the annual holiday pageant.
This initially is all well and good in the view of study group head Jeff Winger (Joel McHale), who observes that "attempts to make the holidays brighter tend to give them a certain darkness."
But never mind that. Recalcitrant study group members are roped in one by one, forming a substitute glee club. There are some terrific little performances, including a rap by Troy and Abet (Donald Glover, Danny Pudi) and a Betty Boop-ish sendup by Annie (Alison Brie) in a fetching Santa outfit.
The Glee club director (guest star Taran Killam) had big plans for the pageant, including a reggae "Frosty the Snow Mon." But he'll take what he can get. And
Community
fans no doubt will be happy with what they receive.
GRADE:
A (for full-blown effort)
PARKS AND RECREATION
-- They apparently didn't entirely get the memo, because the holiday trimmings are minimal here. The episode centers on Leslie Knope's (Amy Poehler) dopey formation of a citizen action group after she's suspended from her deputy director's position in Pawnee's Parks & Rec department.
A little Christmas gift-giving is worked in, but the holiday decor and theme are minimal until the closing few minutes. Only one office worker even bothers to dress up -- in a red vest with snowmen. All in all it's merry merry quite contrary.
GRADE:
C
THE OFFICE
-- New office manager Andy Bernard (Ed Helms) agreeably wears a Santa suit throughout an episode full of Christmas trimmings.
"Mistletoe is not an excuse for sexual assault," he warns before the annual in-house holiday party. Staffers Kelly and Meredith (Ellie Kemper, Kate Flannery) proceed to get severely plastered while Dwight (Rainn Wilson) as always makes a fool of himself. Meanwhile, James Spader effortlessly steals every scene he's in as off-center Dunder Mifflin CEO Robert California. Lately he's going through another divorce.
Oh what fun -- for the most part. But the best line precedes the party, when Stanley (Leslie David Baker) dismisses all of his co-workers' lame-brained holiday theme ideas with a declaration that all he wants is a very basic "baby Jesus lyin' in the manger Christmas."
GRADE:
A-minus
WHITNEY
-- The newcomer to this comedy bloc finds Whitney (Whitney Cummings) and live-in boyfriend Alex (Chris D'Elia) scheming and lying to avoid spending a bombastic Christmas with their parental units.
Alex is already free and clear. His mom and dad are taking a holiday cruise. But Whitney frets about another miserable reunion with her divorced mom, Candi (guest star Jane Kaczmarek). Fibbing about joining Alex's parents on the cruise gets more complicated when Whitney's vagabond shyster father, Vince (Peter Gallagher and his eyebrows), shows up unexpectedly.
"I just realized that my family's Christmas tradition is dishonesty," she finally deduces after learning that mom and dad have been hiding another little holiday secret.
There are occasional funny moments, such as the lighting of a Christmas tree that has a big tangled ball of illumination at its center. But the disagreeable parents motif is very well-worn at this point. So the episode doesn't wear that well despite all involved trying hard.
GRADE:
C+