NEW SEASON: CBS' Mike & Molly needs to trim the fat -- from its scripts
09/15/10 02:26 PM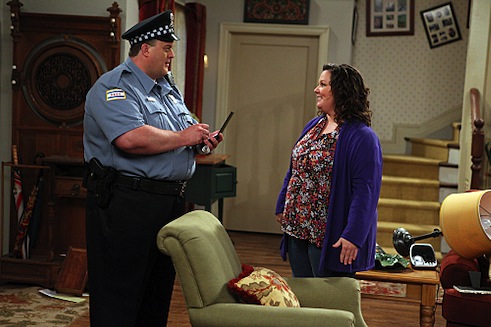 Billy Gardell & Melissa McCarthy of Mike & Molly. CBS photo
Premiering:
Monday, Sept. 20th at 8:30 p.m. (central) on CBS
Starring:
Billy Gardell, Melissa McCarthy, Reno Wilson, Katy Mixon, Swoosie Kurtz, Nyambi Nyambi
Produced by:
Chuck Lorre, Mark Roberts
By ED BARK
The fat jokes fly fa(s)t and furious on CBS' new
Mike & Molly.
Inheriting Monday night's coveted post-
Two and a Half Men
slot, it's a sitcom about two very plus-sized people who first begin meeting and bonding at an Overeaters Anonymous meeting.
But the producers insisted, during a July meeting with TV critics, that
M & M
has little if anything to do with the title characters' girths.
"Yeah, I think you can have it both ways," said Chuck Lorre, also the maestro of
Two and a Half Men
and
The Big Bang Theory
, which is moving to Thursdays. "This may sound ridiculous to come of you, but this isn't a show about weight. It's a show about people trying to make their lives better and find someone that they can have a committed relationship with."
Your friendly content provider has been around long enough to raise both eyebrows over that contention. Way back in 1982, Mickey Rooney told a roomful of TV critics that his new NBC sitcom
One of the Boys
, had nothing to do with his diminutive stature. His co-stars, by the way, were the then unknown Dana Carvey, Nathan Lane and Meg Ryan, who have all gone on to do a little somethin' since then.
One of the Boys
' first episode in fact was replete with short jokes, rendering Rooney's disclaimer inoperative. And
Mike & Molly's
premiere alas is loaded, too. Let's roll a few out.
During an opening scene at a diner, dieting Chicago police officer Mike Biggs (Billy Gardell) is taking guff from both eatery owner Samuel (Nyambi Nyambi) and his squad car partner Carl McMillan (Reno Wilson).
"I would shoot you right now," says Carl. "But I don't have enough chalk to outline your body."
Meanwhile, schoolteacher Molly Flynn (Melissa McCarthy) is toiling on a cross-trainer at home while her stick-thin mother Joyce (Swoosie Kurtz) and voluptuous older sister Victoria (Katy Mixon) feast on chocolate cake.
"You're never gonna meet a good guy at the chub club," Victoria counsels, referring to Overeaters Anonymous.
"Why don't you take her to one of those lesbo clubs," mom suggests. "You know, they seem to like the beefy gals."
Mike later remarks, "My farts weigh three-and-a-half pounds."
"C'mon, gimme some love," Carl soon urges his big lug partner. "Sweet Jesus, it's like huggin' a futon."
The studio audience howls, but we're only scratching the surface.
Mike & Molly
is never more than a minute or two away from throwing its weight around, whether it's two overeaters impeding Carl's progress down a staircase or one of Molly's nine-year-old pupils wondering, "How can you be a cop and be so fat?"
But no, it's not about that. And if its lead characters each lost 100 pounds or so, there'd "absolutely" still be a show, says producer Lorre. "They go to OA because they're on a journey. They want to make a change in their lives. I think that speaks to a lot of people who are not satisfied with the status quo in their lives. . . These are people who are alive, and they're in a process."
It should be noted that Gardell and McCarthy do the best with the material given them. And it's also refreshing to see two sitcom characters who aren't cut from a cookie-cutter mold. Instead they like to eat their cake. Or as Lorre put it, "Television would normally have cast Chris O'Donnell and Courteney Cox as the people who meet at Overeaters Anonymous."
That's a good line. But the real breakthrough will be when the lead characters' weights are basically irrelevant to the story at hand. That's decidedly not the case in
Mike & Molly
-- and its assembly line of fat jokes. See Mike lean on a table and watch it come crashing down.
Even Jackie Gleason's Ralph Kramden only took a jab or two per week about his weight from Audrey Meadows' slim, trim Alice. On
Mike & Molly
, though, the girth mirth is almost epidemic. The writers simply need to spread it much, much thinner. Sorry. As noted, it's an epidemic.
GRADE:
C