Prescribing Mamie Gummer -- in Emily Owens, M.D.
10/15/12 09:31 AM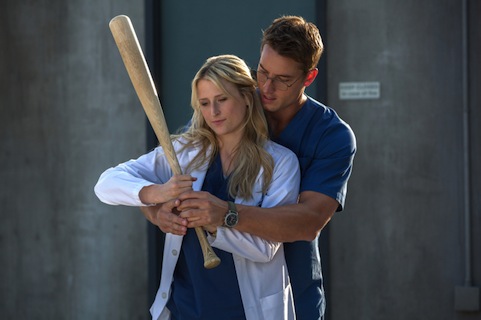 So far they're still just friends in Emily Owens, M.D. CW photo
Premiering:
Tuesday, Oct. 16th at 8 p.m. (central) on The CW
Starring:
Mamie Gummer, Justin Hartley, Michael Rady, Aja Naomi King, Kelly McCreary, Necar Zadegan
Produced by:
Jennie Snyder, Dan Jinks
By ED BARK
@unclebarkycom
OK, let's address this right up top.
Mamie Gummer, now 29, is looking more and more like her mother, Meryl Streep. The resemblance is striking during some scenes in the first two episodes of The CW's
Emily Owens, M.D.
. Much more so than when Gummer had a decidedly lesser role as a doctor in the short-lived 2011 ABC series
Off the Map
.
This time she's full-out center stage, fronting virtually every scene as the title character in a doc drama paired compatibly with CW's likewise medically inclined
Hart of Dixie
. Whatever the long-term prognosis for
Emily Owens
, it may well be remembered as Gummer's launch pad. She succeeds admirably in the role of an intern who yearns to distance herself from those esteem-sapping, thoroughly "geeky" high school years.
"So yeah," Emily says in an opening narrative. "I'm still kind of waiting for that confident, kick-ass thing to happen."
Her new proving ground, Denver Memorial hospital, at first seems like high school all over again. Emily's old nemesis, name-calling Cassandra Kopelson (Aja Naomi King), also just happens to be an intern. And she still taunts Emily as "Pits," a reference to her sometimes sweat-seeping underarms.
There's also bespectacled Will Collins (Justin Hartley), who easily could have been the star of
Smallville
had it started a half-dozen or so seasons later. Will and Emily were confidants and best pals in med school, but he doesn't like her the way she likes him. Meanwhile, intern Michael Barnes (Michael Rady)
does
seem to like Emily in ways that she
doesn't
like him.
Another member of the intern ensemble, Tyra Dupre (Kelly McCreary), is in search of a girlfriend. She's informed Emily of this pursuit, but hasn't yet told her stern father (who's also Memorial's chief resident) about her sexual orientation.
All of the interns are bossed around by imperious attending physician Gina Bandari (Necar Zadegan), who of course insists on an impersonal demeanor in the face of heart-rendering patient illnesses and setbacks. So the overall dynamics of
Emily Owens
are about as familiar as "Take two aspirin and call me in the morning." It's Gummer who rises above them, particularly in Episode 2.
Emily is constantly in motion and on-camera, whether shouldering a rather preposterous load of cases -- for a spanking new intern at least -- or striving to overcome awkward relationships with a growing number of Memorial staffers. But Gummer's a gamer, investing her lead character with smarts, compassion and no small amount of discombobulation. She injects the ordinary with her own unique prescription brand pick-me-ups, making
Emily Owens
bearable when it's not fully embraceable.
It's not easy being the daughter of such an esteemed actress, particularly when the resemblance is there, too. But Michael Douglas has managed quite well under such circumstances. So if this is the second coming of Meryl Streep, then
Emily Owens, M.D.
might well be remembered as the first big coming out party for Mamie Gummer's obvious talents. Onward and upward.
GRADE:
B-minus
unclebarky@verizon.net