USA network gets the edge it's looking for with distinctly different Mr. Robot
06/24/15 11:47 AM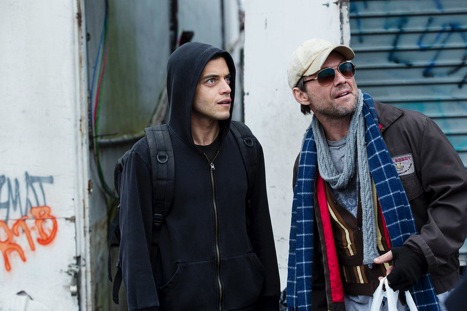 Rami Malek, Christian Slater star in Mr. Robot. USA photo
Premiering:
Wednesday, June 24th at 9 p.m. (central) on USA
Starring:
Rami Malek, Christian Slater, Portia Doubleday, Gloria Reuben, Michael Gill
Produced by:
Sam Esmail, Chad Hamilton, Steve Golin, Carly Chalkin, Niels Arden Oplev
By ED BARK
@unclebarkycom on Twitter
USA, heretofore the home of bouncy, bantering dramas, dribbles well out of its comfort zone with
Mr. Robot
.
A growing number of basic cable networks are looking for an edge this year, with TNT, Lifetime and even TV Land hoping to move into the same risqué neighborhoods as FX and AMC.
Mr. Robot
, a sharp departure from the likes of USA's
Royal Pains, Psych
and
Suits
, embodies disaffected, damaged youth in the person of vigilante hacker Elliot (Rami Malek). His haunted eyes and black hoodies, coupled with a blunt, abrasive take on humankind, propel
Mr. Robot
through a world of deep discontent and covert villainy.
"I'm good at reading people," Elliot says in of his many narratives. "My Secret. I look for the worst in them."
He works for Allsafe Cybersecurity, whose clients include E Corp, dubbed "Evil Corp." The idea is to protect multi-national giants from hacking and other forms of cyber terrorism. Elliot is very good at protecting and serving. But bowing to a "conglomerate of evil" knocks his psyche for a loop. It doesn't help that E Corp's CEO is "not a techie" in Elliot's view. "He's a moron. An arrogant moron. The worst kind."
Malek, excellent in HBO's
The Pacific
as a sardonic, emotionally constipated corporal, dominates
Mr. Robot
with a commanding minimalist performance. But he's not the title character, who instead is embodied by co-star Christian Slater. He recruits Elliot to help take Evil Corp down as part of "the largest revolution the world has ever seen." But Elliot questions whether his mind is playing tricks on him again. Do Mr. Robot and his underground organization really exist?
When out of the office, Elliot hacks into other wrongdoers' cyber trails and then threatens them with exposure if they don't immediately cease and desist. He's also seeing a therapist named Krista Gordon (Gloria Reuben). "There's pain underneath," she tells him. "That's where our work needs to go."
But Krista also is being duped by a boyfriend who's not at all what he seems to be. Elliot handles that for her, figuratively bringing the guy to his knees in a no-nonsense confrontation. It might be hard to stifle a "YES!"
Mr. Robert
is unafraid to name names. A co-worker named Ollie Parker (Ben Rappaport) is romancing Elliot's childhood friend and co-worker, Angela Moss (Portia Doubleday). A little research shows that Ollie lists George W. Bush's
Decision Points
as one of his favorite books. For these and other reasons, Elliot has no use for him.
In an earlier scene, Elliot says that all heroes are counterfeit.
Mr. Robot
illustrates what he's talking about with video snippets of Steve Jobs, Lance Armstrong, Bill Cosby and Mel Gibson.
Mr. Robot
also makes terrific use of Neil Diamond's version of "If You Go Away" during a sequence in which Elliot tries to puzzle things out. The only thing this series may have going against it is the ubiquitous Slater, who has starred in a slew of failed series during the last several years. Roll call: NBC's
My Own Worst Enemy
, ABC's
The Forgotten
, Fox's
Breaking In
and ABC's
Mind Games
.
Maybe the fifth time's a charm for Slater. And
Mr. Robot
belongs to Rami Malek anyway. His Elliot is a magnetic force field of quiet desperation, fighting the demons within him and the despots within his reach. A skinny, pale superhero with way too much on his mind potentially gives the USA network its first big buzz, social media sensation.
By the way, though, Elliot emphatically is "not on Facebook. 'Cause I hate Facebook." His views are his own.
GRADE:
B+
Email comments or questions to:
unclebarky@verizon.net