High expectations: And FX's Fargo exceeds them with an exhilarating return
10/07/15 02:09 PM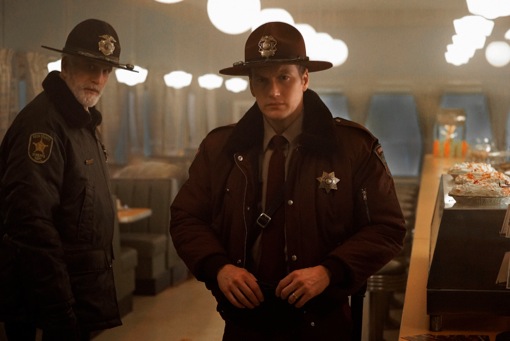 Ted Danson and Patrick Wilson are on the case in Fargo. FX photo
Premiering:
Monday, Oct. 12th at 9 p.m. (central) on FX
Starring:
Patrick Wilson, Kirsten Dunst, Jesse Plemons, Jean Smart, Ted Danson, Cristin Milioti, Bokeem Woodbine, Nick Offerman, Jeffrey Donovan, Zahn McClarnon, Brad Garrett, Allan Dobresen, Rachel Keller, Angus Sampson, Todd Mann, Brad Mann, Raven Stewart, Elizabeth Marvel, Kieran Culkin, Michael Hogan, Bruce Campbell
Produced by:
Noah Hawley, Warren Littlefield, John Cameron, Joel and Ethan Coen
By ED BARK
@unclebarkycom on Twitter
Superlatives are in order and they shall be showered on FX's
Fargo
.
Season 2's iteration of the near-legendary 1996 movie is by far the cream of the fall series crop. The first four episodes sent for review give every indication that this all-new story with mostly new characters will reach if not surpass
FX's first time around
with Billy Bob Thornton, Martin Freeman, Allison Tolman, Colin Hanks, Bob Odenkirk, Keith Carradine, etc.
Set 27 years earlier, in 1979, Season 2 of
Fargo
is a triumph of atmosphere, vivid characters, small moments that count and another intricately intertwined storyline that drags everyday people into lethal steel traps. Ronald Reagan, played by Bruce Campbell, will figure in later. But
Fargo
's opening scene references him in an entirely novel way via an old fictional black-and-white film titled "Massacre at Sioux Falls." We'll say no more, except to say it's a head-scratching yet brilliant way to begin. Things as dead clever and quirky as this just don't happen on TV. Do they?
There are two recycled characters. Patrick Wilson is Vietnam veteran Lou Solverson, now a dedicated Luverne, MN state trooper who's first on the scene after a triple murder at an out-of-the-way diner called The Waffle Hut. His sweet daughter, Molly (Raven Stewart), is just six years old. Carradine and Tolman played those roles in the circa 2006
Fargo
.
Post-homicide circumstances combine to put butcher shop worker Ed Blumquist (a very plumped-up Jesse Plemons) and his wife, Peggy (Kirsten Dunst), in an increasingly perilous situation. Meanwhile, a Kansas City corporate mob headed by Joe Bulo (Brad Garrett) is plotting to take over the territory of a Fargo-based crime-family run by Floyd Gerhardt (an almost unrecognizable Jean Stewart) after her husband, Otto (Michael Hogan), suffers a stroke.
Amid all this, some mysterious blue lights occasionally are seen overhead while a very eclectic soundtrack supplants much of the ominous theme music from both the movie and Season 1. How eclectic? In Episode 2, listen for "One Hour Ahead of the Posse" by Burl Ives.
Principal executive producer and writer Noah Hawley has shown his facility for stitching all of this together without fraying the fabric. Not sure just how he'll work Campbell's Reagan in or explain those extraterrestrial implications. But it's best to keep the faith after Season 1 ended so satisfyingly.
Ted Danson, in a full white beard, also is part of the ensemble as Sheriff Hank Larsson, whose cancer-stricken daughter, Betsy (Cristin Milioti), is married to Lou Solverson. In Episode 2, Larsson has a thrillingly taut scene with Bulo's three principal enforcers, Mike Milligan (a terrific Bokeem Woodbine) and the silent but deadly Kitchen brothers, Gale and Wayne (Brad and Todd Mann).
The mute Kitchen brothers are in keeping with some of the
Fargo
constants. So are the snow-crusted, desolate rural landscapes and what butcher Ed does to someone who needs to be disposed of quickly.
Season 2 is without a central, roaming despot in league with Thornton's Lorne Malvo. But there are ample chilling characters. Besides Bulo's henchmen, meet surly Dodd Gerhardt (Jeffrey Donovan), who will badly hurt or kill anyone it takes. Add Hanzee Dent (Zahn McClarnon), a Native American ally of the Gerhardts who's both coldly efficient and touchingly gentle with a rabbit who's about to be dinner.
Nick Offerman of
Parks and Recreation
fame also joins the new cast as a know-it-all auto mechanic named Karl Weathers. And Kiernan Culkin plays Rye Gerhardt, youngest brother of the clan and desperate to make his own mark. In an early scene from Monday's premiere episode, Rye is dismissed as "the comic in a piece of bubble gum." A guy's gotta do something about that, and Rye is about to try. His actions spark a series of chain reactions.
By Episode 4, a still unseen Reagan is said to be starring in another fake movie, this one about visitors from outer space. It's a flashback scene in which a small movie theater proves to be a major proving ground. Like everything in
Fargo
, it's beautifully shot and choreographed.
Fargo
's violence can be abrupt and certainly deadly. But it's not grossly gratuitous or voyeuristic, unlike most of the carnage in just the first episode of FX's newly launched
American Horror Story: Hotel
.
Fargo
's producers, who also include former NBC entertainment president Warren Littlefield, know how to service a story without getting muck all over themselves.
The first four episodes of
Fargo
's Season 2 get their bottom-line conscience from Wilson's Lou Solverson. He's not a man to back down, but what's been going on lately has shaken him to his core.
"The whole world used to know right from wrong," he laments to his wife, Betsy. "Moral center. Now . . ."
His words trail off as larger forces get ready to tangle without any worries about collateral damage. Aw geez, it's still only 1979. If only Lou knew what's coming.
GRADE:
A
Email comments or questions to:
unclebarky@verizon.net