NEW SEASON: Making new waves with a Hawaii Five-0 that also takes cues from The A-Team
09/16/10 10:45 AM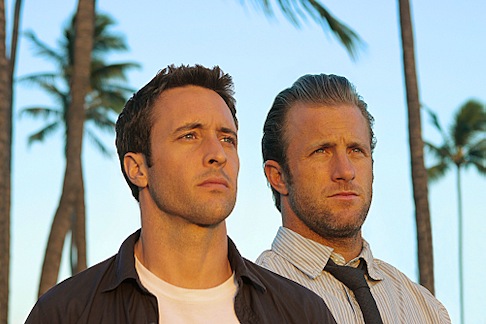 Hawaii Five-O's re-imagined McGarrett and Danno. CBS photo
Premiering:
Monday, Sept. 20th at 9 p.m. (central) on CBS
Starring:
Alex O'Loughlin, Scott Caan, Daniel Dae Kim, Grace Park, Taryn Manning
Produced by:
Peter Lenkov, Alex Kurtzman, Roberto Orci
By ED BARK
Death, destruction, heavy automatic weapons fire and bullet wounds for its two lead characters mark Monday's luau-free "re-imagining" of CBS' iconic
Hawaii Five-0
.
Its pacing, quips and vehicle-flying action scenes are reminiscent of NBC's
The A-Team
, which also assembled a task force of four to fight heavy-duty crime. Hannibal Smith and pals battled on a variety of fronts. Now -- as well as back then -- the base of operations is scenic Honolulu, oddly derided by Danny "Danno" Williams in an early scene as "this pineapple-infested hellhole."
James Caan's son, Scott Caan, plays the rough-hewn Danno. And yes, he still gets to book 'im or 'em, whichever the case may be.
But this Danno is much more an equal partner than James MacArthur's previous incarnation. Jack Lord and his hair helmet were completely in charge of the original. Alex O'Loughlin's version of detective Steve McGarrett is comparatively deferential. In fact there's little doubt who would win a fist fight between the two. Make book on Danno.
The saga re-begins with Naval officer McGarrett escorting a terrorist thug in a military convoy. But other bad guys have McGarrett's bloodied steely father at gunpoint in their lair. Would Steve care to free the terrorist to save dad's life? Let's just say that bad things happen to both captives after an airborne attack on the convoy.
Vowing to pick up the pieces, McGarrett lands in Hawaii and is met by guest star Jean Smart playing the governor. She offers him
carte blanche
immunity and full backing with no red tape if he'd care to form a task force in the interests of ridding the island of hard-core criminals. McGarrett balks, but will think about it.
Meanwhile, the divorced Danno is newly arrived in Hawaii and determined to keep his eight-year-old daughter safe after she's been relocated with her mother. Banging heads for the first time at a crime scene, McGarrett and Danno of course deduce that they'll probably be better off working together. Danno's a tough nut to crack, though. His ring tone for calls from his ex-wife is the theme music to
Psycho
.
Also recruited is Chin Ho Kelly (Daniel Dae Kim gets to remain in Hawaii after
Lost
), a former Honolulu cop wrongly accused of corruption. Chin Ho just happens to have a coltish cousin named Kono Kalakaua (Grace Park). First seen surfing in a super-skimp bikini, she further impresses McGarrett and Danno by punching out a boarder who's invaded her wave.
Kono later gets to strip down to bra and panties after a cocksure crook suspects her of wearing a wire. O'Loughlin also bares his nicely sculpted tattooed chest, providing additional scenic beauty beyond all those palm trees and crashing waves.
Otherwise there's plenty of mayhem in a fast-paced introductory hour that ends with the new team bantering about what they should call themselves. And although the classic theme song remains (downsized to 30 seconds), CBS could just as easily call this re-do
Hawaiian Punch
or
Pineapple PD
. Its resemblances to the original (which ran from 1968-'80) are pretty much in name only.
Still, that doesn't stop this reboot from being entertaining -- and explosive -- on its own merits. The late, reclusive Lord of the island, who died in 1998, likely would disagree with that assessment. Perhaps he'd even see the new
Hawaii Five-0
as an egregious affront.
Tom Selleck pretty much feels that way about plans to make a
Magnum, P.I.
feature film. But he's got a new CBS series -- the upcoming
Blue Bloods
-- and Lord is in no shape to argue on anyone's behalf. Times change. And whatever its disconnect from the original, this
Hawaii Five-0
looks ready to make its own waves.
GRADE:
B