NEW SEASON: No need to prosecute Belushi again in CBS' The Defenders
09/21/10 04:10 PM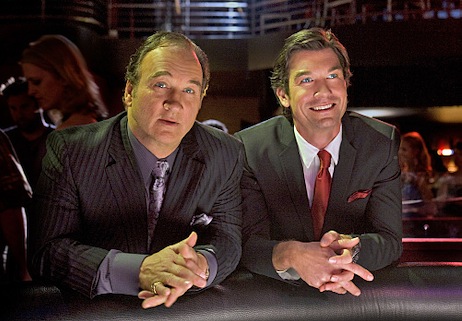 Jim Belushi and Jerry O'Connell are mockups of real-life Vegas lawyers in the new Wednesday legal drama The Defenders. CBS photo
Premiering:
Wednesday, Sept. 22nd at 9 p.m. (central) on CBS
Starring:
Jim Belushi, Jerry O'Connell, Jurnee Smollett, Tanya Fischer, Gillian Vigman
Produced
Carol Mendelsohn, Niels Mueller, Kevin Kennedy, Joe and Harry Gantz, Davis Guggenheim
By ED BARK
Jim Belushi is an easy target, and not just because of his size.
His
According to Jim
ran for a seeming eternity on ABC without ever attracting a favorable critical review. OK, maybe Pete Suckup of
The On the Take Times
liked it, but that really shouldn't count.
Belushi returns to the prime-time game Wednesday in CBS'
The Defenders
. It's a Las Vegas-set legal drama that's actually filmed in Southern California and has nothing at all to do with the same-named, Emmy-winning 1960s CBS series that starred E.G. Marshall and Robert Reed.
This version of
The Defenders
almost assuredly won't win any major Emmys. But that's not a sin, and it doesn't negate its overall entertainment value. Belushi is effective and fun to watch as a martini-imbibing courtroom brawler who still pines after his ex-wife. And co-star Jerry O'Connell, his man-about-town partner, also carries the ball capably.
Their characters, Nick Morelli and Pete Kaczmarek, respectively are modeled after real-life flamboyant Vegas attorneys Michael Cristalli and Marc Saggese. In Wednesday's premiere episode, they represent a frail-looking accused murderer who belatedly decides to reject a plea bargain that would have landed him three years in prison. Instead he'll fight the charge and risk doing 40 years to life. At issue is whether the defendant legitimately acted in defense of his brother by shooting one of the four former high school football players who were pounding on his brother.
Joining in the defense is new associate attorney Lisa Tyler (Jurnee Smollett), who worked her way through law school by stripping. But it's not as ham-fisted as it sounds, with Smollett (
Friday Night Lights
) bringing intelligence and snap to the role.
The courtroom action is brisk and easily grasped, with Belushi rising to the occasion of an impassioned closing argument. After the verdict, everyone heads to see the previously cited "Junior," who turns out to be Frank Sinatra's surviving namesake.
Morelli and Kaczmarek groove on the bulbous but still big-voiced crooner as though he's a full-blown reunion of The Beatles. Maybe they can get
Jerry Vale
for the next episode. No real harm in that and no real reason to rag unduly on
The Defenders
. It's a breezy, agreeable, high-energy, low-maintenance first outing that just might prove to be something of a sleeper hit.
GRADE:
B