Lowe remains on a comedy high with Fox's The Grinder
09/28/15 03:13 PM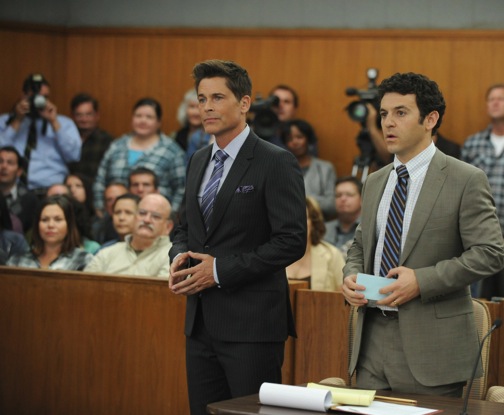 Rob Lowe, Fred Savage get lawyered up in The Grinder. Fox photo
Premiering:
Tuesday, Sept. 29th at 7:30 p.m. (central) on Fox
Starring:
Rob Lowe, Fred Savage, William Devane, Mary Elizabeth Ellis, Hana Hayes, Connor Kalopsis
Produced by:
Andrew Mogel, Jarrad Paul, Nicholas Stoller, Greg Malins, Rob Lowe, Melvin Mar
By ED BARK
@unclebarkycom on Twitter
Tuesday is middle-aged Adonis night on Fox's new fall schedule. So after John Stamos in
Grandfathered
comes Rob Lowe in the better rendered
The Grinder
.
It's not a sitcom about an impossibly handsome butcher shop owner and his quest to be seen as more than just a slab of beefcake. Lowe instead is Dean Sanderson, who played a grandiose lawyer known as The Grinder in a long-running TV drama series that now has come to an end.
Returning home to Boise, Idaho to watch the series finale with his married "little bro" Stewart (Fred Savage of eternal
The Wonder Years
fame) and other assorted Sandersons, Dean is struck by what they have and what he doesn't.
"Right now I'm just drivin' on the highway of what the hell is my life," he laments in the way his TV character likewise would speak.
Stewart, a stiff real-life lawyer with no stage presence in court, has a wife, Debbie (perfectly played by Mary Elizabeth Ellis from
It's Always Sunny In Philadelphia
), a daughter, Lizzie (Hana Hayes) and a son, Ethan (Connor Kalopsis). TV vet William Devane is also around as Dean Sanderson, Sr., founder of the family law firm but more impressed by Lowe's fake lawyer than Savage's actual one.
This of course is going in completely predictable directions. Not that it matters in this case. Everyone in court is star-struck by the famous Dean, including the judge and a middle-aged Hispanic couple facing an eviction notice. They're being represented by Stewart, who's decidedly no Perry Mason or even
Unfrozen Caveman Lawyer
with his halting delivery and heavy reliance on note cards. He wants the couple to settle, but as Dean tells them, "The Grinder never settles. Not in his nature."
The brotherly dynamics are nicely laid out, with Lowe playing his part with a wink while Savage chafes and bristles. His frustrations are poured out to wife Debbie, who brings freshness and originality to what could have been a one-note sounding board role.
Once they reach an accord, the brothers Sanderson will be teaming up in court on a weekly basis. Or as Dean puts it, "We're going to meet in the middle for justice."
The premiere episode has promise aplenty, with Lowe's character a maestro at pushing all the right buttons while also following the scripts he has down pat after nine years of always prevailing in TV courtrooms. His climactic "Grinder rests" tagline might well seep into the viewer vernacular.
After surprising many with his comedy chops in
Parks and Recreation
, Lowe now seems like a natural. Savage has his work cut out to keep up, but is no slouch. And Ellis is instantly a winning presence. This one looks like a keeper but certainly not a sleeper. Lowe's recent track record and pre-sold star power already make
The Grinder
a comedy of which much is expected -- and so far delivered.
GRADE:
B+
Email comments or questions to:
unclebarky@verizon.net