BBC America's Burton and Taylor vividly recounts their last pairing
10/15/13 10:14 AM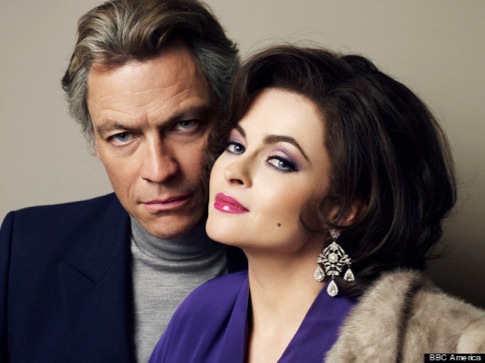 Dominic West and Helena Bonham Carter of Burton and Taylor.
By ED BARK
@unclebarkycom on Twitter
A lion in winter and a lioness with many seasons to come.
BBC America's
Burton and Taylor
(
Wednesday, Oct. 16th at 8 p.m. central
) compellingly recaptures the final go-around of its volatile centerpieces. To say it's a better film than last fall's
Lindsay Lohan-fueled Liz & Dick
on Lifetime is like rating Jane Goodall a woman of more substance than Kim Kardashian. Two accomplished thespians, Dominic West (
The Wire, The Hour
) and Helena Bonham Carter (
Fight Club
, the Harry Potter movies), answer the bell this time out. And it shows.
Richard Burton and Elizabeth Taylor had been twice-married and twice-divorced by the time Liz lured him to co-star with her onstage in a 1983 adaptation of Noel Coward's dusty
Private Lives
. It opened in Boston, made it to Broadway and closed on Nov, 6, 1963 after a run in Los Angeles. By August of the following year, a remarried Burton -- to the former Sally Hay -- was dead of a brain hemorrhage. Taylor, who used
Private Lives
as a vainglorious effort to land Burton a third time, lived on until 2011 after one last ill-fated marriage to Larry Fortensky.
Bonham Carter is not a classic glamorous beauty in the mold of Taylor. And West would never be mistaken for Burton. But their nuanced performances rise well above the physical dissimilarities.
Burton and Taylor
is mostly a telescoped two-person film, although Stanley Townsend has some nicely understated moments as the play's put-upon director, Milton Katselas. He's mostly called on to stoically deal with Taylor's whims and absences while Burton alternately grouses, rages and stays the course in return for the "pile of money" she's arranged for the both of them.
Burton, beset with various physical infirmities, was pretty much laying off the booze at this point while Taylor continued to freely imbibe. They played Elyot and Amanda in
Private Lives
, characters who had been married, divorced and were now honeymooning with new spouses. But they also found themselves newly attracted to one another while in adjoining rooms at the same hotel.
"Does this mean marriage No. 3 for you and Richard?" a reporter inquires at a press conference announcing the project. Taylor certainly didn't mind leaving that impression.
Their collaboration became a critically panned, sold-out event, with Burton's very blunt assessment of its detractors left intact on a review DVD but sure to be cut from BBC America's advertiser-supported presentation.
Their admiration for one another as actors remains steadfast. And in a spicy restaurant scene, Burton also pledges allegiance to his ex's other celebrated attributes.
"They are still magnificent, by the way. May I say that?" he inquires.
"No, you may not," Taylor replies. "They're not yours to talk about anymore."
"They'll
always
be mine," he retorts before their late night "supper" ends on a volatile note -- which was not at all unusual.
The film is devoid of flashbacks, save for one well-played 10-year rewind in which Burton and Taylor attempt to exercise together in their hotel suite to the tune of "I Get A Kick Out of You." It winningly recalls their playfulness together and a mutual physical attraction that never flamed out.
Burton and Taylor
has something of a Hollywood ending, which in reality is the only way to go. Parting is such sweet sorrow after their evergreen ups and downs during the course of
Private Lives
. West and Bonham Carter rise beautifully to the challenge of a curtain call in Taylor's dressing room, where Burton finally says what he had left unsaid while the woman he can't live with -- or without -- rallies herself to his side. It's touching, uplifting -- and suitably schmaltzy.
BBC America still doesn't get as much critical acclaim or attention as AMC, FX, HBO or Showtime. But the network continues to distinguish itself with productions such as
The Hour, Broadchurch, Luther, Orphan Black
and now
Burton and Taylor
. It's a film that asks a lot from West and Bonham Carter, who deliver time and again in roles that could have eaten them alive. Instead we feast.
GRADE:
A-minus
Email comments or questions to:
unclebarky@verizon.net