Current TV's Bar Karma staggers into view as network's first scripted series
02/10/11 11:51 AM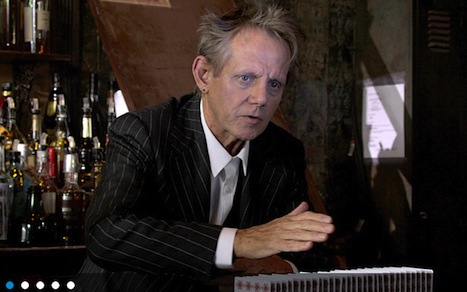 William Sanderson heads the cast of Bar Karma. Current photo
Premiering:
Friday, Feb. 11th at 9 p.m. (central) on Current TV
Starring:
William Sanderson, Cassie Howarth, Matthew Humphreys
Produced by:
Will Wright, Albie Hecht
By ED BARK
Well, at least they're trying.
On the heels of
signing Keith Olbermann
as its Walter Cronkite, the still largely invisible Current TV network has announced a small fleet of new programs and will premiere its previously announced first scripted series,
Bar Karma
, this Friday.
The 12-episode blend of
Twin Peaks, The Twilight Zone, My Name Is Earl
and whatever else comes to mind is highly unlikely to take the country by storm. But it is something of a breakthrough for the so-called "global online community," which is being asked to submit storylines for future episodes set in a "time-traveling bar" run by James Anon (familiar-faced William Sanderson from
Deadwood
and
Newhart
).
Episode 3, subtitled "An Open Mind," is from Austin, TX-based consultant Moses Silbiger, according to publicity materials. The premise: "A famous actress in her 60s enters the bar in her hospital gown and is forced to examine her relationship with her son."
That one's not yet ready for review, but Friday's scene-setting first half-hour arrived in the mail the other day. Overall it may be more muddled than the 2000 Florida recount, which perhaps befits a network co-founded by Al Gore.
The episode begins with a global-warming sex scene involving a guy named Doug Jones (Matthew Humphreys) and an unidentified tattooed blonde. Exiting from a bedroom and clad only in his undies, Doug finds himself in a bar populated by Anon and comely waitress Dayna Rollins (Cassie Howarth).
Doug, destined to become a series regular, thinks he must be dreaming. And maybe he is. Or, just maybe, he might be an Internet kingpin accused of murdering the woman he bedded after she came on to him at a deep-into-the-night poker game.
"I didn't kill that girl," Doug insists.
"Doesn't matter," says Dayna. "Your karma has found you. If you run from it, you're only running in a circle."
Or as Anon imparts, "The universe is inherently meant to be balanced. It always finds a way to restore itself."
Yeah, then how on earth do you explain Nicole "Snooki" Polizzi?
A few more details about the bar's inhabitants are spilled. Sanderson's Anon character is more than 20,000 years old and recently split off from a "much larger conglomerate." Still, just about anyone can drop in at any time, including a medieval William Wallace for a quick drink.
Filmed at the new Ironbound sound stage in Newark,
Bar Karma
is a creation of Will Wright (brain behind
The Sims
and
SimCity
) and Worldwide Biggies CEO Albie Hecht. Perhaps both should have their heads examined. Or maybe the "mythology" they intend to unravel will somehow, some way make a modicum of sense in tandem with the amateur storylines they'll be adapting, shooting, producing and editing.
Stranger things have happened, including the hiring of Olbermann for a spring debut as Current TV's first official man o' the people. The network also has announced several other new programs for this year, including the five-episode
50 Greatest Documentaries
, the five-episode
Headlines That Shocked America
and the six-episode
Smoke Jumpers
, starring real-life forest fighters.
Rome wasn't built in a day, and Current TV is still only in its sixth year. But there's a long, long way to go before the network can be even a mini-playuh amid hundreds of other cable competitors. In that context,
Bar Karma
is the equivalent of toilet-training. Which is something we all go through.
GRADE:
C-minus