Emmy nominations a feast for perennials plus notable newcomers ranging from Girls to Homeland to Hatfields & McCoys
07/19/12 08:44 AM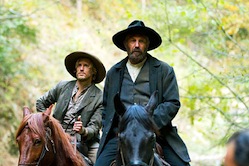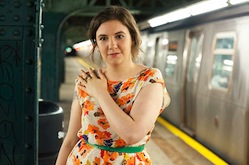 Veteran Kevin Costner (Hatfields & McCoys) and rookie Lena Dunham (Girls) were first-time Emmy nominees Thursday. History/HBO photos
By ED BARK
@unclebarkycom
A batch of usual suspects --
Mad Men, Breaking Bad, Modern Family, 30 Rock
-- again deservingly had their say while newcomers
American Horror Story, Homeland, Girls
and
Hatfields & McCoys
also broke through in a big way in prime-time Emmy nominations announced Thursday.
Mad Men
(AMC) and
Horror Story
(FX) led all programs with 17 nominations apiece, although the latter oddly was entered in the movies & miniseries category despite its renewal for next season. That's kind of cheating, isn't it?
The bearded laddies of History's
Hatfields & McCoys
miniseries and PBS' properly dressed
Downton Abbey
also prospered with 16 nominations each, followed by the HBO movie
Hemingway & Gellhorn
(15).
In the two marquee categories -- best drama and comedy series -- HBO landed five of the 12 nominees in racking up another league leading 81 total nods. That was down, however, from 104 last year.
Shut out in the best comedy series category last year, HBO rebounded with old hand
Curb Your Enthusiasm
and freshmen
Girls
and
Veep
. They joined repeaters
30 Rock
(NBC),
Modern Family
(ABC) and
The Big Bang Theory
(CBS).
Lena Dunham, creator and star of
Girls
received three Emmy nominations, all of them firsts for her.
Louis C.K., star and creator of FX's thoroughly adult
Louie
, was nominated for both acting and writing while his series got left out in the best comedy series category. But the ongoing Season 3 of
Louie
, its best ever, premiered late last month outside the Emmy eligibility window of June 1, 2011 to May 31, 2012. So maybe next year.
HBO's
Boardwalk Empire
and
Game of Thrones
both returned to the list of best drama series nominees, as did four-time champ
Mad Men
. But either Showtime's first-year
Homeland
or AMC's
Breaking Bad
(ineligible last year) are likely to dethrone
Mad Men
, with
Downton Abbey
a dark horse in its first outing in this category after winning last year as prime-time's best miniseries or movie.
HBO's first-year
The Newsroom
, the Aaron Sorkin creation with wildly mixed reviews, also premiered too late to make this year's Emmy cut-off. But the network's
Hemingway & Gellhorn
, likewise loved/liked/loathed by TV critics, made an aforementioned big score. So expect
Newsroom
to be a player the next time around, universal acclaim or not. Meanwhile, FX's very deserving
Justified
again got left out.
Hemingway & Gellhorn
and HBO's
Game Change
nabbed nominations in the best miniseries or movies categories, with
Hatfields & McCoys, American Horror Story
, PBS'
Sherlock: A Scandal in Belgravia
and BBC America's
Luther
also joining the party.
Costner copped his first Emmy nomination for the lead role of "Devil" Anse Hatfield while co-star Bill Paxton also is a first-time contender as Randall McCoy after never being nominated for his work as a Mormon bigamist in HBO's
Big Love
. But Woody Harrelson may well be the man to beat for his bravura turn as John McCain's right hand man, Steve Schmidt, in
Game Change
.
Julianne Moore, also of
Game Change
, appears to have the inside track in the miniseries/movies lead actress category for her dead-on portrayal of Sarah Palin. Will she say "You betcha" if she wins? Nicole Kidman as Martha Gelhorn could give her some strong competition, though. The most undeserving nominee is Ashley Judd for ABC's
Missing
, which in fact was a canceled series, not a miniseries or movie. The Academy of Television Arts & Sciences shouldn't be opening this door in its nominating process. Otherwise, any short-lived series casualty could be considered a contender in a category where it simply doesn't belong.
Although they again had a tough time holding their own against cable networks, three of the Big Four broadcast networks -- ABC, CBS and NBC -- increased their nomination totals from last year. Non-commercial PBS also upped its nomination, with its 58 second only to CBS' 60 among non-cable networks. But Fox took a big hit, falling from 42 to 26 nominations while The CW was completely skunked. FX had as many nominations as its broadcast brother and AMC beat both of them with 34.
The broadcast networks were strongest in the "Lead Actress in a Comedy Series" category, receiving five of the seven nominations and giving Fox at least one bright spot with Zooey Deschanel's nod for
New Girl
.
Besides those previously mentioned, the other programs with 10 or more nominations are
Modern Family
and NBC's
Saturday Night Live
(14 each);
Breaking Bad, Sherlock
and
30 Rock
(13 each);
Boardwalk Empire
and
Game Change
(12 each; and
Game of Thrones
(11).
You can find the
complete list of Emmy nominations here
. The winners in major categories will be revealed during the 64th prime-time Emmy telecast Sept. 23rd on ABC.
EMMY GUMBO***
Oscar-winner Kathy Bates racked up her 10th and 11th Emmy nominations for her starring role in NBC's canceled
Harry's Law
and for a guest shot on CBS'
Two and a Half Men
. She has yet to win.
***
Michael J. Fox outdid Bates by landing his 14th and 15th nominations. Both were in the guest star category -- for CBS'
The Good Wife
and HBO's
Curb Your Enthusiasm
. Fox so far has won five times in 13 previous tries.
***
Among all the nominees in major categories, who's the biggest lock to win? You can bet the house on Claire Danes' bravura portrayal of tormented terrorist-seeker Carrie Mathison in
Homeland
. If she doesn't win it would be the biggest Emmy injustice since CBS'
Lonesome Dove
got shut out on Emmy night.
***
The dreaded "Just One Nomination" list has a number of popular and/or critically praised comedy and drama series. In alphabetical order, this year's entrants include
The Big C, Community, Criminal Minds, Dexter, Entourage, Falling Skies, Grey's Anatomy, Hawaii Five-O, The Middle, NCIS: Los Angeles, Parenthood, Person of Interest, Raising Hope, Shameless
and
Southland
.
So which of these series really got screwed. Many will make the case for
Community
, but ABC's
The Middle
is the most deserving of Emmy love. Its Wednesday night running mate,
Modern Family
, not only received a best comedy series nomination but seven acting nods as well. Hey, it's really not
that
much better than
The Middle
, whose lone nomination was for "Outstanding Makeup for a Single-Camera Series (Non-Prosthetic)." Gee, thanks a lot.
***American Idol's Ryan Seacrest received another nomination as best host of a "reality-competition" series, but his show didn't make the cut. Making it worse: NBC's rival singing competition, The Voice, was one of the six nominees.