Carvey's still got a little somethin' somethin'
06/13/08 02:34 PM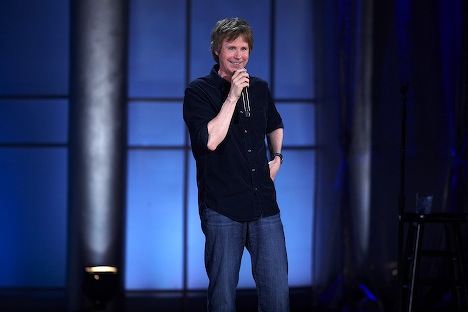 By ED BARK
So how much does he have left?
Quite a bit as it turns out.
Dana Carvey, one of
Saturday Night Live
's all-time MVPs, has not deteriorated into Joe Piscopo, Tim Kazurinsky or lately, Norm Macdonald. His Saturday, June 14th HBO special (9 p.m. central and repeated throughout June) returns him to the living after a
bungled heart surgery
and a desire to spend more time with his family kept him mostly out of public view for the past decade.
Now 53, Carvey performs before an enthusiastic full house at the Wells Fargo Center of the Arts in Santa Rosa, CA. It's not exactly Carnegie Hall, but seems like a nice enough venue for a special that's titled
Squatting Monkeys Tell No Lies
.
He quickly unloads a few f-bombs, just so you don't think he's the Church Lady anymore. Thankfully, Carvey doesn't dust off that relic, but eventually gets around to an array of politician impressions, including both George Bushes, Bill Clinton, Al Gore, Ross Perot, Dick Cheney, Ronald Reagan and Arnold Schwarzenegger. They're all well-woven into a routine on a "Reagan Oracle" who masterminds future presidencies.
Still, a good portion of his nearly one-hour act is devoted to Carvey being Carvey. And it's reasonably funny stuff on subjects ranging from parenting to aging to new-age religions. The latter is where the "Squatting Monkeys" reference comes in.
Carvey retains his buoyancy and overall boyish charm. His diction is sharp and assured, but his delivery seems more impromptu than carefully memorized. It all makes for a pleasant surprise. What could have been cringe-worthy instead is a nice little amusement.
Grade:
B