Rangers-Cards World Series gets late-game lift in national ratings
11/01/11 12:02 AM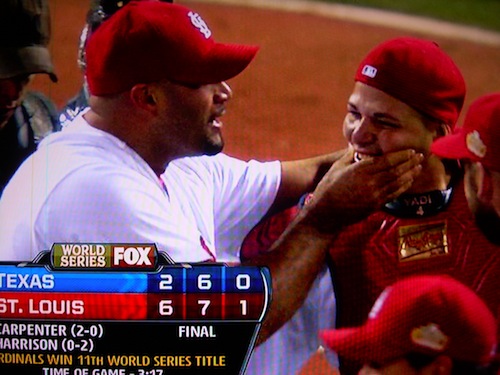 It still hurts to watch in D-FW. But Game 7's 25.4 million viewers were the most since 2004's World Series ender. Photo: Ed Bark
By ED BARK
Final national Nielsen numbers for the 2011 World Series make it the fourth least-watched ever. Or as Major League Baseball would prefer to put it, the seven-gamer between the St. Louis Cardinals and Texas Rangers rallied to easily outscore the previous year's "Fall Classic."
A Game 7 crowd of 25.4 million viewers, the most for a World Series game since 2004's Boston Red Sox closeout of the Cardinals, swelled the overall average to 16.6 million viewers. The "instant classic" Game 6 also helped, pulling in 21.06 million viewers. (In D-FW, those
roles were reversed
, with Game 6 far more watched than the Game 7 burial of the Rangers.)
The 2010 Series, in which the San Francisco Giants beat the Rangers in five games, averaged 14.3 million viewers to avoid being the least-seen ever. That mark is still held by the rain-soaked, five-game 2008 Series, in which the Philadelphia Phillies took out the Tampa Bay Rays. It averaged just 13.6 million viewers nationally.
Rangers-Cards also outdrew the 2006 Series (15.8 million), where the Cardinals beat the Detroit Tigers in five games.
The latest Nielsen numbers, in the first seven-game Series since 2002, show that market size and the presence of the New York Yankees can still matter. The Yanks' 2009 win over the Phillies, in six games, averaged 19.4 million viewers.
In 2004, the Cinderella Red Sox erased their longtime "curse" by sweeping the Cardinals after being the first team to overcome a 3-0 deficit in post-season play by shocking the Yankees in the ALCS. That World Series drew an average of 25.4 million viewers per game, making it the most-watched since the 1995 Atlanta Braves-Cleveland Indians matchup (28.97 million). That marked the return of the World Series after the 1994 baseball strike shamefully wiped out all post-season play.
The most-watched Series ever, since Nielsen Media Research began tabulating total viewer figures in 1973, was 1978's Yankees-Los Angeles edition. The Yanks won, with an average of 44.3 million viewers for the six games. No World Series has hit the 30 million mark since the Toronto Blue Jays beat the Braves in the six-game 1992 edition. It pulled in 30.01 viewers per game.