Serving more time and resurrecting the dead via Fox's Prison Break
03/27/17 10:10 AM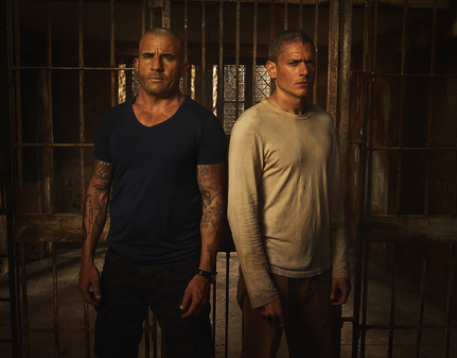 Brothers Linc and Michael again belly up to the bars in Prison Break.
Fox photo
Premiering:
Tuesday, April 4th at 8 p.m. (central) on Fox
Starring:
Dominic Purcell, Wentworth Miller, Sarah Wayne Callies, Robert Knepper, Rockmond Dunbar, Amaury Nolasco, Mark Feuerstein, Paul Adelstein, Inbar Lavi
Produced by:
Paul T. Scheuring, Vaun Wilmott, Michael Horowitz, Dawn Olmstead, Nelson McCormick, Marty Adelstein, Neal Moritz, Brett Ratner
By ED BARK
@unclebarkycom on Twitter
It really would be best for all concerned to never ever believe that a prominent TV character is truly dead.
Who was it that said, "I am the resurrection and the life?" Just thinking aloud while noting that Fox is the latest network to play a lower case god.
Seven years ago,
Prison Break
's soulful Michael Scofield (Wentworth Miller) presumably was laid to rest after sacrificing himself for the greater good of his new wife, Sara Tancredi (Sarah Wayne Callies), and their unborn son. He left behind a heart-tugging video that was played at the close of what was supposed to be the series' final act. Nope, it wasn't. So here comes a nine-episode return, starting on Tuesday, April 4th. Fox sent the first four episodes while also imploring, "Specifically in regards to Episode Four, we ask that you DO NOT reveal the details of the prison escape sequence, as well as major character deaths and a villain reveal."
Don't worry. Your secrets are safe. Except does anyone really die in
Prison Break
? And I deduced the "villain reveal" well before Episode Four. Other vigilant viewers might see it coming as well.
Prison Break
resumes with the scummy Theodore "T-Bag" Bagwell (Robert Knepper) somehow being released from the Fox River Penitentiary, in part because he's been a model prisoner. It's hard to imagine T-Bag being a model anything, but Knepper still plays him to the hilt and remains the best thing about this series.
Just before being released, T-Bag finds that his mail includes a hazy picture of a man who appears to be Michael. He shows it to Lincoln, who's fallen back into his old ways and is on the run from henchmen to whom he owes big money. Lincoln hisses at T-Bag, but takes the photo to Sara, who's now living in Syracuse with her new husband, Jacob (Mark Feuerstein) and the son she conceived with Michael.
Lincoln didn't attend their wedding, he explains, because "I haven't been in a good place, Sara. My brain, it's been a mess."
He later talks to Michael's tombstone, which is inscribed "Be the change you want to see in the world." To reiterate, "My life's been a mess ever since you left . . . But I got good in me. It'd just be nice if you were here to help me find it."
Other main members of the
Prison Break
crew, Benjamin "C-Note" Franklin (Rockmond Dunbar) and Fernando Sucre (Amaury Nolasco), also get involved while government agent Paul Kellerman (Paul Adelstein) continues to scheme.
Episode One does a capable job of bringing the principals back into the fold before the locale shifts to Yemen's Ogygia prison, where Michael eventually materializes but initially denies he's Michael. Added attractions are a comely Muslim go-between named Sheba (Inbar Lavi) and imprisoned kingpin terrorist Abu Ramal (Numan Acar), who in Episode Three bellows, "When a man mounts another man, the throne of God shakes!" They're otherwise all caught up in an ISIL uprising, which complicates efforts to spring Michael and find out what his game's been for the past seven years.
The second and third seasons of
Prison Break
were mostly filmed in North Texas before the producers relocated to Los Angeles for what appeared to be the climactic Season Four. Locales for the second coming of the series are Morocco and Vancouver, with the action toggling back and forth between Yemen and the United States, where two black-clad assassins are on the prowl.
After a crackling good start,
Prison Break
begins to wobble but doesn't quite topple in succeeding hours. Fox already is heavy into terrorism and counter-terrorism with its ongoing, Jack Bauer-less
24: Legacy
while Kiefer Sutherland has taken on a new terrorist-battling role in ABC's
Designated Survivor
. ABC's
Quantico
likewise is walking the terrorist/counterrorism beat, as are NBC's
The Blacklist
and
The Blacklist: Redemption
. There's Showtime's
Homeland
, too, making this a crowded if not already exhausted field.
Prison Break
perhaps can tie all of its machinations and revelations into a satisfying if prototypically implausible climax. But open ends also are anticipated because one never knows when the next reboot or character resurrection might be coming.
GRADE:
B-minus
Email comments or questions to:
unclebarky@verizon.net