HBO again dominates Emmy nominees while Friday Night Lights finally gets a best drama series nod in its final season
07/14/11 08:07 AM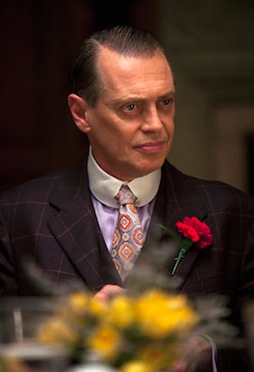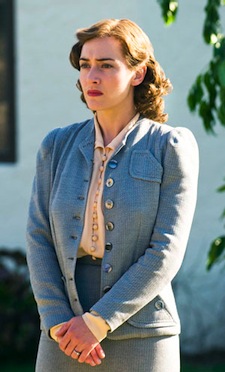 Steve Buscemi, Kate Winslett of Boardwalk Empire, Mildred Pierce.
HBO photos
By ED BARK
Paced by top vote-getter
Mildred Pierce
, HBO more than doubled the total of its nearest network rival Thursday in nominations for the 63rd annual Primetime Emmy Awards.
Pierce
, which starred Kate Winslet in the title role, amassed 21 nominations while HBO's
Boardwalk Empire (18), Game of Thrones
(13) and
Too Big to Fail
(11) also scored in double digits. All told, those four programs had 63 nominations, well over half of HBO's 104. The runner-up network, CBS, had 50 nominations, followed by broadcast network rivals NBC (46), Fox (42) and ABC (40).
The biggest celebration, however, might be among the now far-flung cast members and crew of NBC's
Friday Night Lights
. In its fifth and final season, the Austin-made depiction of fictional Dillon, Texas and its high school football teams received its first nomination in the "Outstanding Drama Series" category. Connie Britton and Kyle Chandler repeated last year's nods in the best actress and actor categories.
Also jumping up and down is the fledgling ReelzChannel, which aired the eight-hour
The Kennedys
miniseries after History Channel produced it and then rejected it as not fit for its "brand."
The Kennedys
received 10 nominations, among them an "Outstanding Miniseries or Movie" nod in the company of
Mildred Pierce, Too Big to Fail
, HBO's
Cinema Verite
, PBS'
Downtown Abbey
and Starz's
The Pillars of the Earth
.
The Kennedys
also nabbed best actor nods for Greg Kinnear and Barry Pepper as Jack and Bobby Kennedy. And Tom Wilkinson received a best supporting actor nomination for his portrayal of patriarch Joe Kennedy.
The 10 nominations for ReelzChannel topped History Channel's total of seven nominations while also exceeding the totals of longstanding networks such as FX (6), TNT (3), Lifetime (3), A&E (2) and USA and The CW (1 each). In short, it only takes one
Boardwalk Empire
and
Game of Thrones
joined
FNL
as first-time entrants in the best drama series competition, with CBS'
The Good Wife
, Showtime's
Dexter
and AMC's
Mad Men
completing the field.
Mad Men
has won the Emmy in this category in each of its first three eligible seasons.
In the "Outstanding Comedy Series" category, CBS'
The Big Bang Theory
and NBC's
Parks and Recreation
made their first appearances, joining ABC's reigning champ,
Modern Family
, Fox's
Glee
and NBC's
The Office
and
30 Rock
, which already has three wins in this category.
Other programs with 10 or more Emmy nominations this year are
Mad Men
(19);
Modern Family
(17); NBC's
Saturday Night Live
(16);
30 Rock
(13);
Glee
(12);
Downtown Abbey
(11) and Fox's
American Idol
(10).
In the best actor in a drama series competition, one of the nominees will walk away with his first win. Hugh Laurie of Fox's
House
so far has struck out six times while Jon Hamm of
Mad Men
is 0 for 5.
Dexter
star Michael C. Hall has come away empty-handed four times and Steve Buscemi of
Boardwalk Empire
and Chandler of
Friday Night Lights
respectively are 0 for 3 and 0 for 2. The other entrant, Timothy Olyphant of FX's
Justified
, is competing for his first Emmy.
Among the best actresses in a drama series, Julianna Margulies (
The Good Wife
) and Mariska Hargitay (NBC's
Law & Order: Special Victims Unit
) have each won once previously. But Kathy Bates, nominated for NBC's
Harry's Law
, so far has been shut out in eight tries in eight different roles while Elisabeth Moss of
Mad Men
is 0 for 2.
FNL
's Britton lost in her only previous Emmy competition and Mireille Enos of AMC's
The Killing
is a first-time nominee.
The best actress in a comedy series field is led by Emmy titan Tina Fey, who has won seven times in 18 tries. Showtime's two entrants, Edie Falco for
Nurse Jackie
and Laura Linney for
The Big C
, likewise are veteran acceptance speakers. Falco has four Emmys and Linney, three. The only first-time nominee in this category is Melissa McCarthy for CBS'
Mike & Molly
.
Steve Carell of
The Office
leads the empty-handed contingent in the best actor in a comedy series category. He's 0 for 8 so far. Alec Baldwin of course is also nominated again for
30 Rock
. He has two Emmys to date in 10 previous tries dating to a 1996 nomination as the lead actor in ABC's version of
A Streetcar Named Desire
. Matt LeBlanc of
Friends
fame makes a return to this field for his portrayal of himself in Showtime's
Episodes
. He's yet to win after three previous nods. The other nominees are Louis C.K. for FX's
Louie
, Johnny Galecki for
The Big Bang Theory
and last year's winner, Jim Parsons, also of
The Big Bang Theory
.
EMMY GUMBO***
Cloris Leachman, a best supporting actress nominee for Fox's
Raising Hope
, is the all-time Emmy leader among performers with eight statues. This is her 22nd nomination.
***
This year's Emmy host, Jane Lynch, also is again a nominee, for
Glee
. She won last year.
***
CBS'
The Amazing Race
is nominated for the ninth consecutive year as TV's "Outstanding Reality-Competition" series. It won the first seven times before being dethroned last year by Bravo's
Top Chef
, which again is nominated.
***
Longrunning scripted series with just one nomination apiece include HBO's
Big Love
; ABC's
Brothers & Sisters
; TNT's
The Closer
; CBS'
CSI: NY
; ABC's
Desperate Housewives
and NBC's
Law & Order: Special Victims Unit
. Undeservedly shut out were HBO's
Treme
and FX's
Sons of Anarchy
.
***
TV Land's
Hot in Cleveland
managed just two nominations. But yes, one of them is for Betty White, who so far has won five times in 16 opportunities.
For the complete nomination list,
go here
. The televised ceremony will be Sunday, Sept. 18th on Fox.