FALL TV PREVIEW: New series -- Life (NBC)
09/26/07 11:42 AM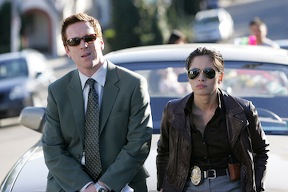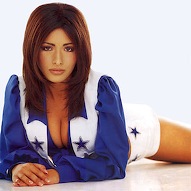 Sarah Shahi, now and then, co-stars in the new NBC series Life.
Premiering:
Wednesday, Sept. 26, at 9 (central) on NBC
Starring:
Damian Lewis, Sarah Shahi, Adam Arkin, Brooke Langton, Robin Weigert
Produced by:
Rand Ravich, Far Shariat, David Semel
By ED BARK
Prime-time's most intriguing new character at first seems hatched from a standard-issue premise.
Cop wrongfully convicted of crimes he didn't commit. Does hard time. Conviction overturned. Returns to the force amid some resentments. Secretly looks for real killers while solving a crime of the week.
NBC's
Life
is a multi-layered original in its own right, though, largely because star Damian Lewis plays detective Charlie Crews with such distinctive precision. Locked up and regularly beaten by fellow prisoners for 12 years, Crews is now fabulously wealthy after a multi-million dollar settlement. As the attorney who sprung him says, "Life was his sentence, and life is what he got back."
Scars remain, of course. Quirks, too. Crews lives alone in a sprawling, largely unfurnished mansion. He has attachments only to a wide array of fresh fruits he couldn't get behind bars. Women come and go. Moods range from whimsical to dark. Crews is both a poignant, compelling figure and an unconventional crackerjack cop. In short, he sees things very differently now. Wouldn't you?
His new partner, Dani Reese (Sarah Shahi), also has some dog-eared back pages. She's been off drugs for quite a while, but still gets high on bar pickups, as Episode 2 shows. Shahi, a former Dallas Cowboys cheerleader and calendar cover girl, had a drug-hazed Vegas fling with Tony Soprano earlier this year. She's quickly become an accomplished actress, and she has to be to keep up with Lewis.
Reliable Adam Arkin also co-stars as a former cellmate whom Crews befriended and kept alive. He now handles most of his legal affairs while living in an upstairs room above the mansion's garage. And Robin Weigert (indelible as Calamity Jane from
Deadwood
) plays police lieutenant Karen Davis, who plots to have Crews removed from the force. Weigert is minimally used in the first two episodes. That needs to be rectified.
Life
unfortunately may have a short life span opposite CBS' still potent
CSI: NY
and ABC's far showier and more promotable newcomer,
Dirty Sexy Money
. But from this view, NBC has the fall season's most interesting and involving new drama. It would be a shame to see it sent to bed without a full-out effort to find a home for it.
Grade:
A