HBO's Vice Principals is infantile and too often just vile
07/14/16 03:04 PM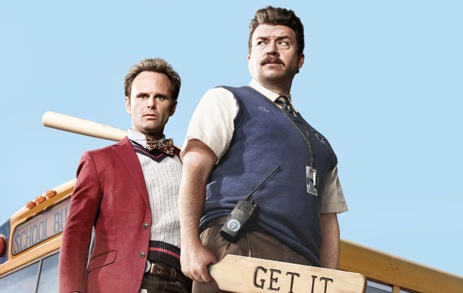 Ugh: Walton Goggins, Danny McBride of Vice Principals. HBO photo
Premiering:
Sunday, July 17th at 9:30 p.m. (central) on HBO
Starring:
Danny McBride, Walton Goggins, Georgia King, Kimberly Hebert Gregory, Busy Phillipps, Shea Whigham, Sheaun McKinney, Maya G. Love
Produced by:
Danny McBride, Jody Hill, David Gordon Green, Stephanie Laing
By ED BARK
@unclebarkycom on Twitter
The timing will never be right for a particular extended scene in the new Danny McBride "comedy"
Vice Principals
.
But seriously, could the timing be much worse?
Early in Episode 2 of this HBO series, festering high school vice principals Neal Gamby (McBride) and Lee Russell (co-star Walton Goggins of
The Shield
and
Justified
fame) break into the home of North Jackson High's new principal, a black single mom named Dr. Belinda Brown (Kimberly Hebert Gregory). Both very much wanted her job, and now they're conspiring to drive her out before resuming their f-bomb-laced rivalry.
They begin by impulsively breaking her possessions one by one. And then trashing the whole place before burning it completely to the ground. This isn't portrayed as a racial hate crime, although these two neanderthals would be fully capable. Given what's happened over the past two weeks, though, this extended scene is completely and irresponsibly out of bounds. It's also destructive on so many other levels. Yes, it obviously was filmed before the shootings in Louisiana, Minnesota and Dallas. No, that shouldn't matter in the least. Because this isn't comedy -- unless perhaps you're a Klan member.
Based on watching the six episodes made available for review,
Vice Principals
can be coarsely amusing in fits and spurts. But when it's bad, it's horrid. As it is again in Episode 3, when Coggins' Russell describes in beyond vile terms how the new black principal smells. This episode also works in a nude scene involving a high school girl on a field trip. (The actress presumably was "of age," but the image is still beyond gratuitous.)
McBride, who co-created
Vice Principals
, certainly did not make nice during four seasons of HBO's
East Bound and Down
, in which he played a washed up pitcher turned middle school phy ed teacher. While on that job, his anger issues made Charlie Sheen look like Gene Wilder.
In
Vice Principals
, which features an opening cameo by Bill Murray as the departing principal, McBride apparently feels the need to up the ante and be even more crude and abusive. His character is matched and then some by Goggins' conniving, amoral Lee, whose Asian-American wife has a live-in mother who does nothing but rant in her native tongue.
McBride has gotten notably beefier to play Neal. He's stuffed into his clothes and otherwise full of himself, whether cursing students as though they were dockworkers or trying to make moves on a sweet new blonde English teacher named Amanda Snodgrass (Georgia King).
Neal also has a chunky daughter, Janelle (Maya G. Love), from a previous marriage to Gale (Busy Phillipps), who's now the wife of well-meaning motocross racer Ray Liptrapp (Shea Whigham). Although regularly referencing his daughter's weight, Neal is halfway refined in her presence. But his main objective is to one-up his ex- and Ray, who have custody.
There's also a jive-talking school cafeteria worker named Dayshawn (Sheaun McKinney), who's reminiscent of J.B. Smoove's recurring Leon Black in HBO's
Curb Your Enthusiasm
.
Curb
likewise exults in bringing political correctness to its knees. But it does so with sharply honed humor and sometimes even substance.
Vice Principals
, in contrast, is a sitcom that immediately steps in dog crap and then can't scrape it off. HBO has ordered just 18 episodes and plans to spread them over two seasons before calling an end to things. Perhaps the end could come sooner, though. Maybe before that second episode ever gets a chance to soil a network that by now should know much better than this.
GRADE:
D
Email comments or questions to:
unclebarky@verizon.net