Darren Criss's killer performance -- and the stories of lesser-known victims -- are the main events of FX's The Assassination of Gianni Versace: American Crime Story
01/17/18 09:13 AM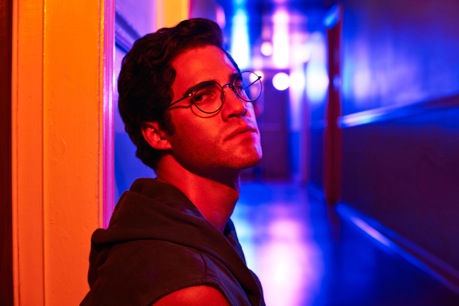 Darren Criss sends chills through second American Crime Story saga.
FX photo
Premiering:
Wednesday, Jan. 17th at 9 p.m. (central) on FX
Starring:
Darren Criss, Edgar Ramirez, Penelope Cruz, Ricky Martin, Finn Wittrock, Cody Fern, Max Greenfield, Mike Farrell, Judith Light, Dascha Polanco, Jon Jon Briones, Joanna Adler
Produced by:
Ryan Murphy, Brad Falchuk, Nina Jacobson, Brad Simpson, Alexis Martin Woodall, Dan Minahan, Tom Rob Smith, Scott Alexander, Larry Karaszewski
By ED BARK
@unclebarkycom on Twitter
FX's second
American Crime Story
entry could be far more accurately titled
The Dissection of Andrew Cunanan
.
But in the realm of readily recognizable names, that doesn't ring many chimes. So it's
The Assassination of Gianni Versace
, even though Cunanan is the driving force while two of his other younger victims -- there were five in all -- get fuller treatments than the iconic fashion designer.
Former
Glee
star Darren Criss inhabits Cunanan with more flash and impact than any model who ever wore one of Versace's creations. He's alternately chilling, pathetic, conniving and deluded without ever being visibly remorseful. It's a fully committed, crazily energetic performance that carries this nine-part miniseries through its peaks, valleys and at times disjointed timeline.
Assassination of Gianni Versace
also is very nice to look at, except when the corpses left behind are not.
Ryan Murphy, lately the busiest man in Hollywood, again shows that he's generally on firmer ground when dramatizing real-life events rather than fictionally concocting them in series such as
Nip/Tuck, Scream Queens
, Fox's new
9-1-1
and FX's ongoing and very uneven
American Horror Story
anthology series.
His first
American Crime Story
deservedly won a wealth of major awards with its up-close look at the O.J. Simpson trial. The deliciously bombastic
Feud: Bette and Joan
, likewise for FX, and the HBO movie
The Normal Heart
, also were almost uniformly critically praised. Murphy's biggest fictional triumph, Fox's
Glee
, notably stayed away from physical gore and succeeded as an empowering high school musical series.
Assassination of Gianni Versace
, adapted primarily from Maureen Orth's 1999 book
Vulgar Favors
, is fact-based but clearly not averse to taking liberties in depicting Cunanan's "journey" from vainglorious poser to cold-blooded serial killer. Eight of the nine chapters were made available for review. And composition-wise, the storytellers err in waiting all the way until the eighth hour to detail Cunanan's destructive upbringing at the hands of an abusive, duplicitous father (Jon Jon Briones as Modesto "Pete" Cunanan) and terrified mother (Joanna Adler in the role of Mary Ann Cunanan). The "sissy kid with a sissy mind," as Pete puts it in a climactic scene, is put on a path to self-destruction but never really toward self-awareness.
It all begins on July 15, 1997, with Versace (Edgar Ramirez) waking up to another day in his splendorous Miami Beach mansion. Servants await him. But he also willingly walks the nearby streets, giving off an air of accessibility while also politely declining an autograph request.
By the end of the first hour he's dead and on a slab, his face gruesomely disfigured from a point-blank bullet wound. Versace's partner of 15 years, Antonio D'Amico (Ricky Martin), is inconsolable. But the deceased's steely sister, Donatella (Penelope Cruz), dismisses D'Amico with contempt as a leech whose contributions were less than minimal. She's now determined to protect the Versace company by keeping it privately held.
"They'll judge the killer, yes," she says. "But they'll judge the victim, too."
This lays the groundwork for much of what is yet to come. Being gay in the 1990s was still a considerable detriment, business-wise and otherwise. Versace, Cunanan and three of his other victims were all gay, with only the killer unabashedly coming out as a high schooler.
The subsequent story of Jeff Trail (Finn Wittrock) is especially poignant. He was proudly a Navy officer until being "found out" and thrown out. Trail's eventual ill-fated involvement with Cunanan encompasses several episodes, as does the back story of David Madson (Cody Fern). Both ran afoul of Cunanan's rages after recognizing him as a fraud and "betraying" him. Chapter 4, subtitled "House By the Lake," telescopes Cunanan and David at the height of the latter's fear of him. It's one of the most powerfully chilling hours of television you'll ever see -- if you have the wherewithal to see it through.
Assassination of Gianni Versace
includes two other veteran, recognizable actors, Judith Light and Mike Farrell. For an earlier generation they respectively were the stars of
Who's the Boss?
and
M*A*S*H
. In Chapter 3, they're paired as Chicago's very prosperous Lee and Marilyn Miglin. She peddles her perfumes on home shopping networks while he's a developer with designs on constructing the tallest building Chicago has ever seen. But Lee is also a closeted gay man who can't get enough of Cunanan. They get together again while his wife is on a road trip. "I feel like I'm alive," he tells Cunanan after they kiss. Well, not for long. Farrell's performance is first-rate, but Light steals the episode as the all-business Marilyn, particularly after her husband's mutilated body is found.
Although her time on-screen is limited, Cruz makes some strong impressions as the ever-demanding Donatella Versace. But Martin's characterization of D'Amico is too one-note and largely inconsequential to really register. Ramirez has some solid scenes as Gianni, but doesn't resonate nearly as strongly as Cunanan's three other principal victims.
The pursuit of Cunanan, who's already known to authorities before he murders Versace, is barely a subplot of the first eight chapters. Some viewers may become restive in the process. But the to-and-fro timeline serves both the stories of Cunanan and his victims. Criss's performance is a force throughout, but not to the point of "humanizing" Cunanan at the expense of those whose lives he took with varying degrees of glee. The deaths of Jeff Trail and David Madson in particular hurt deeply.
This second installment of
American Crime Story
, which jumped ahead of a planned look at Hurricane Katrina and its aftermath, is unlikely to match the ratings or impact of the O. J. Simpson opener. Andrew Cunanan is a no-name killer in comparison, as are all but one of those whose lives he took so violently. So yes, Gianni Versace's murder is the overall reason this miniseries came about in the first place. But no, he's not nearly the half of it.
GRADE:
B+
Email comments or questions to:
unclebarky@verizon.net