Hallmark keeps the Jesse Stone franchise vividly in play with Lost In Paradise
10/15/15 12:49 PM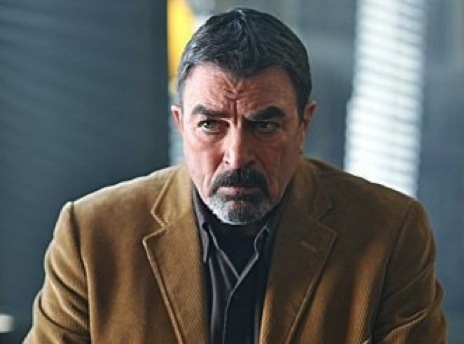 Tom Selleck remains a formidable presence as top cop Jesse Stone.
Hallmark photo
By ED BARK
@unclebarkycom on Twitter
"Two years. Where you been?" Jesse Stone's therapist/sounding board asks him in the opening minutes of movie No. 9.
"Fighting crime," Stone answers -- as usual.
On-screen perhaps. Off-screen, not lately. And actually it's been more than
three
years since CBS first aired
Jesse Stone: Benefit of the Doubt
on the night of May 20, 2012.
As usual, it won its time slot and drew 12.8 million viewers. But CBS already had decided that the audiences for these movies was too old and the budgets were too high. So Tom Selleck, who's personified the Robert B. Parker character since
Stone Cold
's 2005 premiere, decided to wait for a phone call rather than panhandle. In interviews, he's expressed confidence that the right network eventually would come around. And it has.
Jesse Stone: Lost In Paradise
,
premiering Sunday, Oct. 18th at 8 p.m. (central) on Hallmark
, is the first of two movies ordered by the entity best known for its seemingly endless supply of Christmas movies.
Selleck, still gainfully employed on CBS as the star of
Blue Bloods
, continues to play Stone with a minimalist yet forceful conviction that's never gotten old. The Stone movies are marvels of straight-ahead, core value storytelling, with their central character square-shouldering his way toward the bad guys without any extra-sensory abilities. Imagine that. A gumshoe who's only recently succumbed to a cell phone -- a flip one at that -- and has no freaky out-of-body powers of deduction.
Fans of the Stone movies above all are treated to a consistency of purpose and pasts that serve as preludes. It very much helps to have seen them all and be familiar with their frameworks. The divorced Stone still has a hard-to-conquer fondness for too much Johnnie Walker and a never fully severed attachment to his ex-wife, Jenn, who's been voiced over the phone in past movies by Gillian Anderson (billed as "Gil").
Stone also has a soft spot for teenage girls in trouble, plays his music on vinyl and has depended on his soulful-eyed Golden Retriever, Reggie, to help him curb his demons. On that last point, let's just say there's a big void in Stone's life during his early scene with William Devane's Dr. Dix, the ex-cop who's turned to no-nonsense therapy.
The small world of Paradise, a population 7,352 seaside community where Stone has been the on-and-off police chief, is within a short distance of the more crime-fertile big city of Boston. He moves between these two worlds, with other recurring characters besides Dix also part of the mix.
In
Lost in Paradise
, deputy Luther "Suitcase" Simpson (Kohl Sudduth); crime boss/confidante Gino Fish (William Sadler); Sister Mary John (Kerri Smith); and old flame Thelma Gleffey (Gloria Reuben) are among those still present and accounted for. But Selleck very much remains the command presence in a franchise in which he now co-writes the scripts and has relied on director Robert Harmon to execute them in every Jesse Stone movie except 2011's
Innocents Lost
. The familiar piano theme music remains as perfect as can be. Never change that.
Stone is emotionally at sea when
Lost In Paradise
takes flight Sunday night. But he's soon shaking himself out of it and journeying to Boston for a meeting with Lt. Sydney Greenstreet (Leslie Hope), whose name is an ode to the
late character actor
with credits including two Humphrey Bogart classics,
The Maltese Falcon
and
Casablanca
.
The contemporary Greenstreet is "undermanned" and eager to close some open cases. One of them involves a string of prostitute butcheries for which an unrepentant Richard Steele (Luke Perry) is serving time. The last in the string may or may not be his doing, though. It's up to Stone to find the real killer if in fact he exists.
The dialogue remains crisp and savory, with Stone replying, "I never found out anything listening to myself" after Steele tells him, "You don't talk much."
Nor does Stone text over the phone, of which Greenstreet is firmly apprised. "The average kid on social media has an attention of eight seconds," he says matter-of-factly. "That's one second less than a goldfish."
The story builds steadily but no one's in a rush. This also might vex "the average kid," but these movies have never been about a chase scene every 10 minutes -- or a new corpse or atrocity before every commercial break. Stone does get run off the road, however.
Lost In Paradise
continues an impressively enduring career for Selleck, who at age 70 is one of the very few actors to have long-running success as three different TV characters. He broke in as Thomas Magnum in
Magnum, P.I.
and got the Jesse Stone movies rolling several years before taking another cop to the bank as Frank Reagan in
Blue Bloods
, now in its sixth season.
Were he to choose one of them, though, it surely would be Jesse Stone. His new venue, Hallmark, is one of the very last broadcast or cable networks that doesn't really care how old its viewers are. There's still something to be said for that, isn't there? And there's even more to be said about keeping a great, iconoclastic character alive in artfully basic movies that remain solid as a rock because their foundations are built to last.
GRADE:
A-minus
Email comments or questions to:
unclebarky@verizon.net