IFC's Onion News Network an alphabet soup of CNN/FNC/MSNBC
01/21/11 09:30 AM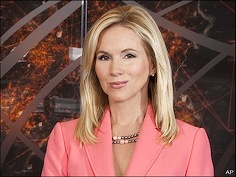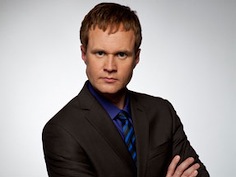 Brooke Alvarez, Tucker Hope of Onion News Network. IFC photo
Premiering:
Friday, Jan. 21st at 9 p.m. (central) on IFC
Starring:
Suzanne Sena, Todd Alan Crain, Jill Dobson, Esther David and many more
Produced by:
Will Graham, Julie Smith, Jim Biederman
By ED BARK
If only they didn't seem so grounded in reality.
Earlier this month, Comedy Central launched
Onion Sportsdome
, a sendup of the abundant excesses on ESPN's
Sports Center
. It's paired on Tuesday nights with the incumbent
Tosh.0
.
Now comes
Onion News Network
, a thoroughly modern lampoon of cable's trio of regularly ridiculous 24-hour news networks. It premieres Friday on IFC alongside the network's new
Portlandia
.
Trumpeted as "News Without Mercy" and "A 24-Hour Non-Stop News Assault," ONN barges into living rooms with its flagship
The Fact Zone
, helmed by the convincingly self-important Brooke Alvarez (Suzanne Sena). Her wingman is Tucker Hope (Todd Alan Crain), who presides over the program's "High Definition Recon Wall" and has been recognized nationally for his touch-screen prowess.
Sena's Alvarez is a marvel of ego-centricity in the line of duty. She even has a promo in which a pitchman bellows, "When you follow
Fact Zone
's Brooke Alvarez, you're following the news anchor with more stalkers than any other major network on-screen personality."
The first two editions of the half-hour program provide a feast of guffaws, even if "real" TV journalists, pundits and producers might not be all that amused.
Alvarez's top story in Friday's premiere is slugged "Motor City Murderer." A young white woman accused of stabbing her victim with a screwdriver receives the harshest penalty available to the city's justice system. She's tried as an African-American man, with Alvarez intoning, "Now that Hannah has been ruled black, the court has instructed local media to assume she's guilty."
Later in the newscast, Hope's "Daily Briefing" notes that convicted sex offenders in California now must wear "lightly tinted eyeglasses" and cutoff denim shorts when outside their homes. Viewers also are informed that the Joe Biden Band will be reuniting after a long layoff to play the Super Bowl halftime show. An old concert cut from the band's repertoire, "Sister-In-Law," is then played as a bridge to a commercial break.
Fact Zone
's "First Responders" segment features a trio of pundits mouthing off on an already overblown news story. And at show's end, there are always a few seconds for the ramblings of elderly Joad Cressbeckler, whose "The Cressbeckler Stance" is a very thinly disguised twit of CNN's Jack Cafferty-fueled "Cafferty File."
Not everything works to perfection in the first two editions. But next Friday's lead story, "Snowlocaust," certainly does. The going is so tough in the Midwest that Southern Wisconsin is in the throes of a travel-restricted "Pornography Outage," reports meteorologist Tom Fontaine. Even New Orleanians are feeling a "bit chilly" while bracing for a "potential light snowfall."
There also are occasional highlights from ONN's
Today Now!
. For openers, the hosts browbeat a woman whose life was saved by a firefighter who died in the process. "Nation Wondering If Melanie Should have Died Instead," says a tagline.
Back at the Recon Wall, Hope's regular "This Day In History" segment salutes the deceased inventor of the "Hand Job," whose pioneering efforts led to other breakthroughs in self-pleasurement.
Everyone remarkably keeps a straight face, with Alvarez leading the charge. Comedy Central's
The Daily Show
at last has a worthy rival in the "fake news" game. Even if both in effect are just keepin' it real.
GRADE:
A-minus