Reviewing Amazon Prime's Hand of God after viewing all 10 Season 1 episodes
09/08/15 03:55 PM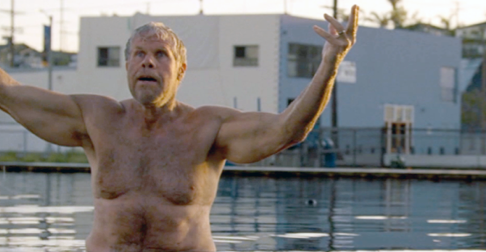 Ron Perlman is first seen like this in Hand of God. Amazon Prime photo
Premiering:
Began streaming Sept. 4th on Amazon Prime
Starring:
Ron Perlman, Dana Delany, Garret Dillahunt, Andre Royo, Alona Tal, Julian Morris, Emayatzy Corinealsi, Elizabeth McLaughlin, Erykah Badu, Jon Tenney
Produced by:
Ben Watkins, Marc Foster, Jeff King, Brian Wilkins, Ron Perlman
By ED BARK
@unclebarkycom on Twitter
So is he nuts or not?
Amazon Prime publicity materials for
Hand of God
describe it as the saga of a "law-bending," somewhat all-powerful judge who "begins to rely on 'visions' and 'messages' he believes are being sent" from on high via his ventilator-bound son, who had shot himself through the head after he'd been forced to watch his wife being raped.
All 10 Season 1 episodes began streaming on Friday, Sept. 4th. Ten episodes later, there's still a lot of explaining to do. But several murders have been committed, including a climactic one. And the cops at last are closing in on a central character while other plots thicken, including two unplanned pregnancies.
Does that make
Hand of God
worth a 10-hour investment? Well, there are enough familiar faces and interesting performances going on to keep matters fairly involving. But there's also a lot of looniness, more than a little foot-dragging, some sizable plot holes and a thick overlay of religious chicanery that might put some people of faith off their feed.
There's this, too. Given the open-ended ending, viewers who go all in will be left with the realization that no definitive answers are even possible unless Amazon Prime orders a second season. But that's the rule rather than the exception with most of today's string-along drama series.
Ron Perlman, fresh from FX's
Sons of Anarchy
, re-deploys his Cro-Magnon visage as power-broking judge Pernell Harris, who's been happily ruling Valencia, CA in league with Mayor Robert "Bobo" Boston (Andre Royo). They've conspired to bring a big high-tech firm to town as a crowning achievement. But Pernell's apparently indispensable role in all of this is compromised after he's spotted loudly speaking in tongues while naked in a high-visibility public fountain. It's possible that even Donald Trump's presidential candidacy couldn't survive that, although who would be foolhardy enough to make that bet?
Pernell's wife, Crystal Harris (Dana Delany), also is accustomed to the high life -- and to getting her way. But their son's attempted suicide drives them apart over the issue of both her husband's visions and his non-negotiable efforts to keep their son on life support. This also drives a wedge between Pernell and his daughter-in-law Jocelyn (Alona Tal), who wants her husband out of the hospital and in a grave with his dignity still intact.
The mystery over who raped Jocelyn drives
Hand of God
from start to stop, with Pernell acting on his son's "orders" and hiring a twisted ex-con named KD Dennison (Garret Dillahunt from
Raising Hope
) as his hit man. The two of them also have fallen under the influence of former soap opera actor turned preacher Paul Curtis (Julian Morris), whose small but growing church very much profits from new convert Pernell's generous cash contributions. Rev. Paul's girlfriend, Alicia Hopkins (Elizabeth McLaughlin), stands by her oft-tempted man and tries to keep his piety on track. But in the opening hour, she's not above tempting a recalcitrant banker with her lush body.
Amid a sea of villains and connivers, the only halfway honorable characters in
Hand of God
turn out to be a prostitute and a drug dealer. Emayatzy Corinealdi brings presence and strength to the role of Tessie Graham, who long has charged Judge Pernell $1,500 for an hour of her time. But hey, it's business, and yes, she has a value system beyond that.
Singer Erykah Badu plays the drama's other strong-willed recurring character. As April, she provides Delany's Crystal with both potent marijuana and a philosophical ear when needed -- which is always. Crystal gets an extra boost from attorney Nick Tramble (Jon Tenney from
The Closer
). In Episode 3 they have a rousing, talk-dirty-to-me dalliance in a restaurant restroom. The language is beyond explicit, with Delany stepping right up to the plate and hammering it home.
Delany, Corinealdi and Tal give the strongest performances in
Hand of God
while the male actors try to hang with them. Perlman is solid enough but also sometimes stolid. Royo's mayor has his moments, but is a little "off" at times. And Dillahunt's scrunch-faced henchman can be comically creepy.
Hand of God
's strengths are its elongated scenes, enabling the characters ample time to play off one another. Episode 7 includes a strong confrontation between Crystal and Tessie, much of it in a two-shot while they parry and thrust at an upscale bar.
The wheels keep turning but can take too long to get rolling while the plot hits some ruts in the road. But as a viewer, I still remained more inclined to think "Hmm, where's this going?" rather than "I've had it, that's it."
There's also a sinking feeling, though, that no matter how many episodes it lasts,
Hand of God
will end up being another of those series that leave too much up in the air and not enough grounded in a semblance of reality. For now, the central question of Pernell's overall sanity is still blowing in the wind after Episode 10 meets its maker.
GRADE:
B-minus
Email comments or questions to:
unclebarky@verizon.net