The Jim Gaffigan Show gives TV Land a "puffy" dad in his prime
07/14/15 10:44 AM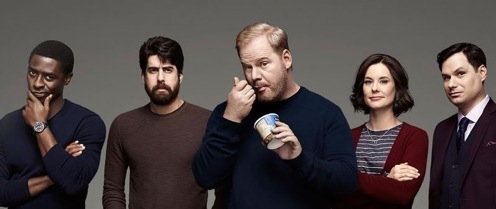 Jim Gaffigan is front/center in The Jim Gaffigan Show. TV Land photo
Premiering:
Wednesday, July 15th at 9 p.m. (central) on TV Land
Starring:
Jim Gaffigan, Ashley Williams, Adam Goldberg, Tongayi Chirisa, Michael Ian Black
Produced by:
Peter Tolan, Jim Gaffigan, Jeannie Gaffigan, Alex Murray
By ED BARK
@unclebarkycom on Twitter
It's often a double-edged sword for fleshy comics playing sitcom husbands.
You're expected to be pretty much a nincompoop who more or less means well but constantly screws up. On the other hand you tend to get a svelte, smarter, comparative knockout for a TV wife. As did Jim Belushi in
According to Jim
, Kevin James in
King of Queens
, future
Game of Thrones
co-star Mark Addy in
Still Standing
and Jackie Gleason during prehistoric TV times in
The Honeymooners
.
Jim Gaffigan, playing his "puffy" self in TV Land's
The Jim Gaffigan Show
, sustains several one-liners about his less than sculpted appearance in a "preview" episode made available early on TV Land's consumer website. But his comely wife, Jeannie (some fine comedy timing by Ashley Williams), always stands by him, even though she's sometimes an active participant in the jab department.
When her husband is derided as a "fat pumpkin head" by a woman heckler he insulted, Jeannie retorts, "Don't call my husband a pumpkin head."
There's also a sequence in which it seems that a son's pre-school drawing of Jim's penis falls into the wrong hands. "No one should have to see that," Jeannie tells a private school administrator. "I mean, I'm forced to . . ."
Jim and Jeannie have five pre-teen kids underfoot. And at least twice as many jokes land firmly in the show's solid preview episode, which also includes cameos by Janeane Garofalo as an oddly nurturing teacher and Macaulay Culkin playing himself as a barista.
Gaffigan, who at times sounds like Andy Rooney doing a
Rip Taylor
impression, replicates his real-life profession as a successful standup comic in this latest effort to front a successful sitcom. But he's said in interviews that the show won't show him performing in clubs, a la
Seinfeld
or
Louie
. Instead, Jim is first seen bursting into the family kitchen after grabbing an early flight home from a gig. He proclaims a "Super Great Daddy Day," which of course doesn't materialize. Six minutes later he's in bed sucking on a fudge bar while supposedly gearing up for all that kid stuff.
CBS twice passed on other versions of this series before Gaffigan and co-creator/executive producer Peter Tolan (
Rescue Me
) found a home on TV Land, which has announced its intent to get "edgier" and more adult.
Welcome to New York
, a fall 2000 comedy series in which Gaffigan played a TV weatherman, actually made it to CBS but was quickly canceled.
The new show also is set in New York and likewise is filmed there without a live studio audience or laugh track. But the city is barely reflected in the preview episode. Also little seen are supporting cast members Adam Goldberg as Jim's best pal, Dave, and Michael Ian Black as Jeannie's "confidant" Daniel. Tongayi Chirisa, playing the Gaffigans' pastor, Father Nicholas Ngugumbane, gets more to do and closes out the episode with a sermon that puts Jim in yet another predicament of his own making.
In the 15 years since
Welcome to New York
, the resilient Gaffigan has blossomed into both a prominent standup comic and a bestselling book author with
Dad Is Fat
and
Food: A Love Story
. His TV Land show will regularly draw from that wheelhouse, with Jim saying of the vegan cupcakes his wife has prepared for school, "That's not a flavor. That's just a cruel trick on a kid."
Nonetheless it all goes down pretty easily.
The Jim Gaffigan Show
showcases its star at his exasperated best, putting his now well-honed spin on the befuddled dad genre from which many a sitcom has supped.
GRADE:
B
Email comments or questions to:
unclebarky@verizon.net