Big Saturday Night dawns on still little GSN
06/12/09 01:18 PM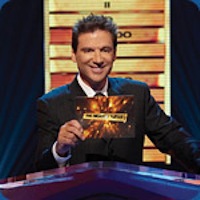 Fred Roggin and Cat Deeley host new games on Big Saturday Night.
By ED BARK
Formerly and more aptly called the Game Show Network, GSN is still striving and struggling to make a name for itself.
So much so that TV critics across the land recently received a yellow, fully inflated easy chair in an attention-getting shipping box big enough to hold a doghouse. Emblazoned
Big Saturday Night
, it heralds a three-hour GSN programming initiative of the same name.
The box also housed a review copy of
The Money List
and some printed superlatives on
20Q
, which isn't available for advance screening. The two new game shows, respectively hosted by veteran sportscaster Fred Roggin and
So You Think You Can Dance
's Cat Deeley, will be surrounded by live comedy and music performances and interactive opportunities for viewers to "win big," says GSN.
It all starts, appropriately, on Saturday (June 13), from 7 to 10 p.m. central.
20Q
premieres at 7 p.m. on that night, with
Money List
slotted at 8:30. GSN is promising nine weeks worth of
Big Saturday Night
for "entertainment hungry audiences."
Well, the night certainly can be barren. Three of the Big Four broadcast networks -- ABC, CBS, NBC -- mostly use Saturday nights for repeats and castoffs, save for CBS' first-run
48 Hours Mystery
. Fox has been programming
COPS
and
America's Most Wanted
for forever and a day.
GSN's
BSN
at least is entering the Saturday night ring with something more than reruns of
Family Feud
and
Joker's Wild
. But the network's grand prize money remains fairly skimpy, even though it's upped the ante considerably from the hard cover dictionaries given to winners of an early interactive horse race game on the old Game Show Network.
Money List
, which turns out to be both an addictive and brainy enterprise, pits two-member teams against each other in a list-building competition. The first team to win two out of three gets a chance to win between $10,000 and $50,000 per round-- or nothing at all. But the victors get to keep playing regardless.
Roggin, 52 and still nicely preserved under a spiky haircut, says things like, "Off to your pod, you go." Each team occupies one during the course of game action, with Roggin milking whatever suspense can be mustered as contestants come closer and closer to pay dirt.
It's fun, though. On the
Money List
sent for review, Robert and Anastasia said they could name 10 "Meryl Streep Movies." Their competitors, Shannon and Young, dared them to do it. Which they did/didn't.
Refreshingly, competitors receive no simple-dimple hints. In other words, Roggin isn't there to say, "One of the movies repeats the name of a madcap character played by Michael Richards on
Seinfeld
before he committed career suicide." Um,
Kramer vs. Kramer
? Right you are!!!
Contestant Anastasia, a geophysicist turned comedy writer, says she'd use any prize money to first help her sister and then get liposuction and collagen injections. Oddly enough, this makes her appealing.
The winning team in this particular competition must correctly name 15 European capital cities to win $50,000. This is accomplished in three-name increments, progressing from $5 grand to $10 grand to $15 grand to $25 grand to $50 grand. Unlike
Who Wants to Be A Millionaire
, you lose everything if you stumble enroute.
Other categories on
Money List
include "Female Grand Slam Tennis Singles Champions from 1968-2008" and "The 100 Greatest Stand-ups of All Time," as chosen in a Comedy Central special.
More than a little brain power is required in many instances, making
Money List
a keeper with possibilities beyond GSN if
Big Saturday Night
turns out to be a bust.
20Q
might be a diamond in the rough, too, but for now it's sight unseen. The game is based on the handheld and Internet game in which a player's chosen word is revealed via 20 questions. GSN doesn't say how much prize money is at stake, but Deeley likely can be counted on to inject this game with the same energy she brings to
Think You Can Dance
.
So all in all, this seems like a good try by a network that's still looking for a true signature show or event. If you've never run into GSN before, maybe now's the time.