Disney's High School Musical 2 tackles Cowboys ratings record holder for loss
08/20/07 10:43 AM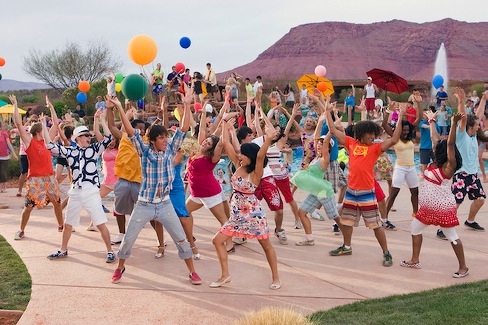 By ED BARK
Final national Nielsen ratings put The Disney Channel's
High School Musical 2
in the record books on two fronts.
The 17.2 million viewers for Friday's sequel are easily enough to make
HSM2
the most-watched cable program ever.
An Oct. 23, 2006 Dallas Cowboys-New York Giants game on ESPN's
Monday Night Football
had been the previous champ with 16 million viewers. Before that, a contentious November 1993 Al Gore-Ross Perot NAFTA debate on CNN's
Larry King Live
had held the record for 13 years.
HSM2
also will emerge as the week's most-watched program on either broadcast or cable TV. That's never happened before, even though the summer season gives cable shows a better chance of topping the field. The Cowboy-Giants game, which aired during a week of two World Series telecasts, wound up 14th among all TV programs. A first-run episode of ABC's
Desperate Housewives
placed No. 1 for that week with 21.2 million viewers.
Disney Channel also cleaned up Friday night with a sneak preview of its new
Phineas & Ferb
animated series (10.8 million viewers nationally) and a new episode of
Hannah Montana
(10.7 million).
All three programs are assured of landing in the week's overall top 10, another impressive feat for Disney.