We wish you a Mondo Christmas
12/13/06 03:55 PM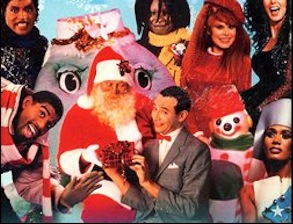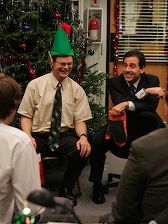 By ED BARK
Perhaps you like your holidays shaken and stirred a bit. If so, yule be very entertained Thursday night (Dec. 14) with
The Office's
one-hour Christmas show and then the guest star-soaked, still vibrant
Pee-wee's Playhouse Christmas Special
.
First up is NBC's best comedy (7 p.m. central, 8 eastern), with ever-callow Michael Scott (Steve Carell) grief-stricken over girlfriend Carol's (Nancy Walls) easy decision to dump him.
"I'd like everyone's attention. Christmas is canceled," he tells his resilient Dunder-Mifflin staff, which lately has been divided but not yet conquered by a corporate-mandated merger.
Suckup newbie Andy (guest star Ed Helms) seizes the opportunity to take Michael to Benihana, where they get blitzed on sake-spiked Nagasakis. Meanwhile, warring office parties are making everyone even more crazy. Persnickety Angela (Angela Kinsey) insists on going through the proper party planning committee channels for her prim, proper Nutcracker-themed get-together. But receptionist Pam (Jenna Fischer) and newcomer Karen (guest star Rashida Jones) are promoting their own renegade margarita/karaoke throwdown.
Subtitled "A Benihana Christmas," it's another inspired
Office
episode. But aren't they all? Oh what fun it is to finally hear Angela kick out the jams on "The Little Drummer Boy" while sycophant Dwight (Rainn Wilson) provides the ba-rum-bum-bum-bum downbeat.
There's something about that song. David Bowie and Bing Crosby oddly put it out there on his last Christmas special in 1977. And a breast-plated Grace Jones gives "Drummer Boy" a decidedly different interpretation during Pee-wee's 1988 Christmas show, which lives again Thursday on the "Adult Swim" arm of Cartoon Network (9:30 central, 10:30 eastern).
The Saturday morning
Playhouse
series is still the hippest in the history of CBS. And Pee-wee's one-hour holiday extravaganza remains a sight to behold. Guest stars galore drop in and out, including a slim, lightly bearded Magic Johnson and a very butch looking k.d. lang in a contrasting royal blue cowgirl skirt and shirt. You also can spot then unknowns Laurence Fishburne and S. Epatha Merkerson as regular characters Cowboy Curtis and Reba the Mail Lady. Furthermore, Conky the Robot sometimes was voiced by Gregory Harrison.
The show's running gags are the rock-hard, brick-shaped fruitcakes Pee-wee (Paul Reubens) keeps getting as unwanted gifts. He'll eventually put them to good use, but not before a wealth of guest stars zip through. Besides the aforementioned, they include Cher, Little Richard, Oprah Winfrey, Dinah Shore, Zsa Zsa Gabor, Whoopi Goldberg, Joan Rivers and Charo. Only Frankie Avalon and Annette Funicello stay for a spell. They're stuck making Christmas cards until taskmaster Pee-wee finally relents.
Most of the special effects are still impressive nearly two decades after they first knocked our socks off. This is a Christmas show that definitely knows how to be merry, bright -- and mondo. Nothing since has been anything quite like it.