FX's Rescue Me blazes anew in Season 5
04/07/09 09:40 AM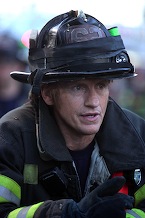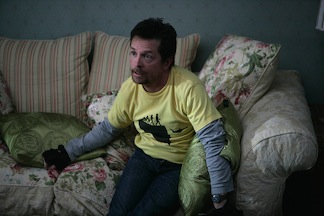 Season 5 brings fireworks between Denis Leary and Michael J. Fox.
By ED BARK
Delayed almost interminably by last year's writers' strike, FX's
Rescue Me
returns in a big way Tuesday with a bounteous, 22-episode Season 5.
Denis Leary's combustible Tommy Gavin and his fellow NYC firemen haven't been seen since the fourth season flamed out in mid-September 2007. Lest we forget, Tommy's still on the wagon and his belittling father remains newly deceased as the series reboots with an episode titled "Baptism" (
9 p.m. central, repeated at 10 p.m.
).
Before getting into more particulars, let's note that Leary's Rescue Me Comedy Tour, also featuring appearances by co-stars Lenny Clarke and Adam Ferrara, will touch down in Dallas on Thursday, April 9th. Complete details are
here
.
Leary's standup act remains exceptional, but his
Rescue Me
work trumps all that. He's terrific as Tommy, particularly during a group-watch of home movies with teary-eyed family members.
Everyone's feeling sentimental about John Gavin Sr. (Charles Durning) and even Cousin Mickey's (Robert John Burke) less than housebroken dog, Bootsie. But Tommy still sees his father as a full-blown demon who made his life an inferno before making nice at a baseball game and then dying in his seat. His profane/funny/heartrending screed cuts right through home screens.
There are other developments.
The firefighter known as "Black Shawn" (Larenz Tate) is clandestinely dating Tommy's daughter, Colleen (Natalie Distler), but intentionally postponing sexual relations with her.
"The next ass I tap is the ass I marry," he says in what amounts to a Hallmark card sentiment on
Rescue Me
.
Tommy's ex-wife, Janet (Andrea Roth), also has a new man. He's wheelchair-bound Dwight, played forcefully by guest star Michael J. Fox.
There's also a coffee table book in the works tied to the upcoming 10th anniversary of 9/11. A comely French journalist named Genevieve Lazard (Karina Lombard) is intent on interviewing the crew of 62 Truck, but Tommy initially wants no part of it. Leary again has a cathartic, bravura scene in next week's Episode 2, discoursing at length on why an illustrated, commemorative tome is a dead issue with him. Still, he can't close that chapter. So their dance continues.
FX's
The Shield
is now history and
Nip/Tuck
isn't what it used to be. That leaves
Rescue Me
as the envelope-pushing network's signature series, with Leary turning in the most under-acknowledged work of any lead actor in an ongoing television role. He's the indispensable hook and ladder of
Rescue Me
, which looks more fired up than ever as its longest season beckons.
GRADE:
A